Rubio to Seek Senate Re-Election After Presidential Loss
by and
Florida Republican reverses plan to return to private life

Republicans have urged Rubio to run to save Florida seat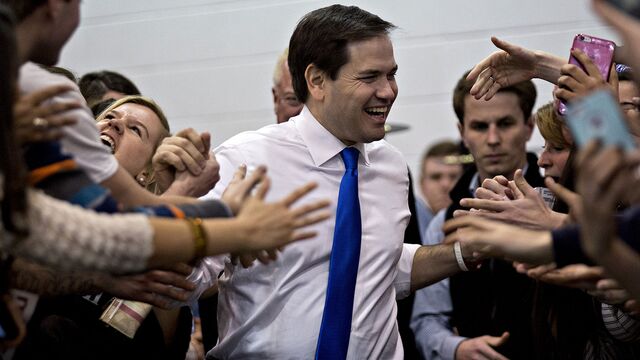 U.S. Senator Marco Rubio said Wednesday he will seek re-election after his loss in the Republican presidential race, giving fellow party members a rare bit of good news in a year in which Democrats are seeking to recapture a majority in the chamber.
"I believe I have something to offer," the first-term senator from Florida said in a statement. He said Congress needs leaders "who will not only advance limited government, free enterprise and a strong national defense, but also explain to Americans how it makes life better for them and their families."
Rubio had said he wouldn't seek re-election to the Senate when he announced his run for president in 2015. After losing the Florida primary to Donald Trump by almost 20 percentage points and later dropping out of the race, Rubio now faces the additional challenge of explaining to Florida voters why he changed his mind after making so many definitive statements that he wouldn't return to the Senate.
"I understand my opponents will try to use this decision to score political points against me. Have at it," he said in the statement that criticized both Trump and presumptive Democratic nominee Hillary Clinton. He said the U.S. must confront serious challenges in domestic and foreign issues "that face backward or uncertain responses from either Clinton or Trump."
Rubio, 45, ended his campaign for the White House in March, and since then has faced pressure from Republicans nervous about losing the seat. Republicans control the Senate 54-46.
Senator Lamar Alexander of Tennessee said he was "delighted" that Rubio will seek re-election. "He's a part of the national future of the Republican Party," Alexander said. "Obviously he feels like he has a sense of purpose."
'Run Marco!'
Trump urged Rubio to run in a Twitter posting on May 26, saying that polls showed he would "by far" have the best chance of keeping the Florida Senate seat in the Republican column. "Run Marco!" Trump wrote.
Rubio on Wednesday called the prospect of a Trump presidency "worrisome," adding that he found the businessman's comments on women and minorities "not just offensive but unacceptable." He said that if Trump is elected, "we will need senators willing to encourage him in the right direction, and if necessary, stand up to him."
None of the other Republicans in the race have broken away from the pack or raised much money. Florida Lieutenant Governor Carlos Lopez-Cantera, a longtime friend of Rubio, asked Rubio to reconsider his decision following the Orlando massacre of 49 people at a gay nightclub. Lopez-Cantera, in a statement Wednesday, thanked Rubio for deciding to run and said he's dropping his own Senate bid.
Primary Likely


Another Republican Senate contender, real estate developer Carlos Beruff, said in a statement he's staying in the race. "This isn't Marco Rubio's seat; this is Florida's seat." he said. Another businessman, Todd Wilcox, has said he planned to continue his campaign even if Rubio decided to run.
Representative David Jolly dropped out of Senate contention on June 17, opting instead to run for re-election to the House against former Governor Charlie Crist, a Democrat, in a redrawn House district more favorable to Democrats.
Representative Ron DeSantis said Wednesday he also will drop his Senate bid and seek re-election to the House.
Senior Republicans, including Senator John Cornyn of Texas, had pleaded with Rubio to run, given his advantage in name recognition and fundraising in the big, expensive and crucial state.
'Worst Voting Record'
Democrats have been criticizing Rubio since the effort to draft him geared up weeks ago, noting his long absences from the Senate and rightward turn during the presidential campaign, including abandoning the immigration overhaul he helped co-author. Last week they attacked him for his vote against a Democratic measure in December aimed at barring people on a terror watch list from buying a gun.
The Democratic Senatorial Campaign Committee said in a statement Wednesday that Rubio had "the worst voting record of any Florida senator in nearly 50 years."
"Now, he is cravenly using the deadliest mass shooting in American history as the springboard to go back on his word and further his political career," the Democratic statement said.
Murphy, Grayson
Two Democratic representatives are looking to move up to the Senate, Alan Grayson and Patrick Murphy, and are in a contentious primary of their own.
Murphy, 33, has millions more in the bank and backing from the party establishment, including President Barack Obama and Senate Minority Leader Harry Reid. Grayson has a strong following among liberals for his pugnacious style, but has been criticized by Murphy for his complicated personal finances. Grayson, 58, runs a hedge fund while serving in Congress.
Murphy said in a statement Wednesday, "Marco Rubio abandoned his constituents, and now he's treating them like a consolation prize." He added, "Rubio is proving he's only out for himself."
As recently as May 16, Rubio was adamantly denying any plans to run again.
"I have only said like 10,000 times I will be a private citizen in January," he tweeted.
Before it's here, it's on the Bloomberg Terminal.
LEARN MORE