War of Words
Clinton Sticks to Primary Message on Economy as a Counter to Trump
One day after gutting Trump's business record and economic proposals, Clinton outlines her own plan to create jobs and ensure fairness.
by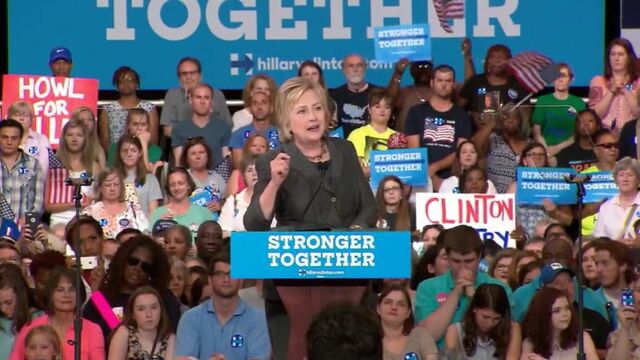 Hillary Clinton signaled Wednesday that her general election message on the economy won't change much from the views she ran on during the Democratic primary, as she tries to at once attract Bernie Sanders supporters and working-class white men who are leaning toward the presumptive Republican nominee.
"Donald Trump offers no real solutions for the economic challenges we face. He just continues to spout reckless ideas that will run up our debt and cause another economic crash," Clinton said at the North Carolina State Fairgrounds in Raleigh. "I'm here today to offer an alternative."
As she described it, her approach is "to make sure economy works for everyone – not just those at the top, not just for the rich or the well-connected, not just for people living in some parts of the country or people from certain backgrounds and not others."
The speech, delivered in a state that Democrats have made a battleground in national elections, was an effort by the party's presidential nominee to explain her economic priorities, and comes a day after an address in which she hammered her Republican rival's business record and challenged his economic promises. Not long before Clinton spoke, Trump delivered his own speech aimed at undermining the rationale behind her candidacy and accusing her of spending "her entire life making money for special interests.''
Trump, who has been working more closely with Republican National Committee researchers to counter Clinton's attacks, focused his speech on the former secretary of state's record and her financial ties to banks and other corporations.
Clinton suggested that Trump's speech and tweets over the past day were his attempts to retaliate for the speech she delivered Tuesday in Columbus, Ohio, which she suggested "must have gotten under his skin because right away he lashed out" against her with "outlandish lies and conspiracy theories."
"He's going after me personally because he has no answers on the substance," she said. "In fact, he doubled down on being the king of debt. So all he can do is try to distract us." That's also why, she speculated, that Trump questioned her faith. Her response: "Sigh."
Clinton also offered a rare defense of her family's foundation, on which Trump focused particular attention in his Wednesday speech. He was "attacking a philanthropic foundation that saves and improves lives around the world," she said, and "it's no surprise he doesn't understand these things. The Clinton Foundation helps poor people around the world get access to lifesaving AIDS medicine. Donald Trump uses poor people around the world to produce his line of suits and ties."
For most of the speech, Clinton's focus was on policy, though she didn't unveil any new proposals. Rather, she reiterated the views that carried her through the Democratic primary, including making college debt-free for all Americans, building on Obama-era Wall Street regulations, and raising the effective tax rates paid by America's wealthiest individuals and corporations.
Too many companies are "driven by Wall Street's obsession with short term share prices and quarterly earnings,'' she said. Getting corporations to stop shifting profits and jobs overseas requires "more than stern words or a flashy slogan, it takes a plan.''
Clinton's two economic speeches this week, taken together, are intended to demonstrate that she and Trump would be starkly different economic leaders. Trump, she said Tuesday, would "throw us back into recession" and cause "millions of Americans to lose their jobs," while she's promising to create jobs and raise wages.
There were strains of the populist themes — dealing with economic inequality, stagnant working-class incomes and the power of "special interests'' — that animated the campaign of Bernie Sanders, her challenger for the Democratic nomination. Trump, too, has adopted some of the same language and in his speech Wednesday make an explicit appeal to Sanders's supporters.
"I will end the special interest monopoly in Washington D.C.," Trump said. "That's why we're asking Bernie Sanders voters to join our movement so we can fixed the system for all Americans."
Campaign aides hope her message, repackaged for the general election electorate, will appeal to white working-class men in particular. In a Bloomberg Politics national poll of likely voters, Trump drew the support of 50 percent of men surveyed, while 33 percent expressed support for Clinton and 13 percent backed Libertarian candidate Gary Johnson. Democrats already see weakness in Trump's standing with white men, since he's polling substantially below the 62 percent support that Republican Mitt Romney got in the 2012 election, according to exit polls.
--With assistance from Kevin Cirilli
Before it's here, it's on the Bloomberg Terminal.
LEARN MORE