Gun-Curb Compromise Gaining Bipartisan Support in Senate
by
Republican Collins would ban gun sales to those on no-fly list

NRA opposes her plan, calling for concealed-carry provision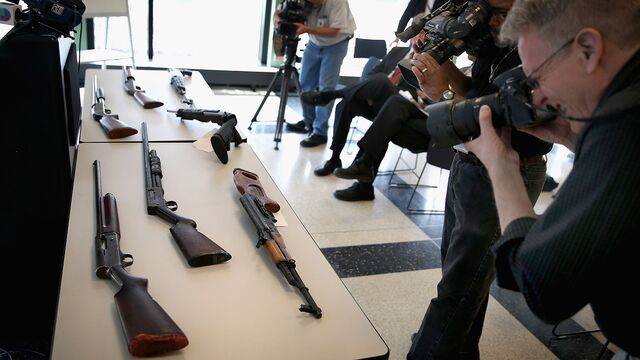 Republican backers of a compromise measure aimed at keeping guns out of the hands of suspected terrorists say they're gaining momentum and may win enough support to advance the measure in the Senate.
Republican Senator Susan Collins of Maine is pushing a measure that would bar people on the "no-fly" list, as well as another narrow list of possible terrorist suspects, from buying weapons. The Senate defeated four other gun-related amendments Monday, and Collins suffered another setback Tuesday afternoon when the National Rifle Association called it "unconstitutional." 
Even so, if the new compromise can win enough support in the wake of the Orlando nightclub attack, it could break a longstanding stalemate in the chamber over gun control.
"I think we're getting there," said Jeff Flake of Arizona, one of the three Republicans who have joined Collins in co-sponsoring her amendment to a spending bill that funds the Justice Department and other agencies. Lindsey Graham of South Carolina and Kelly Ayotte of New Hampshire, who is facing a tough re-election race, have also signed on. Republican Pat Toomey of Pennsylvania, who is also running in a competitive race, also backed her plan on Tuesday.
The Collins amendment also has five co-sponsors on the Democratic side, including Heidi Heitkamp of North Dakota, the lone Democrat to vote against an amendment Monday from Dianne Feinstein of California that would have banned people on the broader terrorism watch list from buying guns.
Senate Majority Leader Mitch McConnell said Tuesday that he would allow her proposal to come to the floor.
Backers still face an uphill climb getting anything on guns done, with Majority Whip John Cornyn of Texas among the Republicans saying that a court order and probable cause should be required before someone is banned from buying a weapon. He called it a "slippery slope" to deny due process to Americans who want to buy guns, but said "we'll see how the vote comes out."
Democratic leaders praised Collins for trying to forge a bipartisan deal, with No. 3 Democrat Chuck Schumer of New York calling it "a step in the right direction." But he added that several "potentially serious problems" remain, including that the measure doesn't block "nearly 900,000 foreigners in the terrorist screening database" from being able to buy guns.
'At War'
The NRA's opposition could scare away some Republicans, as the group encouraged its followers on Twitter to contact lawmakers and defeat any new gun control proposal.
"Keeping guns from terrorists while protecting the due process rights of law-abiding citizens are not mutually exclusive. Unfortunately, Senator Collins and others are focusing their efforts on unconstitutional proposals that would not have prevented the Orlando terrorist attack. The American people want Congress to stop playing politics and pass policies that will keep them safe from terrorists," Chris W. Cox, executive director of the NRA's lobbying arm, said.
Instead, the NRA called on Congress to pass a law allowing people to carry concealed firearms nationwide.
Graham told reporters earlier Tuesday that the NRA should balance the inconvenience of a legitimate gun-buyer being on the no-buy list with the likelihood of someone on the list buying a gun and killing people.
"To my friends at the NRA, I'm with you most of the time. I believe we're at war, and I can't think of a way to fight this war without somebody being inconvenienced, and at the end of the day, once you sell the guy the gun there is no getting it back. You can get off the list," he said.
Graham said the vote on the Collins amendment would be a test of the institution's ability to do anything -- and warned senators who oppose it they could come to regret it.
"If we can't do this, I don't know what we're ever going to do. And if you're a member of the Senate, you're betting that nobody on this list ever goes out and buys a gun and kills a bunch of people with it. 'Cause I tell you what, if you vote against this, and they do go out and buy a gun and kill a bunch of people, you've got a lot of explaining to do," Graham said.
20 Votes
Democratic leaders have said that if Collins can bring along 20 Republicans, they will consider the bill seriously. Any such measure would need 60 votes to advance in the Senate. A strong showing by Republicans would also put pressure on the Republican-led House to consider the provision.
"Surely the terrorist attacks in San Bernardino and in Orlando that took so many lives are a call for compromise, a plea for bipartisan action," Collins said Tuesday when she unveiled her proposal.
White House spokesman Josh Earnest said the Obama administration is "quite disappointed" that Republicans blocked Feinstein's amendment.
"I don't know why you would water down the proposal," Earnest told reporters. He said the White House and Justice Department are looking at Collins' proposal and if it would have a positive effect, "that's likely something we would be able to support." Still, he said, "this certainly doesn't make up" for the rejection of the Feinstein measure.
Many Republicans said Tuesday morning they were still evaluating the Collins amendment. Others were mulling their own alternatives.
'Selectee' List'
Collins has said she crafted the measure so that it would have covered Omar Mateen, the shooter who killed 49 people in a gay nightclub in Orlando. He has been investigated by the FBI in 2013 and 2014, when he was put on a terrorist watch list. He was subsequently removed when the investigation was closed.
Ayotte said Monday on the Senate floor that Mateen had also been placed on the "selectee" list, a narrower collection of possible terrorist suspects who receive extra screening when they board airplanes. 
The Collins amendment would allow the attorney general to ban gun sales to anyone on the no-fly or selectee lists. It would also ensure that the FBI is notified when someone who has been on either list -- or on the broader terror watch list -- within the past five years purchases a firearm.
The amendment would also allow any U.S. citizens and green-card holders to appeal if they are denied the ability to buy a gun, and the U.S. government would pay their legal fees if they prevail.
Before it's here, it's on the Bloomberg Terminal.
LEARN MORE