U.S. ELECTION WRAP: Manafort Wins Trump Camp's Game of Thrones
by , , and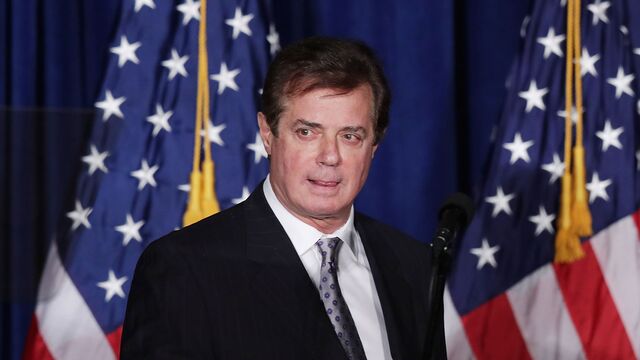 Corey Lewandowski, who'd plotted Donald Trump's rise from a descending escalator at Trump Tower all the way to the cusp of the GOP presidential nomination, is out. In his place: Paul Manafort, who had been jostling with Lewandowski for control since being hired in March to shore up Trump's fight for delegates.
Shakeup effectively ends an internal war between Lewandowski and Manafort that plagued the campaign for months, Bloomberg's Kevin Cirilli reports

Tidbit: Ivanka Trump sought changes in her dad's messaging—temper the Muslim-ban proposal, focus more on women's issues, stop racially charged critique of judge overseeing Trump University lawsuit
NOTE: Staff change also comes after couple of bad weeks on campaign trail for Trump; he trailed Hillary Clinton by 12 points in Bloomberg national poll released last week

Lewandowski responded to his ouster with media blitz. Key bits:

Says Manafort has run campaign since April: AP
In lengthy interview with CNN, Dana Bash asked him if Trump told him "You're Fired"—the catchphrase he used to dismiss contestants in his "Apprentice" TV show
Lewandowski says he spoke with Trump by phone, but told CNN he doesn't know why he was fired 

POLLS
Clinton leads Trump nationally 47%-40% among registered voters; 49%-41% among likely voters: Monmouth Poll
More U.S. Democrats than Republicans, 71% vs 59%, believe someone is running this year who will make a good president, according to Gallup Poll.

ADS
Clinton's campaign and outside allied groups out-spending Trump on ad buys in battleground states, roughly $23.4 million vs. zero so far in June, NBC News reports, citing SMG Delta data
Buys, per NBC, include $5.2m in Ohio, $5.1m in Fla., $3.7m in N.C.

FUNDRAISING
Deadline is today for campaign committees, super-PACs to report fundraising for May to FEC; deadline is midnight Washington time

NOTE: Clinton out-raised Trump through April, garnering $288 million compared with his $59 million

Lewandowski tells CNN money is "pouring in" for Trump

"People want to come on board. They want to join the organization. They want to come onboard the Trump train"

Priorities USA, group backing Clinton, says it raised $12.1 million in May, has $52 million cash on hand

STAFF
Jacob Leibenluft, deputy director of National Economic Council, to become senior policy adviser for Clinton campaign, CNBC reports
Trump hires Kevin Kellems, Indiana-based GOP strategist, to oversee surrogates: NYT
GQ profiles Hope Hicks, Trump's campaign spokeswoman
Don't miss a thing—get the Campaign Wrap by e-mail, Monday - Friday evenings.

CONGRESSIONAL
CO-SEN: Senate Majority Leader Mitch McConnell's leadership PAC donated to former state Rep. Jon Keyser, according to FEC filing

Bluegrass Committee sent $5,000 on May 21 to Keyser, who has four opponents in June 28 primary seeking to oppose Democratic Sen. Michael Bennet

FL-SEN: Republican homebuilder Carlos Beruff's campaign released statement asking Sen. Marco Rubio if he is "willing to look the voters of Florida in the eye" and commit to serving full six-year term

Rubio reconsidering decision to retire from Senate; planned to discuss matter with family this past weekend
Official candidate qualifying period began today and ends June 24; Beruff, businessman Todd Wilcox qualified for Aug. 30 primary ballot today; Lt. Gov. Carlos Lopez-Cantera, who has been running for seat, has said he'll defer to Rubio

PA-SEN: Majority Forward, a Democratic-aligned 501c4 group, aired ad attacking Republican Sen. Pat Toomey as "Wall Street wheeler-dealer" who has been "siding with Wall Street" with his votes

Majority Forward affiliated with Senate Majority PAC, super-PAC working to overturn GOP's 54-46 majority

SENATE FUNDRAISING: Senate Majority PAC, Democratic super-PAC seeking to overturn GOP's 54-46 majority, ended May with $11.4m in bank after raising $4.7m during that month, according to FEC filing

PAC received $2m from Chicago media executive Fred Eychaner and $1m apiece from billionaire Saban Capital Group chairman/CEO Haim Saban and the Laborers' International Union of North America

HOUSE FUNDRAISING: Democratic Congressional Campaign Committee had $51.2 million cash-on-hand after raising $8.1 million in May, according to FEC filing

Minority Leader Nancy Pelosi, Vt. Rep. Peter Welch each transferred $100k in campaign funds
Billionaire climate-change activist Tom Steyer, venture capitalist John Doerr each donated $33,400

FL-01: Republican state Sen. Greg Evers introduced Facebook contest that will award AR-15 semiautomatic rifle to qualified resident, Politico reported

"With terrorism incidents on the rise, both at home and abroad, protecting our constitutional rights has never been more important," Evers said in statement one week after Orlando massacre
Evers in crowded Republican field seeking to succeed retiring GOP Rep. Jeff Miller in strongly conservative district in Fla. panhandle

FL-02: Republican lawyer Mary Thomas aired TV ad with news footage of Orlando mass shooting, says "ISIS has brought their war to America" and says she agrees with Trump that U.S. should "stop all immigration from countries that harbor terrorists"
FL-13: Rep. David Jolly's campaign leaks internal poll showing lead over former Democratic Gov. Charlie Crist, Politico reports

Survey shows him leading Crist 50-38 percent; 12 percent undecided

NOTE: Jolly's district leans more Democratic after being redrawn last December under a Fla. Supreme Court order
NOTE: Jolly dropped out of Florida Senate race Friday, expecting Republican Sen. Marco Rubio to seek a second term

President Obama endorsed Charlie Crist, saying in statement that ex-GOP governor "had the courage to save jobs and lead his state into economic recovery," Tampa Bay Times reported
Crist likely Democratic nominee against GOP Rep. David Jolly, who ended Senate bid June 17 to seek re-election in St. Petersburg-area district that leans Democratic

Crist received $5k donation from New Cuba PAC, which supports candidates who favor closer relations between the two nations, according to FEC filing

KS-01: Rep. Tim Huelskamp's campaign aired TV ad saying primary opponent Roger Marshall "almost ran down and seriously injured his neighbor" in 2008, and that "lawbreakers belong in jail, not Congress"

Marshall, a physician, said in TV ad that Obama administration's 2010 health-care plan is "hurting Kansas families" and that "our country is in critical condition"
Marshall ad also shows image of Huelskamp as narrator says "career politicians can't fix this mess"

NY-13: Democrats seeking to succeed retiring Democratic Rep. Charles Rangel will debate at 7 p.m. tonight on NY1

Winner of June 28 primary will be shoo-in to win Nov. election in overwhelmingly Democratic district that includes parts of northern Manhattan and the Bronx

NY-22: Martin Babinec, an investor/entrepreneur, introduced four 15-second TV ads that promote himself as the "jobs candidate" who will work to boost employment opportunities in upstate N.Y.

"I came back home from Silicon Valley to help young people realize their dreams right here," Babinec says in one spot
Babinec loaned campaign $1 million, seeking Nov. ballot access as candidate of Upstate Jobs Party after failing to submit enough valid signatures for Independence Party ballot line, Syracuse Post-Standard reported
Democrat Kim Myers, three Republicans seeking seat of retiring GOP Rep. Richard Hanna
Grow the Economy PAC, super-PAC bankrolled by Oneida Indian Nation and opposed to Republican Claudia Tenney, aired ad promoting Republican Steve Wells as "an outsider who will shake things up in Washington"
Before it's here, it's on the Bloomberg Terminal.
LEARN MORE