Post-Orlando Limits on Gun Purchases Blocked in U.S. Senate
by
Plans to stiffen background checks for purchasers fall short

Four Republicans are unveiling a compromise proposal Tuesday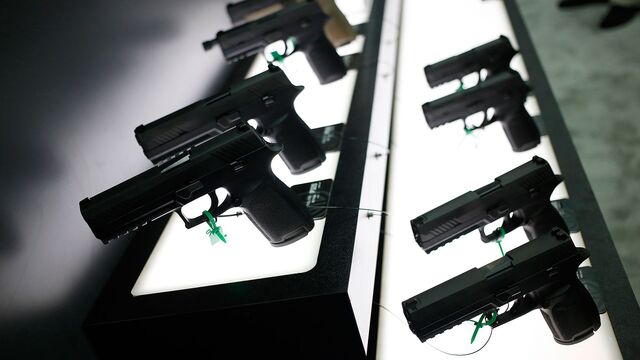 The Senate blocked four proposals intended to keep terrorist suspects from buying guns in the wake of the Orlando massacre, while some Republicans said they're working on a new effort to break a years-long deadlock over gun legislation.
The failed procedural votes continue Democrats' long losing streak for new gun-purchasing restrictions. Republicans are on the defensive, though, after the 49 deaths in Florida, and are scrambling to find a way forward on an issue with broad public support less than five months before the November election.
Two of the defeated proposals were offered by Republicans and two by Democrats. Each required 60 votes to advance in the 100-member Senate. The most prominent was a measure from Dianne Feinstein of California that had the support of the Obama administration and would have prevented people on the terrorist watch list from being able to purchase guns. It was defeated on a 47-53 vote.
"I'm mortified by today's vote," said Chris Murphy of Connecticut, who held the Senate floor for nearly 15 hours last week demanding votes on gun-related provisions. "We're not giving up."
Republicans Mark Kirk of Illinois and Kelly Ayotte of New Hampshire voted for the amendment, while one Democrat, Heidi Heitkamp of North Dakota, opposed it.
Ayotte -- who helped kill bipartisan background check legislation in 2013 following the Newtown, Connecticut, school shooting -- faces a tough re-election fight this year and said she was backing three of the four proposals to tighten background checks for suspected terrorists. 
She and two other Republicans have signed onto a compromise plan being developed by Republican Susan Collins of Maine, who will announce it on Tuesday. Collins said she is seeing "tremendous" bipartisan interest in her plan, which she hopes could get the 60 votes needed to advance if it reaches the Senate floor.
"If you're too dangerous to board a commercial plane, it stands to reason that you shouldn't be able to buy a gun," Ayotte said on the Senate floor before the votes. "So why can't we act in good faith and figure out the best way to achieve that goal?"
The No. 2 Republican in the Senate, John Cornyn of Texas, said Majority Leader Mitch McConnell has indicated he would allow additional votes on the Collins amendment or on other amendments on the issue.
School Shootings
A series of deadly school shootings across the country -- including the Sandy Hook Elementary School shooting in Newtown, where 20 children and six adults were killed in 2012 -- didn't change the dynamic in Congress when it came to gun control. After December's shooting in San Bernardino, California, where the attackers pledged allegiance to Islamic State, only one Senate Republican -- Kirk -- supported Feinstein's proposal to ban anyone on the terrorism watch list from buying a gun when it came up for a vote in December. 
The terrorism connection in the Orlando shooting has shifted the debate in Congress slightly. Bernie Sanders of Vermont, who has been running for the Democratic presidential nomination, returned from the campaign trail to support the two Democratic amendments. He had only voted one other time on the Senate floor so far this year.
"A lot of us would like to see a compromise that we can support," Republican Senator John McCain of Arizona said after the vote Monday.
Democratic leader Harry Reid of Nevada said he hopes Collins can "drum up" 20 Republican votes for her measure "so it is not an exercise in futility."
'Good Thing'
Chuck Schumer of New York, the No. 3 Democrat in the Senate, also called Collins' effort "a good thing."
"The key question is not whether Susan Collins will step forward and try to offer a compromise but whether 20 Republicans will finally join her to get something done," Schumer said.
Democrat Bill Nelson of Florida said Collins doesn't have the votes yet and she would have to "guarantee" that she could deliver enough Republicans to reach 60 votes to make a vote on her measure worthwhile.
Senate Judiciary Chairman Chuck Grassley of Iowa contended Feinstein's provision would have violated the Constitution by allowing the government to block gun sales simply based on suspicion.
"The sponsors of that amendment would never propose curtailing a person's First Amendment right to search the Internet because the Attorney General suspected they might be a terrorist," Grassley said Monday on the Senate floor. "What if inclusion on one of these lists deprived an individual of their right to worship at a church, mosque, or temple?"
Grassley's proposal, defeated on a 53-47 vote, focused on ensuring that people already prohibited from buying guns are in the background check system. It also would require setting up a system to notify law enforcement if someone who has been investigated as a suspected terrorist within the past five years buys a firearm or explosives.
'Selectee List'
Collins is working with Ayotte and fellow Republicans Lindsey Graham of South Carolina and Jeff Flake of Arizona on a compromise. Their bill would block gun sales to people who are on the "selectee" list of people who face special scrutiny while flying, as well as people on the smaller "no-fly" list.
The narrower list, they argue, would be more focused on suspected terrorists and sympathizers.
"There are no bubbas on these lists," Graham said Monday, using a colloquialism for Southern men. "If you're on these lists, it's not because you went to a Tea Party rally or you have a political ax to grind with the president."
The plan would also notify the FBI if someone previously on one of those lists sought to buy a gun through a sale that requires a background check -- something Ayotte said could have caught Orlando shooter Omar Mateen.
"I think this is a place where we ought to be able to find common ground," Graham said Monday.
Additional Amendments
On Monday, the Senate blocked two other amendments. One, from Cornyn, which was defeated 53-47, would have required the government to get a court order within three business days to block a suspected terrorist from getting a gun.
But fellow Republican Collins said last week that she largely agrees with Democratic complaints that the Cornyn amendment would be ineffective. It would require law enforcement to show "probable cause" that a person is linked to terrorism before blocking a gun purchase -- a standard Collins and others say is too high because, if the government could satisfy it, they would have already arrested the person.
The other amendment, from Murphy, was defeated 44-56. It was aimed at closing a loophole that allows many gun purchases to take place without any background check at all, at gun shows or via private sales.
That has taken on new relevance, Democrats say, because even if a terrorist becomes barred from buying a gun via another amendment, they would still be able to bypass background checks by exploiting the loophole.
Shifting Debate
After these votes, Republican leaders are hoping to get past the gun debate. Cornyn says he wants to pursue legislation that would grant the FBI warrantless access to personal internet data like browsing history -- something senators said FBI Director James Comey urged them to pass in a closed-door briefing on Orlando last week. That effort is strongly opposed by Silicon Valley giants including Google, Yahoo and Facebook.
Democrats, for their part, plan later in the week to push for other amendments to the spending bill being debated in the Senate, S. 2837, which funds the Justice Department and other agencies. One would add $175 million to the FBI in the wake of Orlando and another would send $41 million to the Department of Justice aimed at enforcing laws against hate crimes and discrimination.
That would set up another potential conflict with Republicans, many of whom oppose adding more spending to the deficit.
Michael Bloomberg, the founder and majority owner of Bloomberg LP, is an advocate of assault-weapon restrictions and serves on the advisory board of Everytown for Gun Safety, a gun-control group.
Before it's here, it's on the Bloomberg Terminal.
LEARN MORE