New York, Connecticut Assault-Weapon Bans Let Stand by Court
by
Federal appeals court said bans comply with Constitution

Seven states bar rifles like the one used by Orlando shooter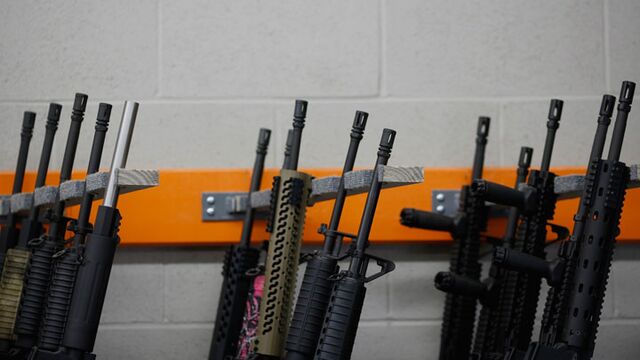 The U.S. Supreme Court refused to question assault-rifle bans in New York and Connecticut, steering clear of an intensifying national debate after the shooting that killed 49 people in a gay nightclub in Orlando, Florida.
Turning away two separate appeals without comment, the justices left intact federal appeals court rulings that said the bans comply with the constitutional right to bear arms.
New York and Connecticut are among seven states that outlaw weapons similar to one used by Omar Mateen in the June 12 massacre.
President Barack Obama and presumptive Democratic presidential nominee Hillary Clinton have called for reinstatement of the federal assault-weapon ban, which expired in 2004 after a decade. Presumptive Republican nominee Donald Trump says he is opposed, although he supported a ban in his 2000 book, "The America We Deserve."
The Senate plans later Monday to hold procedural votes on four gun provisions. Though all are likely to be blocked, senators have been discussing a possible compromise that could advance legislation aimed at preventing people suspected of terrorist ties from easily buying a gun.
The rebuff by the Supreme Court marks the second time since December that the justices have declined to question assault-weapon bans. Gun-rights advocates have repeatedly failed in recent years to get the high court to expand protections under the Second Amendment. The court hasn't taken up a gun-rights case since it threw out a Chicago handgun ban in 2010.
School Massacre
New York and Connecticut strengthened their existing assault-weapon bans after the 2012 shooting that left 20 children and six educators dead at an elementary school in Newtown, Connecticut.
The group challenging the Connecticut ban, led by octogenarian state resident and shooting sports enthusiast June Shew, called the law "irrational."
The measure criminalizes the sale or possession of semi-automatic rifles that accept detachable magazines and have at least one other specified feature, such as a forward pistol grip. It lists 183 specific prohibited weapons.
"The category of firearms Connecticut bans are united by nothing other than the possession of safety-enhancing features that serve to make them more reliable and better suited to home defense," the challengers argued.
'Disproportionate Use'
Connecticut urged the Supreme Court not to hear the case, saying the measure outlaws only a small subset of military-style firearms.
"These guns have an established track record of disproportionate use in the most serious gun crime incidents -- mass shootings and killing of law enforcement," Connecticut Attorney General George Jepsen argued.
New York's law is similar, though it doesn't list specific firearms. At the Supreme Court, that measure was challenged by state resident Douglas E. Kampfer, who filed his Supreme Court appeal without the help of a lawyer.
A New York-based federal appeals court upheld both laws.
Mateen used a Sig Sauer MCX rifle as well as a handgun in the Orlando shooting. Although the MCX isn't explicitly listed as banned in either state, the laws are worded broadly enough to potentially cover the weapon.
Former New York Mayor Michael Bloomberg, the founder and majority owner of Bloomberg LP, is an advocate of assault-weapon restrictions and serves on the advisory board of Everytown for Gun Safety, a gun-control group.
The cases are Shew v. Malloy, 15-1030, and Kampfer v. Cuomo, 15-8704.
Before it's here, it's on the Bloomberg Terminal.
LEARN MORE