Making America Great Doesn't Mean Building Walls, Biden Says
by and
Vice president makes speech warning against isolationism

Jabbing Trump, Biden says U.S. can't 'wall itself off'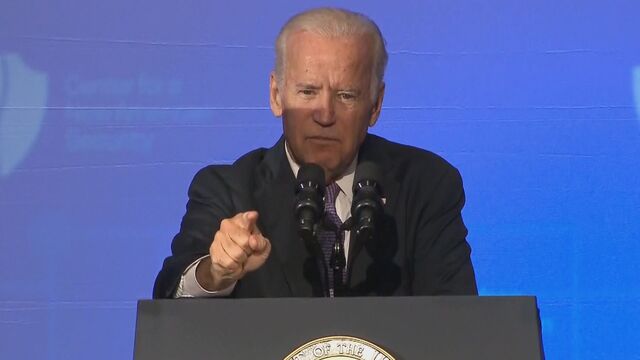 Taking aim at some of Republican Donald Trump's highest-profile campaign promises, Vice President Joe Biden called on the U.S. to avoid pulling back from the world and to uphold national values of inclusion and tolerance.
In a speech on Monday at the Center for a New American Security's annual conference in Washington, Biden urged the country to refrain from building walls, alienating Muslims, and adopting an "us-versus-them" attitude.
The country is at an "inflection point -- the choices we make today will steer the future of our world for the next three decades," Biden said.
Trump, the presumptive Republican presidential nominee, has said that if elected in November he will build a wall between the U.S. and Mexico to stop illegal immigration, and force Mexico to pay for it. He also has said he would temporarily bar Muslims from entering the country.
Biden lauded the ability of the U.S. to lead by example and draw partners to its side, riffing on Trump's campaign slogan of "Make America Great Again."
'Empty Bluster'
"That's what has always been America's greatest capability," Biden said. "Not empty bluster. Not a sense of entitlement that fundamentally disrespects our partners. Not an attitude and insecurity of a bully."
Wielding the "politics of fear and intolerance,'' such as by shutting out Muslims, "calls into question America's status as the greatest democracy in the history of the world," the vice president said.
Biden's remarks follow comments by other Democratic leaders, including President Barack Obama, in the wake of a massacre on June 12 by Omar Mateen, a self-professed follower of the terrorist group Islamic State. Mateen killed 49 people at a gay nightclub in Orlando, Florida, and injured dozens of others before he was killed by police. It was the worst mass shooting in modern U.S. history.
Racial Profiling
After the shootings Trump accepted congratulations for "being right about Islamic terrorism'' and called on Obama to label Muslim terrorists as "radical Islamists." In the days since, a Bloomberg poll showed that Hillary Clinton, the presumptive Democratic presidential nominee, opened a double-digit lead nationally over Trump. She and Obama both made speeches assailing Trump.
Biden's remarks come a day after Trump renewed his call for the U.S. to consider profiling of Muslims as a tool to prevent terrorist attacks.
"I hate the concept of profiling, but we have to start using common sense," Trump said Sunday on CBS's "Face the Nation." "Profiling is something that we're going to have to start thinking about as a country." He made similar remarks after the deadly shooting in San Bernardino, California, by a radicalized couple in December.
'Bitter Ideology'
Following Obama's lead, Biden inveighed against Trump's ideas without referring to the billionaire candidate by name.
"Alienating 1.5 billion Muslims,'' Biden said, "doesn't make the situation better, it makes it worse," adding that, as Americans, "we cannot wall ourselves off" from challenges. "Even in simpler times, isolation never offered more than a false sense of security."
Islamic State "is resilient and barbaric, fueled by a bitter ideology," Biden said. The group "wants to manufacture a clash of civilizations...why in God's name are you giving them what they want?" Instead, the campaign against violent extremists should be "smart and has to be consistent with American values," he said.
Biden also addressed Trump's praise for Russian President Vladimir Putin. "Embracing Putin at a time of renewed Russian aggression could call into question America's longstanding commitment to a Europe whole, free and at peace,'' Biden said.
Before it's here, it's on the Bloomberg Terminal.
LEARN MORE