U.S. ELECTION WRAP: Rubio For Senate? Democrats Are Ready
by and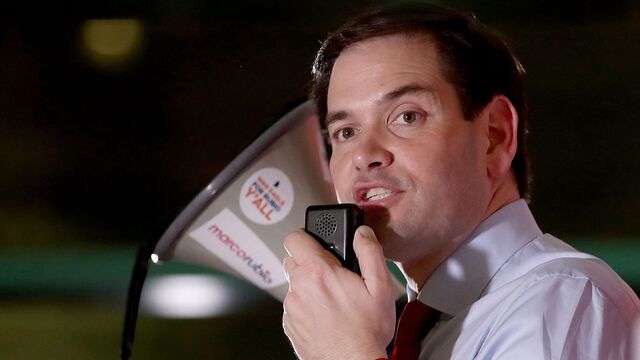 Republican Sen. Marco Rubio may not have tipped his hand yet on whether he'll seek a second Senate term, but Democrats are gearing up just in case.
Democratic Senatorial Campaign Committee is out today with an ad claiming Rubio "failed to do his job," highlighting missed votes and hearings
Rubio can expect a lot more of the same should he run
"There are a lot of things Democrats can throw at him, all those things he said about the Senate and his absenteeism while running for president," Cook Political Report senior editor Jennifer Duffy says in interview
NOTE: Rubio, who during presidential bid took flack from rivals including Donald Trump on missing votes, told Washington Post in October that he's "frustrated" with Senate; an unnamed friend told the newspaper that Rubio hates his job
Democratic Rep. Patrick Murphy of Florida, who's making a run for U.S. Senate and backed by DSCC, went after Rubio on CNN yesterday for missing "a historic amount of votes" and voting against legislation to close loophole that allows suspected terrorists to purchase guns legally
Meanwhile, Rep. David Jolly, R-Fla., dropped out of the Florida Senate race, saying he will focus on keeping his House seat
Jolly says in statement he has "unfinished business" in House, didn't want to miss votes "skip out on committee hearings and intelligence briefings" to mount Senate campaign
NOTE: Jolly's move helps clears path for Rubio, who earlier this week said he would consider seeking re-election for 2nd term after earlier vowing not to run,
Jolly has said he expects Rubio to run and doesn't want to compete against him; sees Rubio as best chance for GOP keeping seat against either Murphy or Democratic Rep. Alan Grayson
"I think all signs are pointing to him running," Jolly told the Times/Herald two weeks ago
NOTE: Rubio spokespeople didn't respond to request for comment; deadline to declare candidacy is June 24

FUNDRAISING
Clinton's campaign has out-raised Trump's though April, with $211 million ($288 million including her SuperPAC), compared with his $59 million ($0 SuperPAC support), Bloomberg Intelligence analyst Julie Chariell writes
May totals will be released on Monday, June 20, by FEC, giving a first look at Trump's fundraising since becoming the presumptive GOP nominee in early May
"The figures are important indicators of success in his shift from self-funding to outside fundraising and support from two new pro-Trump SuperPACs": Chariell

ON THE TRAIL
Democratic strategist and presidential campaign veteran Joe Trippi thinks Democratic presidential candidate Bernie Sanders' insistence on staying in the race is damaging his clout, Bloomberg's Sahil Kapur reports
"We're already way past the maximum point of leverage that he and his movement built up. It's definitely dissipating every day," says Trippi, who puts high point of Sanders' sway at April 9, after he won seven straight contests against Clinton
NOTE: Sanders is still an "active candidate for president," campaign manager Jeff Weaver told MSNBC today
Democratic Sen. Elizabeth Warren, who endorsed Clinton last week, made a visit to Clinton's Brooklyn campaign headquarters to give aides a "pep talk," Washington Post reports

DELEGATES
As Trump stumps in Texas, dozens of Republican convention delegates are plotting to block the presumptive GOP nominee at this summer's party meetings, Washington Post reports
The plan marks most organized attempt to date to stop Trump from becoming the party's nominee, according to the newspaper
ENDORSEMENTS ( + DENOUNCEMENTS & RESERVATIONS)
"Cut the Thread." That's Weekly Standard editor Bill Kristol's latest call to the Republican Party about what to do with Trump
"Leaders of the Grand Old Party, dig down deep, summon your courage, steel your nerve .  .  . and cut the thread," Kristol writes in editorial for magazine's June 27 edition
Former President George W. Bush is deeply bothered by Trump's campaign message, particularly unfavorable comments about immigrants and Muslims, New York Times reports, citing unidentified Bush friends
Bush is actively helping some senators in competitive races in bid to keep Senate in GOP control; he's hosted or plans to host fundraisers for GOP Sens. John McCain of Ariz., Kelly Ayotte of N.H., Ron Johnson of Wis. and Rob Portman of Ohio, according to the Times

CONGRESSIONAL RACES
HOUSE FUNDRAISING: American Bankers Association PAC sent $122.5k to federal candidates and political committees in May, mostly to Republicans, though some Democrats likely to enter Congress next year also received donations
Businessman Raja Krishnamoorthi in IL-08, state Sen. Darren Soto in FL-09, ex-state Sen. Lou Correa in CA-46 got money from ABA's PAC; all favored to succeed Democrats who are seeking other political office
FL-13 Within hour of GOP Rep. Jolly saying he won't run for Senate and instead seek to keep his House seat, former Fla. Gov. Charlie Crist, the likely Democratic nominee to face Jolly, posted new ad pledging to clean up Washington, Tampa Bay Times says
NOTE: Jolly's district, which was redrawn under Fla. Supreme Court order last Dec., includes Clearwater, Largo and became more Democratic after adding the rest of St. Petersburg
Cook Political Report to move race from "likely Democratic'' to ''lean Democratic'' after Jolly's decision announced
''Democrats can no longer take this race for granted,'' Cook House editor David Wasserman writes
Jolly has ''beaten the odds before'': Wasserman
NOTE: Crist is a former Republican who lost to Rubio as independent in 2010 Senate race
OH-SEN: TV ad from conservative group blames Democrat Ted Strickland for Ohio's economic struggles when he was governor from 2007-2011; says 350,000 people who lost jobs could fill Ohio State University's stadium more than three times
Ad by Freedom Vote, a Dayton-based 501c4 advocacy group that doesn't disclose donors, first aired in Toledo market this AM and doesn't mention Republican Sen. Rob Portman
NY-19: Democrat Zephyr Teachout raised $757k in 10-week period that ended June 8, including $560k from people who have donated less than $200, according to FEC report
Teachout's donors included actress Susan Sarandon, actor Mark Ruffalo, and Emily's List, which aids Democratic women who support abortion rights
NOTE: Teachout, a law professor who opposed Democratic Gov. Andrew Cuomo in 2014 primary, is running in June 28 party election against farmer and town councilman Will Yandik, who raised $135k during reporting period
NY-19: Ex-state Rep. John Faso faces businessman Andrew Heaney in GOP primary; Heaney raised $460k, including a $370k personal loan, compared with Faso's $143k during 10-week period
Billionaire Paul Singer gave $500k to super-PAC supporting Faso and opposing Heaney, according to FEC report
NY-22: A super-PAC that's raised more than $528k to oppose Republican Claudia Tenney is funded solely by Oneida Indian Nation, according to FEC filing by Grow the Economy PAC LLC
Tenney, a state assemblywoman, has long clashed with OIN over its casino interests
NOTE: Tenney among three Republicans seeking upstate district of retiring GOP Rep. Richard Hanna, who beat Tenney in 2014 primary
OK-01: Republican energy executive Tom Atkinson raised $700k through June 8, including a $400k personal loan, according to FEC filing
Atkinson is challenging two-term Rep. Jim Bridenstine in June 28 primary in Tulsa-based district
UT-04: Republican Rep. Mia Love in campaign fundraising e-mail says ''we are losing" in what will be a "grueling contest," referring to Salt Lake Tribune-Hinckley Institute poll showing Love trailing Democrat Doug Owens 51%-45%
NOTE: Love became first black Republican woman elected to Congress in 2014, when she beat Owens 50%-47%; Mitt Romney beat President Obama in district by 68%-30% in 2012
WY-AL: Republican Liz Cheney in first TV ad says she's running for Congress "because protecting our way of life will require a strong leader"
NOTE: Cheney, daughter of former Vice President Dick Cheney, seeking to succeed retiring GOP Rep. Cynthia Lummis in statewide district her father held from 1979-89

ETC.
Gary Gensler, deregulator turned reformer in career spanning Goldman Sachs and a Dodd-Frank-era CFTC, is Hillary Clinton's "progressive beacon," Bloomberg's Jennifer Epstein reported yesterday
Before it's here, it's on the Bloomberg Terminal.
LEARN MORE