Ryan Targets 'Executive Overreach' in Shadow of Trump's Bid
by
Plan comes as party squirms over Trump's proposed Muslim ban

Trump says as president he could enact Muslim ban on own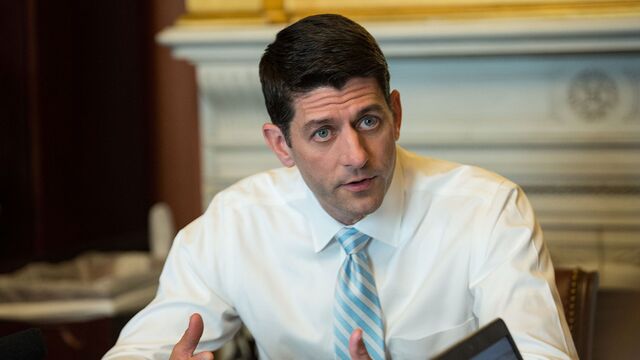 Speaker Paul Ryan announced a House Republican plan aimed at reining in what his caucus says has been presidential overreach and reasserting what he sees as Congress's constitutional powers.
"Our Constitution makes sure that no one person exercises too much power," Ryan said at a news conference Thursday in the Capitol's Statuary Hall.
But the timing is awkward for the release of the fourth plank of a six-part policy agenda aimed at unifying the party ahead of the November election. 
Donald Trump, in the wake of the Orlando shooting, this week repeated his intention to ban Muslims from entering the U.S. and the presumptive Republican presidential nominee added that, as president, he'd have authority to carry out such a ban without congressional approval. 
Republican lawmakers who criticize his statements should "be quiet," Trump said Wednesday at a rally in Atlanta. He said Republican leaders "have to get smarter, and we have to have our Republicans either stick together or let me just do it by myself."
"You can't make this up sometimes," Ryan said at a news conference later Thursday when asked about Trump's comment. "We represent a separate but equal branch of government."
He said he has no plan to rescind his endorsement of Trump. "I'm going to be myself and speak up in defense of our principles," Ryan said. Regarding Trump's decision to revoke credentials to cover his events for the Washington Post and other media outlets that have displeased him, Ryan said, "I hope and assume that this will get worked out."
Ryan has condemned Trump's proposed ban on Muslims entering the country, but hasn't commented directly on whether he would have the executive authority to carry it out.
'Rein In'
Another House Republican, Dave Brat of Virginia, said earlier that he'd have to hear precisely what Trump is proposing, but that his talk of imposing bans or building walls without congressional input isn't helpful. 
"We've been trying to rein in President Obama since the time I got in on constitutional amnesty," he said. "And we have not been able to do that."
House Republicans chose to unveil their proposal at Statuary Hall, a historic, former meeting location of their chamber, to symbolize what Republicans say is a needed return to a federal separation of powers. The Constitution's Article 1 vests legislative authority exclusively in the House and Senate.
The House Republican document lays out several objectives, including re-establishing and enforcing limits on agency authority; overhauling the agency rulemaking process; exercising the power of the purse, which it says can happen only if Congress passes individual spending bills; and conducting "more robust" oversight of the executive branch.
The plan also calls for expedited judicial review on lawsuits filed by Congress against the executive branch when lawmakers claim it has failed to execute the law or has overreached its power. 
Executive Orders
The House proposal is the work of a task force that has included in its efforts a look at some of Obama's most controversial executive orders and regulations, including those touching on immigration that have led to court action.
Last month, Ryan made a point of telling reporters that executive overreach is one of his main concerns -- and acknowledged that Obama is not the only president to advance his agenda by asserting his constitutional powers.
"But this president has taken it even further than anyone before," Ryan said at the time. He said the effort to now reassert constitutionally drawn limitations is "not just with Donald Trump but whoever is the president is going to be." 
The plan released Thursday asserts that "the executive and judicial branches have vastly increased their power -- sometimes with and sometimes without Congress's consent."
In addition, it says "the regulatory state" has grown into a sort of fourth branch, through which part of the executive branch "has accumulated all three powers -- to make, enforce, and interpret the law." Congress should seek to address this congressional "imbalance," it says.
Subpoena Enforcement
House Republicans say they want to beef up enforcement of congressional subpoenas of agencies, to better ensure compliance, and to strengthen the Congressional Review Act in ways they say will ensure agencies submit new regulations first to Congress for evaluation.
The plan also calls for enforcing limits on agency authority through more authorization bills by Congress, saying, "By passing an authorization bill before funding an agency, Congress can define -- and thus limit -- the agency's powers and hold up its performance to public scrutiny." It says the annual defense policy bill, which covers the Pentagon, is an example of this. 
"But other agencies with vast rulemaking powers have no authorizing statute at all -- most notably, the Environmental Protection Agency," it states.
Representative John Conyers of Michigan, the top Democrat on the House Judiciary Committee, said he wasn't impressed by the Republican plan.
"While there are areas where Congress has failed to assert itself sufficiently -- such as the president's exercise of war powers -- this report does little to address those concerns," Conyers said in a statement. "Rather, this report simply recycles the same old pro-corporate, anti-consumer proposals that House Republicans have been pushing for decades, masked as constitutional issues."
Before it's here, it's on the Bloomberg Terminal.
LEARN MORE