Obama Pleads for Gun Control After Comforting Orlando Victims
by
President calls massacre an 'attack on the LGBT community'

Senate poised to vote June 20 on gun-control amendments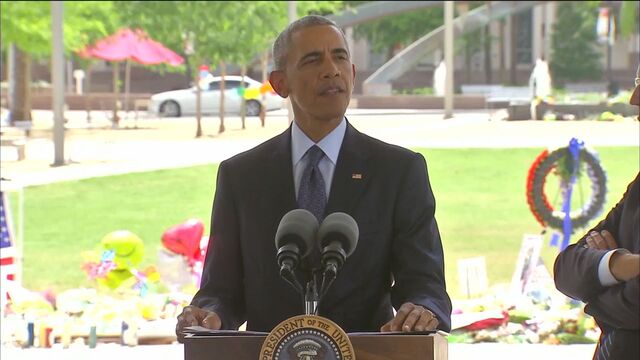 President Barack Obama pleaded for Congress to consider gun-control measures that would limit access to high-powered, military-style weapons after comforting survivors and families of victims of last weekend's Orlando massacre at a gay nightclub.
Lawmakers can limit "the amount of a damage" assailants can do, even if not every gunman can be stopped in advance, Obama said at a makeshift memorial erected in Orlando to victims of the attack at the Pulse club. Democrats held the Senate floor for nearly 15 hours into early Thursday morning, delivering speeches demanding curbs on gun purchases. Republican leaders arranged votes for June 20 on gun-related amendments to a spending bill for the Justice Department and other agencies.
"I held and hugged grieving family members and parents and they asked, 'why does this keep happening?' and they pleaded that we do more to stop the carnage," Obama said. "They don't care about the politics and neither do I, and neither does Joe, and neither should any parent. This debate needs to change."
Obama and Vice President Joe Biden placed white flowers at the site. Biden removed his sunglasses and Obama placed an arm around the vice president as they walked away following Obama's remarks.
LGBT Community Targeted
A Muslim-American wielding the type of rifle that many Democrats believe should be illegal for civilians to purchase killed 49 people, most of them Latino, at the gay nightclub. It was the worst mass shooting in modern U.S. history and the deadliest terror attack on American soil since Sept. 11, 2001. Obama called the incident both a "terrorist attack" and "an attack on the LGBT community."
In a bipartisan demonstration of unity, Obama was joined aboard Air Force One by Senator Marco Rubio of Florida, a frequent Obama critic who unsuccessfully sought the Republican nomination for president this year. They were greeted upon landing by Florida's Republican Governor Rick Scott, who is backing his party's presumptive nominee Donald Trump.
For a QuickTake explainer on the U.S. gun debate, click here.
Obama and Biden spent about two hours meeting with survivors of the Pulse attack, families of those killed, emergency workers, and local law enforcement officials and politicians. The closed-door meetings were conducted at the Amway Center, home to the Orlando Magic basketball team.
U.S.-Born Gunman
Omar Mateen, 29, the gunman in the Pulse nightclub attack, was the New York-born son of Afghan immigrants. Despite having being investigated by the FBI for possible terror ties, Mateen legally bought a Glock pistol and AR-15-style rifle this month. Before his own death early Sunday at the hands of police, officials said, Mateen called 911 to declare loyalty to Islamic State and other terrorist groups.
"The victims who were killed were enjoying a fun Saturday night out," Eric Schultz, a deputy White House press secretary, told reporters traveling with Obama. "And suddenly they were taken from us."
The geography of the attack carries political significance. Florida is a large swing state that Obama narrowly won in 2008 and 2012, though Republicans control the governor's office and legislature. Orlando sits on the Interstate 4 corridor across the middle of the state, an area where political advantage is shifting to Democrats as the Hispanic, black and Asian populations grow.
Constitutional Debate
The Senate votes on Monday may not yield any new policy. Democrats want to bar gun sales to people on the government's terrorist watch list, with the burden on individuals on the list to appeal for the right to purchase a weapon. Many Republicans consider that approach unconstitutional and instead would require the government to seek a court order prohibiting a person on the list from buying a gun.
It's unclear if either proposal has sufficient support to be added to the spending bill, which then would have to pass the Republican-controlled House.
"I truly hope senators rise to the moment and do the right thing," Obama said. "And then I hope the House does the right thing and ends the plague of violence these weapons inflict on so many young lives."
Grim Ritual
Obama's visit comes in his capacity as consoler-in-chief, the latest in a grim ritual that has followed mass shootings from Tucson, Arizona, to Newtown, Connecticut, to Charleston, South Carolina. But he's also the leader of the Democratic Party, committed to pushing for action on issues including gun control, gay rights, protections for immigrants, and acceptance of Muslim-Americans as part of the nation's fabric.
The president angrily rebuked Trump on Tuesday for proposing a crackdown on Muslims, both foreign and domestic, in the wake of the Orlando attack. Trump also said Obama should resign if he is unwilling to label the attacker a "radical Islamist," a term the president, in response, said would only serve to alienate and antagonize peaceful Muslims the world over.
Trump, though, surprised politicians in both parties on Wednesday when he said on Twitter that he would meet with the National Rifle Association, which has endorsed him, to discuss prohibiting gun purchases by people on the government's terror or no-fly watch lists.
That's a policy most congressional Republicans have fought after previous mass shootings, although some Republicans in tight re-election contests this year have indicated they'd back the prohibition. The NRA said on Wednesday that it would support a policy allowing the government to delay gun purchases by people on the terror watch list so that their intentions could be investigated.
Before it's here, it's on the Bloomberg Terminal.
LEARN MORE