Rubio to Consider Seeking Re-Election to Florida Senate Seat
by
Senator says candidate in the race has urged him to run

Former presidential contender had said he would leave Senate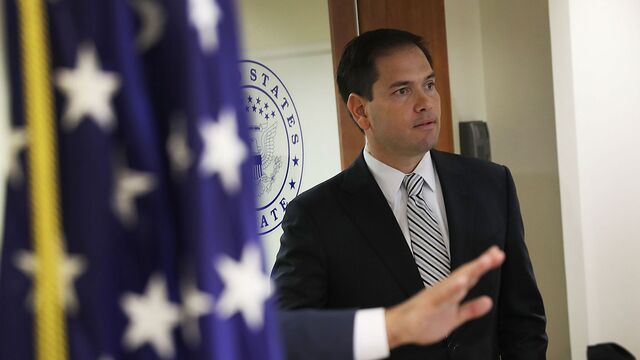 Senator Marco Rubio said he will consider running for re-election this year after all, amid an effort by fellow Republicans to persuade the former presidential contender not to give up his Florida seat.
A Rubio run would be great news for Republican Senate leaders, with the party's 54-46 majority at stake in November. Rubio had said he would not stand for Senate re-election when he announced his failed presidential bid. None of the five Republicans running to succeed him have broken out of the pack thus far.
Rubio confirmed a report in Politico that one of the contenders, Florida Lieutenant Governor Carlos Lopez-Cantera -- a longtime friend of Rubio -- urged him to run. The two spoke at the scene of the Orlando massacre on Sunday, and Lopez-Cantera said he would stand down if Rubio decided to try to keep his seat.
"Obviously I take very seriously everything that is going on, not just to Orlando but in our country, and I've enjoyed my service here a lot," Rubio told reporters at the Capitol on Wednesday. He said he would discuss the matter at home with his family, "and if there's been a change in our status, I'll be sure to let everyone know."
Rubio is scheduled to headline a fundraiser for Lopez-Cantera on June 24, the deadline for filing to run. The senator has far higher name recognition and fundraising prowess, but he'd likely still face challengers in the Aug. 30 primary.
The other candidates have split over whether they would get out if Rubio gets in. In addition to Lopez-Cantera, U.S. Representative David Jolly has also said he would drop out. Separate from that, Jolly told reporters earlier Wednesday he would make an announcement Friday about his own plans. Lopez-Cantera and many other Republicans have pressed Jolly to run for re-election to his House seat, where he would face a tough fight against former Governor Charlie Crist, a Republican-turned-Democrat, in a redrawn district favorable to Democrats.
Businessmen Todd Wilcox and Carlos Beruff each have said they would continue their outsider campaigns regardless of Rubio's decision, and Representative Ron DeSantis previously declined to comment on what he would do.
Democrats have been slamming Rubio ever since the effort to draft him geared up weeks ago, noting his long absences from the Senate and rightward turn during the presidential campaign, including abandoning the immigration overhaul he helped co-author.
As recently as May 16, Rubio was adamantly denying any plans to run again. "I have only said like 10000 times I will be a private citizen in January," he tweeted.
Before it's here, it's on the Bloomberg Terminal.
LEARN MORE