CAMPAIGN WRAP: Democrats Seek Unity, or Close to It
by and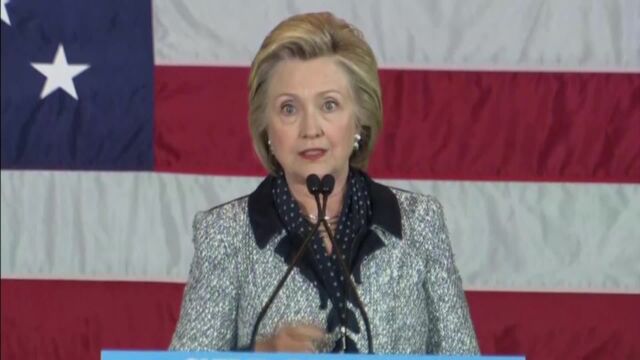 The Democratic presidential contest formally concludes its nomination contests today, with the focus continuing to shift to uniting the party against Donald Trump.
Polls close at 8pm in the final Democratic primary in Washington, D.C.
Hillary Clinton, the presumed nominee, and challenger Bernie Sanders plan to meet tonight
Sanders won't drop out of race "today, or tomorrow, or the next day," Sanders communications director Michael Briggs said, Bloomberg's Arit John reports. The Vermont senator also has said "he plans to stay in this through the Democratic convention," according to Briggs
Sanders wrote on Twitter "the political revolution continues" and that he would address supporters on June 16
NOTE: Endorsement from Sanders could help rally more liberal Democrats to Clinton's side and boost her advantage in early general-election surveys against Trump, who's been the presumed Republican presidential nominee since early May
President Barack Obama and Clinton, speaking in Washington and Pittsburgh respectively, "delivered a one-two punch to Trump" on anti-terrorism policy and the presumed Republican nominee's fitness to serve as commander-in-chief, Bloomberg's Toluse Olorunnipa and Jennifer Epstein reported.

ON THE TRAIL
Trump meets today with GOP governors at Trump Tower in NYC, including Oklahoma's Mary Fallin and Tennessee's Bill Haslam
Has evening rally planned in Greensboro, N.C.
Trump will meet with House Republicans on July 7, a response to lawmakers' request to spend time with the presumptive GOP presidential nominee before the party's July 18-21 convention in Cleveland, according to an aide for House Republican Conference Chair Cathy McMorris Rodgers, Bloomberg's Billy House reports
Significant policy differences remain between Trump and key Republicans, as House Speaker Paul Ryan reiterates that a ban on Muslims entering U.S., as Trump proposes, would not be in U.S.'s best interest, according to AP

PRIMARY AUTOPSY
Huffington Post sits down with Danny Diaz, Jeff Roe, Alex Conant—top aides to Jeb Bush, Ted Cruz and Marco Rubio, respectively—for a must-read deep-dive into the GOP's surprising primary race. Some highlights:
All three admit they were either skeptical about Trump's viability as he started his campaign or thought he'd be taken down by impolitic remarks
Conant says Rubio's low point occurred in the New Hampshire debate when Gov. Chris Christie successfully depicted him as robotic; "in the moment, you know it's not good, but you don't know how bad it's going to be"
Roe and Conant say Bush campaign in early days did a good job boxing out Mitt Romney and uniting the Florida establishment
Diaz says Bush campaign knew it would be "really difficult race for us" right after Labor Day, in September of 2015
Roe says Trump is giving away between 2.5 and 5.5 points in general election due to lack of a good organization and ground game
If Clinton struggles in uniting her party's base over the next month, Conant and Roe say she may pick a liberal running-mate. (Conant names Sen. Elizabeth Warren of Massachusetts as such an option.)
Roe says if she wants to pick a middle-of-the-roader, Sen. Tim Kaine of Virginia would be an option
Conant: If she's up double-digits in mid-July, she may want to pick Defense Sec. Bob Gates "who could turn it into a real blowout"
None of them commit to voting for Trump

ADS
Priorities USA Action, a super-PAC aiding Clinton, began airing an ad featuring Ohio parents of a disabled child criticizing Trump for mocking a journalist with a physical disability
The ad first aired this morning in Charlotte, N.C., according to Kantar Media's CMAG; Charlotte is the state's biggest city, and it went for Mitt Romney over President Obama by two percentage points in the 2012 election

ENDORSEMENTS
Communications Workers of America, a union that endorsed Sanders late last year, is now shifting its backing to Clinton

ETC.
Today is Donald Trump's birthday; he turns 70
If elected president, he would surpass Ronald Reagan as the oldest person to win the office; Reagan was roughly 69 and 3/4 years old when he won
If elected, Trump would join Bill Clinton and George W. Bush as presidents born in 1946, the first year of the Baby Boom explosion of U.S. births
Bush turns 70 on July 6, Clinton on August 19
As Wall Street mulls how to hedge against a possible Trump presidency, Citigroup and Barclays say they have figured out at least one part of the answer: Short the Mexican peso, Bloomberg's Isabella Cota and Ben Bain report
Bill Clinton says the work and structure of the Clinton Foundation will change if his wife, Hillary Clinton, wins the White House, Bloomberg's Sahil Kapur reports
"You have to be careful to avoid actual or potential conflicts of interests," the ex-president told Bloomberg Television. "We'll think very clearly about it and we'll do the right thing."
Russian government hackers gained access to information on Trump gathered by the DNC, the Washington Post reports, citing unidentified committee officials and security experts who responded to intrusion.

CONGRESSIONAL RACES
Primary races to watch tonight:
NV-SEN: Former state Atty. Gen. Catherine Cortez Masto is strongly favored in Democratic primary for seat of retiring Minority Leader Harry Reid; Rep. Joe Heck favored against former state Assemblywoman and 2010 Reid opponent Sharron Angle in GOP primary
NV-03: Republicans seeking Heck's district include state Sen. Michael Roberson, businessman and frequent candidate Danny Tarkanian, state Assemblywoman Michele Fiore, former conservative think tank president Andy Matthews
Democrats include Jacky Rosen, local synagogue president endorsed by Emily's List, and Jesse Sbaih, lawyer and Muslim immigrant from Jordan who loaned his campaign $500k
District includes Henderson and part of Las Vegas, backed Obama in 2012 by less than 1 percentage point
NV-04: Democratic primary includes state Sen. Ruben Kihuen, who's backed by Reid; former state Assemblywoman Lucy Flores, whom Sanders endorsed; philanthropist Susie Lee
Winner to face one-term GOP Rep. Cresent Hardy, who has nominal primary opposition; district has Democratic lean and includes part of Las Vegas, most of North Las Vegas
SC-01: Republican Rep. Mark Sanford opposed by state Rep. Jenny Horne in Charleston-area district
Horne gave emotional 2015 speech advocating for removal of Confederate flag from S.C. capitol grounds, has criticized Sanford for opposing veterans' health-care measure that he said wasn't fully paid for
SC-05: Republican Rep. Mick Mulvaney favored to defeat Ray Craig and advance to Nov. election against unopposed Democrat Fran Person, longtime former aide to Vice President Joe Biden
VA-02: Rep. Randy Forbes, state Rep. Scott Taylor, lawyer Pat Cardwell seek GOP nod for Virginia Beach-area district that Republican Rep. Scott Rigell is giving up
Winner will be favored against Democrat Shaun Brown
VA-04: State Sen. Donald McEachin favored against Chesapeake city councilwoman Ella Ward in Democratic primary for seat
Henrico County sheriff Mike Wade favored against political activist Jackee Gonzalez for Republican nomination
NOTE: Forbes giving up seat to run in VA-02 after court- ordered redistricting added strongly Democratic Richmond and Petersburg to VA-04
VA-06: Judiciary Committee Chairman Bob Goodlatte favored against Harry Griego, pilot and self-described constitutional conservative who raised less than $5k through May 25
Other Senate races:
The deadliest mass shooting in U.S. history is prompting some U.S. Senate contenders to draw new battle lines in their campaigns
Democratic Senate hopefuls are seeking to tie GOP opponents to Trump, whose remarks have been at the center of much of political sparring in the wake of the attack in Orlando, Fla.
Other House races:
Ryan raised more than $30 million for GOP since becoming speaker last October; transferred $3.7 million to NRCC in May, Politico reported
CA-SEN: Kamala Harris leads Loretta Sanchez 47%-22% in USC Dornsife/Los Angeles Times poll
Sanchez needs "huge infusion of Republican votes" to top fellow Democrat Harris in general election, L.A. Times writes
LA-SEN: Club for Growth, conservative activist group, released TV ad urging Reps. Charles Boustany and Cedric Richmond to oppose Export-Import Bank, a "failed federal agency" that's "corporate welfare at its worst"
Boustany among Republicans seeking seat of retiring GOP Sen. David Vitter
NJ-05: House Majority PAC, super-PAC advocating for Democratic-controlled House, released cable TV ad attacking GOP Rep. Scott Garrett for expressing reluctance to donating campaign funds to help gay Republican candidates
Garrett has since said he would support gay candidates who back Republican platform opposing same-sex marriage, according to the Record's Herb Jackson
Garrett opposed by Democrat Josh Gottheimer in mildly GOP-leaning district that has most of Bergen County
NY-19: New York Wins PAC, super-PAC funded by hedge fund manager Robert Mercer, paid for TV ad referring to "Obama Republican" Andrew Heaney as "dangerously liberal"
Ad cites Heaney comment to Kingston Times that Obama's Dec. 2015 Oval Office address "outlined some steps about terrorism that I think in large measure are correct"
Heaney running in June 28 primary against ex-state Rep. John Faso for competitive Hudson Valley district of GOP Rep. Chris Gibson, who's retiring
NY-22: Super-PAC opposed to Republican Claudia Tenney aired TV ad attacking "Albany insider" for missed votes in state Assembly, links her to former N.Y. Democratic Assembly Speaker Sheldon Silver, who was recently convicted of federal corruption charges
The super-PAC, Grow the Economy PAC, has spent $328k on race, hasn't yet disclosed donors
Tenney among Republicans in June 28 primary seeking to succeed GOP Rep. Richard Hanna, who's retiring from upstate district that includes Utica, Binghamton
Before it's here, it's on the Bloomberg Terminal.
LEARN MORE