Puerto Rico Debt Law Struck Down, Leaving Congress in Charge
by and
U.S. Supreme Court rejects island's Recovery Act in 5-2 vote

Puerto Rican bonds gain but investors still see more defaults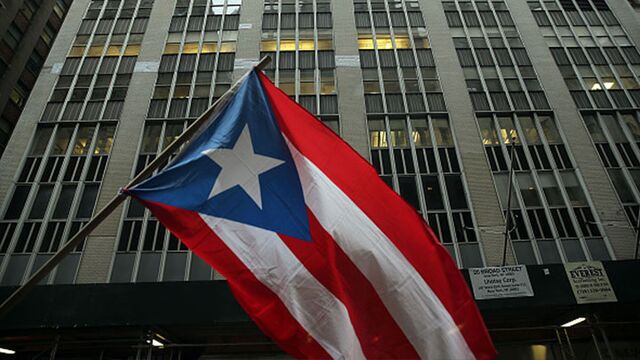 The U.S. Supreme Court rejected Puerto Rico's bid to let its public utilities restructure bonds over the objection of creditors, leaving the island's $70 billion debt crisis squarely in the hands of Congress.
Siding with investors, the court ruled 5-2 on Monday that Puerto Rico's measure was barred under federal bankruptcy law. The island's debt gained after the decision, with some utility bonds jumping more than 3 cents on the dollar. Still, most of Puerto Rico's debt is still trading at levels that signal further defaults are expected.
A decade-long economic slump has driven Puerto Rico to the brink of bankruptcy. The island has missed several payments this year and faces its biggest hurdle yet on July 1 when $2 billion in debt comes due. U.S. lawmakers are preparing to place its finances under direct federal oversight, and the Supreme Court ruling confirms that all roads to a debt settlement now lead via Washington.
That's the preferred outcome for bondholders, who will "doubtlessly fare better in a federally-directed restructuring program" than one that's led by the island's authorities, said Daniel Hanson, an analyst at Height Securities, a Washington-based broker dealer.
But he said markets had already assumed that Congress would make the key decisions. The court ruling brings "some incremental relief for investors, but it doesn't change the landscape for Puerto Rico securities," Hanson said.
To see how Congress is addressing Puerto Rico debt, click here.
A Puerto Rico Aqueduct and Sewer Authority bond maturing in 2038 changed hands at 72.25 cents on the dollar at 10:33 a.m. in New York, up from an average 68.8 cents on the dollar on Friday, according to data compiled by Bloomberg. The island's general-obligation bonds maturing in 2037, the most senior form of debt, traded as high as 63.75 cents after the ruling, up from an average of 62.1 cents Friday.
Those prices show that investors don't expect to get paid in full. Governor Alejandro Garcia Padilla has said Puerto Rico can't cover what it owes without shutting off services crucial to the island's 3.5 million residents, nearly half of whom live in poverty. The economic slump has been exacerbated by population flight to the U.S. mainland, and by the arrival of the Zika virus this year.
The Recovery Act, as the local law was known, would have directly affected more than $20 billion in utility debt and given the commonwealth more leverage in handling the rest of its obligations.
It was challenged at the Supreme Court by investors, including BlueMountain Capital Management LLC and Oppenheimer Funds Inc., who together hold more than $2 billion in debt issued by the Puerto Rico Electric Power Authority. That utility reached a settlement with creditors last year and is now in talks for a similar agreement to avert default on $420 million it's due to pay on July 1.
'Voluntary Agreements'
The Prepa deal should form a template for future debt accords, said Matt McGill, a lawyer with Gibson Dunn & Crutcher who argued the Supreme Court case for the bondholders. "It is vital that any legislation that Congress enacts promote voluntary restructurings and protect voluntary agreements already reached," he said.
The Washington-imposed oversight board could ask a judge to order a forced restructuring if Puerto Rico's government can't reach a deal with the bondholders. It could also enforce balanced budgets on the island's authorities, and recommend sales of assets. Congress's measure doesn't provide Puerto Rico with additional cash.
The Supreme Court case focused on federal law that bars Puerto Rico and the District of Columbia from doing what U.S. states are entitled to do: authorize bankruptcy filings by public utilities and other municipalities. Puerto Rico sought to get around that provision in 2014 by passing a local law that offered an option similar to bankruptcy.
Writing for the Supreme Court majority, Justice Clarence Thomas said Congress didn't authorize Puerto Rico to take that step. "Our constitutional structure does not permit this court to rewrite the statute that Congress has enacted," Thomas wrote.
'Have to Wait'
Justices Sonia Sotomayor and Ruth Bader Ginsburg dissented. They said Puerto Rico was right to argue that Congress didn't mean to leave the island without access to either federal or local restructuring law.
"The government and people of Puerto Rico should not have to wait for possible congressional action to avert the consequences of unreliable electricity, transportation, and safe water," said Sotomayor, whose parents were born in Puerto Rico.
The Supreme Court considered the case two justices short of its usual complement of nine. Justice Antonin Scalia died in February, and Justice Samuel Alito didn't take part because he had a financial conflict.
The cases are Puerto Rico v. Franklin California Tax-Free Trust, 15-233, and Melba Acosta-Febo v. Franklin California Tax-Free Trust, 15-255.
Before it's here, it's on the Bloomberg Terminal.
LEARN MORE