Obama Calls Shooting Homegrown Terrorism, Urges Gun Limits
by
Obama says Florida shooter drew inspiration from propaganda

Donald Trump criticized Obama's policies toward terrorism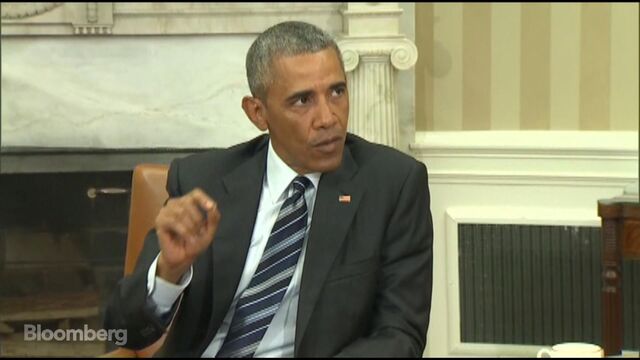 President Barack Obama characterized the killings of 49 people at an Orlando, Florida, nightclub as an act of homegrown terrorism and called for outlawing civilian sales of military-style weapons like the rifle used in the attack.
Obama said Monday the gunman, Omar Mateen, drew inspiration from extremist propaganda but that there's no sign he was directed by anyone overseas or was part of any larger terror group. The killer was the kind of homegrown extremist that authorities have long feared, the president said.
"It appears that the shooter was inspired by various extremist information that was being distributed on the Internet," Obama said after a White House meeting with FBI Director James Comey, Department of Homeland Security Secretary Jeh Johnson, Vice President Joe Biden, and top counterterrorism officials. He said there was "no clear evidence he was directed externally" and "no direct evidence he was part of a larger plot."
With his comments, Obama addressed the Orlando massacre for the second time in two days. The slaughter in a gay dance club in the Florida city early Sunday morning marked the worst mass shooting in modern U.S. history and the deadliest terrorist attack on American soil since Sept. 11, 2001.
Obama will travel to Orlando on Thursday to pay respects to the families of the victims, according to a statement from White House press secretary Josh Earnest. He'll also "stand in solidarity with the community," he said.
Legally Obtain
Obama said Mateen was able to legally obtain the weapons used in the shooting -- a Glock pistol and an AR-15-style rifle -- because he had no criminal record. The president said the U.S. must ensure that it's not easy for people who intend to cause harm to obtain the sorts of weapons Mateen purchased.
"The fact that we make it this challenging for law enforcement, for example, even to get alerted that somebody they are watching has purchased a gun, and if they do get alerted sometimes it is hard for them to stop them from getting a gun, is crazy," he said.
The president was joined by Hillary Clinton, the presumptive Democratic nominee to succeed him, in urging stricter controls on gun purchases.
"Weapons of war have no place on our streets," Clinton said during a speech Monday in Cleveland. She said the threat from "radical jihadists" was "profound" and "metastasizing."
Trump Response
Their calls for more restrictive gun laws were derided Monday by the presumptive Republican presidential nominee, Donald Trump, who said such measures would strip Americans of their self-defenses. During a speech in New Hampshire, he called Clinton clueless about the threat from Islamic terrorism and vowed to restrict immigration to prevent infiltration of extremists
Senate Democrats said Monday they may offer an amendment to a spending bill for the departments of Commerce and Justice that would prohibit people on the government's terrorist watch list from purchasing guns and explosives. Under the proposal, the U.S. attorney general could have placed Mateen on the list based on the FBI's two interviews with him, if there was a "reasonable belief" he would use a gun in an act of terrorism, said Senator Dianne Feinstein, a California Democrat who is co-sponsoring the measure.
"In the wake of Orlando, we need to think of what kind of a country and what kind of a Senate we need to be," Senator Charles Schumer of New York, the third-ranking Democrat in the chamber, said on Monday. "We're going to push to finally close the terrorism gap once and for all."
No-Fly List
Senate Republicans blocked a similar measure in December, after a terrorist attack in San Bernardino, California that killed 14 people. Mateen was not on the government's no-fly list, according to a U.S. official familiar with the matter. It's unclear whether he was on any other terrorism-related watch list at the time of the shooting.
Obama said authorities don't yet understand Mateen's motive or why he chose to target a gay nightclub. Mateen was killed in a shootout with police.
"Here's what we do know," he said. "Organizations like ISIL or organizations like al-Qaeda or those who have perverted Islam and created these nihilistic, vicious organizations, one of the groups they target are gays and lesbians because they believe that they do not abide by their attitudes toward sexuality."
FBI Interviews
Mateen, 29, had twice been interviewed by the Federal Bureau of Investigation. The agency said it interviewed Mateen in 2013 because it was told he had made inflammatory remarks about having terrorist ties and again in 2014 because of a connection to an American who went to fight with Islamic State, the terrorist group that has seized parts of Syria and Iraq.
Comey, speaking at a news conference Monday, said the intelligence community was "highly confident that this killer was radicalized at least in part through the Internet." But in three phone calls between Mateen and 911 dispatchers during the attack at the nightclub early Sunday morning, he pledged loyalty to the leader of Islamic State and also praised a follower of at least one rival jihadi group, as well as the Boston Marathon bomber, Comey said.
Obama is expected to discuss additional efforts to combat the Islamic State on Tuesday during a visit to the Treasury Department, part of a regular series of trips to the departments and agencies across the government focused on combating the terrorist group.
'Radical Islam'
In his New Hampshire speech, Trump said a "politically correct response" would hinder the U.S. and reiterated his call for a temporary ban of Muslim immigration. He said his policies to protect the U.S. were more gay-friendly than those of Clinton, who, unlike Trump, supports same-sex marriage.
Trump said in a post to Twitter that the president should resign because he has refused "to even say the words 'Radical Islam'" in connection with the attack. Trump has in the past questioned Obama's nationality and faith. The president was born in Hawaii and is a Christian.
In an interview with Fox News, the presumptive Republican nominee appeared to insinuate that Obama may have identified with radicalized Muslims who carried out the terror attacks in Orlando and San Bernardino.
"Look, we're led by a man that either is not tough, not smart, or he's got something else in mind," Trump said. "And the something else in mind -- you know, people can't believe it. People cannot, they cannot believe that President Obama is acting the way he acts and can't even mention the words 'radical Islamic terrorism.' There's something going on. It's inconceivable. There's something going on."
'Small' Comments
Earnest dismissed Trump's comments as "small" and defended Obama's record on combating terrorism.
"If you take a look at the president's record -- it speaks for itself," Earnest said. "And that record includes a lot of dead terrorists."
He also described Obama's refusal to use the phrase "radical Islam" as intentional.
"The president uses his language carefully -- and we will not give in to the idea that we're involved in a war between Islam and the West," Earnest said.
The government is focusing on completing its investigation into Mateen and his possible links to terror groups. "We will leave no stone unturned and we will look all day and all night to understand the path to that terrible night," Comey said.
The FBI director defended his agency's earlier investigations of the shooter, saying there was nothing agents "should have done differently" in their handling of Mateen.
"Our investigation involved introducing confidential sources to him, recording conversations with him, following him, reviewing transactional records from his communications and searching all government holdings for any possible connections, any possible derogatory information," he said.
Before it's here, it's on the Bloomberg Terminal.
LEARN MORE