Clinton Meets With Warren as They Team Up Against Trump
by
Massachusetts liberal endorsed Clinton Thursday night

With Biden, Obama backing Clinton, Democrats seeking to unify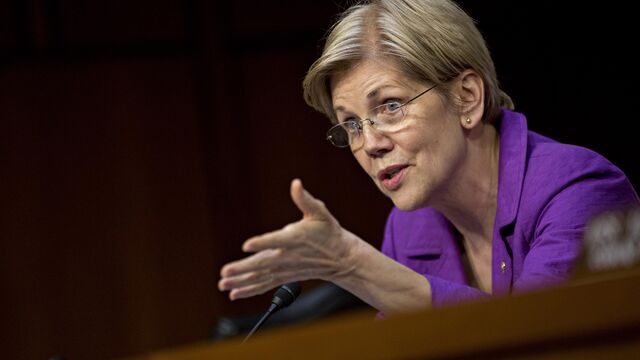 Presumptive Democratic presidential nominee Hillary Clinton met with Senator Elizabeth Warren on Friday morning as the two step up their political attacks on Republican standard-bearer Donald Trump.
The meeting at Clinton's Washington, D.C., home comes one day after Warren joined President Barack Obama in endorsing Clinton, who had clinched the nomination over liberal rival Bernie Sanders.
The women discussed how to work together to advance progressives' agenda and stop Trump, and Clinton thanked Warren for her endorsement, said a Clinton campaign official who asked not to be named. Warren left Clinton's residence without commenting.
The support of Warren, a Massachusetts senator, could help Clinton rally progressive voters who favored Sanders in the primary. Clinton will seek Warren's input, including on Wall Street regulation, the candidate said in a Bloomberg Politics interview on Thursday.
Amid speculation Warren could become Clinton's running mate, Clinton said in a separate Politico interview Thursday that Warren was qualified for any post. Clinton has previously said the U.S. may be ready for a two-woman ticket and that she'll focus on qualifications in her vice-presidential search.
Warren told MSNBC Thursday she wasn't being vetted for the job but felt qualified for it as she announced her endorsement of Clinton.
"I am ready to get into this fight and to work my heart out for Hillary Clinton and to make sure that Donald Trump doesn't get anywhere near the White House," Warren said.
The move by the first-term lawmaker, who many had urged to enter the 2016 race herself, came on the same day Obama formally endorsed Clinton in a bid to unify Democrats following a White House meeting with Sanders.
'God Willing'
Vice President Joe Biden also quietly endorsed Clinton in a speech on Thursday night, saying "God willing," the next president would be Clinton.
Warren could be an important foil against the Trump campaign.
After Clinton on Thursday responded to a Twitter insult from Trump with the social-media joke "Delete your account," Warren followed up Friday.
Trump called Warren a "goofy," unproductive senator with a "nasty mouth" and said he hoped she would be Clinton's running-mate choice. Warren replied, "No, seriously -- Delete your account."
Before it's here, it's on the Bloomberg Terminal.
LEARN MORE