Obama Meets With Sanders Ahead of President's Clinton Endorsement
by
Democrats want Sanders' supporters to turn out for Clinton

Sanders has vowed to campaign through June 14 D.C. primary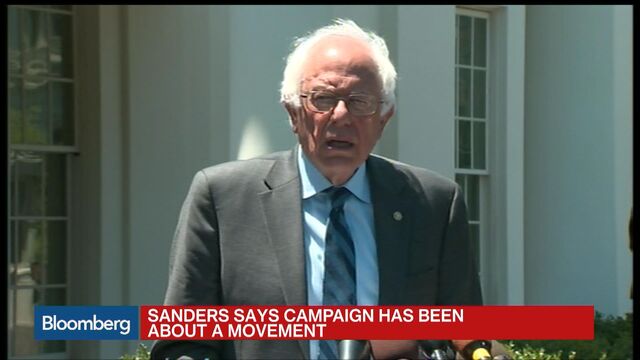 President Barack Obama and Vermont Senator Bernie Sanders discussed at the White House on Thursday how to engage Sanders' largely young, enthusiastic supporters and bring their ideas into Hillary Clinton's campaign against Republican Donald Trump.
The men met at Sanders' request, two days after he vowed to continue his presidential campaign even after Clinton won enough delegates to clinch the Democratic nomination. Afterward, Sanders said he thanked Obama and Vice President Joe Biden for remaining impartial through the Democratic primary campaign.
"Needless to say I am going to do everything in my power and I am going to work as hard as I can to make sure Donald Trump does not become president of the United States," Sanders told reporters after the meeting. Trump has made "bigotry and racism the cornerstone of his campaign," Sanders said.
He said he still planned to compete in the Washington, D.C., primary election on June 14, but that he looked forward to discussing with Clinton how they can work together to defeat Trump. He did not endorse her.
The meeting with Obama was seen as a precursor to the president's endorsement of Clinton. Obama believes that by drawing millions of votes and presenting a robust challenge to Clinton, Sanders has earned the right to exit the race on his terms.
"At this point the president believes that Senator Sanders has more than earned the right to make his own decision about the right direction of his campaign," White House Press Secretary Josh Earnest told reporters traveling with the president on Air Force One on Wednesday.
Obama, whose approval rating has been at or above 50 percent for most of the year, is an obvious choice to reconcile Sanders and Clinton, whose primary contest became divisive and increasingly personal as the Vermont senator's challenge grew.
"Our campaign has been about building a movement which brings working people and young people into the political process to create a government which represents all of us and not just a handful of wealthy campaign contributors," Sanders said. "We will continue to do everything we can to oppose the drift which currently exists toward an oligarchy form of society where a handful of billionaires exercise enormous power over our political, economic and media life."
Sanders is also scheduled to meet with Senate Minority Leader Harry Reid of Nevada later Thursday and hold a rally in Washington. He has vowed to campaign through the June 14 primary election in the nation's capital. Sanders also seeks to shape Democratic primary and convention rules and its policy agendas, and maximize his influence in the party. His millions of supporters and donors are seen as key to turning out the vote for Clinton in November.
Before it's here, it's on the Bloomberg Terminal.
LEARN MORE