Obama Endorses Clinton, a Signal to Democrats and to Sanders
by and
President to join campaign against Trump at Wisconsin event

Obama is more popular than either of his potential successors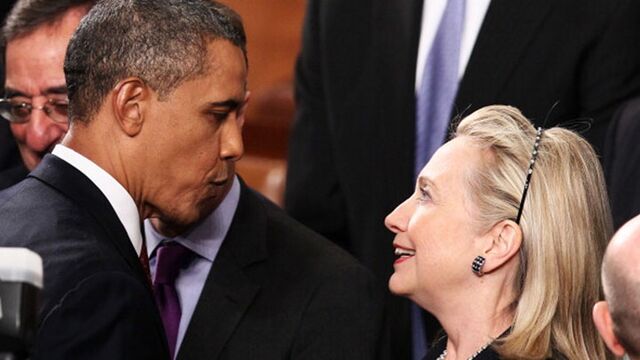 President Barack Obama formally endorsed Hillary Clinton to succeed him as the next U.S. president on Thursday in a bid to unify the party two days after she secured enough delegates to clinch the Democratic nomination.
The president offered his endorsement in an online video after a meeting at the White House earlier Thursday with Clinton's Democratic primary rival, Vermont Senator Bernie Sanders. Obama is enjoying approval ratings of 50 percent or more this year and will hit the campaign trail with Clinton on Wednesday in Green Bay, Wisconsin.
"I know how hard this job can be," Obama said in the video, which was taped Tuesday and released by Clinton's campaign. "That's why I know Hillary will be so good at it."
Clinton, in an interview with Bloomberg Politics, called the endorsement a "treat."
"It just means so much to have a strong, substantive endorsement from the president," she said. "Obviously I value his opinion a great deal personally."
Vice President Joe Biden, speaking at a conference in Washington Thursday, signaled his support for Clinton. Referring to the next president, Biden said: "God willing, in my view, it'll be Secretary Clinton."
Unifying Democrats
Obama's move signals his belief that it's time to unify Democrats around Clinton to take on the presumptive Republican nominee, Donald Trump. The real estate mogul mocked the endorsement on Twitter.
"Obama just endorsed Crooked Hillary," Trump said. "He wants four more years of Obama — but nobody else does!"
Clinton, who was Obama's secretary of state and also his 2008 primary rival, shot back, imploring Trump to "delete your account."
Sanders, who requested the meeting with Obama, said afterward that he will compete in the June 14 primary in the nation's capital. But he said he would "do everything in my power" to defeat Trump, and that he looks forward to discussing strategy against the real estate mogul with Clinton. Sanders has announced a rally outside Robert F. Kennedy stadium in Washington Thursday evening.
'A Disaster'
"Donald Trump would clearly, to my mind, and I think to a majority of Americans, be a disaster as president of the United States," Sanders said. "It's unbelievable to me -- and I say this with all sincerity -- that the Republican Party would have a candidate for president who in the year 2016 makes bigotry and racism the cornerstone of his campaign."
White House press secretary Josh Earnest described the meeting between Obama and Sanders as "friendly" and added that the lawmaker would not be surprised by the endorsement of his rival. Earnest said the video was a "joint endorsement" from the president and First Lady Michelle Obama.
"I'm confident the first lady will have an opportunity to share her own views in her own words about why she believes it is important for Secretary Clinton to succeed President Obama," Earnest told reporters in Washington.
'Incredible Campaign'
Senate Minority Leader Harry Reid also met with Sanders on Thursday and said that his colleague has accepted that Clinton is the nominee. Reid, a Nevada Democrat, told reporters that the two had a "good visit" and that he's not pushing Sanders to do anything.
In his video, Obama said that Sanders had run an "incredible campaign." He described the Vermont senator and Clinton as rivals who are also "both patriots who love this country and they share a vision for the country we all believe in."
"If we all come together in common effort, I'm convinced we won't just win in November, we'll build on the progress we've made and we will win a brighter future," Obama said.
Thursday's meeting came after a flurry of discussions between the president and the Democratic challenger. Obama spoke with Sanders on Tuesday night, after six state contests provided Clinton more than enough delegates to clinch the nomination, in a conversation the White House described as a chance for the president to thank the Vermont senator for energizing millions of Americans. They also spoke on Sunday.
Obama Popularity
Obama has experienced a surge of popularity as Americans consider two candidates vying to succeed him who polarize large fractions of the public. His approval rating, which has been at 50 percent or better for 12 of the past 13 weeks, according to Gallup's tracking poll, is a potential boon for Clinton. She leads Trump by just 2.4 percentage points in Real Clear Politics' average of national polls.
An incumbent president's popularity combined with U.S. economic data have historically proven better predictors of the election outcome than horse-race polls at this point in the campaign.
Before it's here, it's on the Bloomberg Terminal.
LEARN MORE