Path Forward
Bernie Sanders Looking to Reshape Democratic Party, Tad Devine Says
The chief strategist for the Vermont senator's presidential campaign describes what Sanders wants now.
by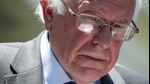 One day after defiantly telling thousands of supporters in Santa Monica that "the struggle continues," Bernie Sanders flew with his family and several staffers to his hometown of Burlington, Vermont. There Sanders held meetings with several top advisers and "came to some decisions," according to Tad Devine, one of those with whom Sanders met.
"He wants the Democratic Party to embrace many of the issues that he has talked about, because he has seen the impact of many of those issues on voters and believes the best way for Democrats to win up and down the ballot is to talk about those issues and to take positions on them the way he did," Devine said.
At the time of his interview with Bloomberg Politics on Thursday afternoon, Devine hadn't spoken to Sanders since the candidate's meetings with President Barack Obama, Senate Minority Leader Harry Reid, and New York Senator Charles Schumer in Washingon. While Obama endorsed Hillary Clinton in a videotaped message released after his meeting with Sanders, liberal ally Elizabeth Warren, a Massachusetts senator, planned to roll out her endorsement of Sanders' rival later in the day. 
"We had an opportunity to talk about the state of the campaign, about the path forward," Devine said of Wednesday's meeting with Sanders. "I guess we'll wait and see how everything goes today because he's in the midst of a lot of very important meetings today." Devine said he expects Sanders will reconvene with his advisers after Thursday's meetings and reassess their options. 
What Sanders is less interested in, Devine said, is what his specific title will be, despite speculation that Sanders wants to be considered as vice president or potentially become the chair of the Budget Committee if Democrats retake the Senate. 
"That kind of discussion about positions and things of that nature, I don't really see that at all," Devine said. 
Much has been made of Sanders' plans for the end of his campaign in recent weeks, as Democratic Party leaders have called on him drop out or at least change his tone toward Clinton. In the days leading up to Tuesday's California primary, Sanders held a pair of press conferences in which he insisted that the Democratic National Convention would be "contested" and that superdelegates should not be counted toward Clinton's hold on the nomination until they formally vote in July.
After his meeting with the president on Thursday, which followed a brief phone call between the two over the weekend, Sanders repeated his promises to help defeat Trump and did not challenge Clinton's status as the presumptive nominee. He said he would compete in next week's District of Columbia primary. 
Sanders hopes to talk about the issues that will shape the Democratic Party agenda both in terms of the party's platform and the governing agenda that will be taken up by a future Democratic president and a Democratic Congress, Devine said.
"Bernie is really interested in the issues that Congress would take on and how the things he's talked about on the campaign can be led into law," Devine said. "He wants to part of that process, too, and the way to begin that is to have consensus on these issues in terms of the president, in terms of Congressional leadership so that's gonna be a focus."
Before it's here, it's on the Bloomberg Terminal.
LEARN MORE