U.S. Is India's Indispensable Partner, Modi Says Before Congress
by
Warm welcome by lawmakers tempered by doubts on opening trade

Modi says terrorism is 'incubated in India's neighborhood'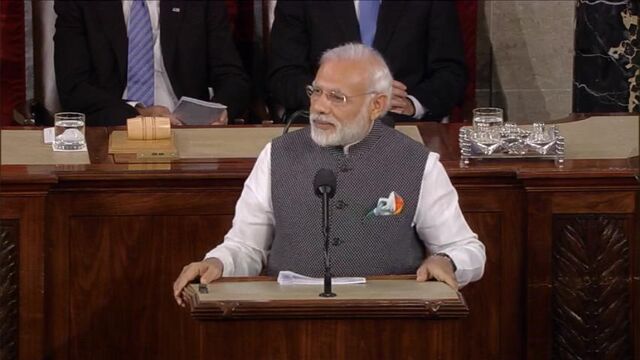 The U.S. is India's "indispensable partner" as the nations seek to elevate their ties in commerce and defense, India's Prime Minister Narendra Modi told a joint meeting of Congress in Washington.
"You have helped us turn barriers into bridges of partnership" that extend to the "totality of the human endeavor," Modi said in the speech on Wednesday. He said the U.S. can help India meet goals to modernize and strengthen its economy, connect with the digital world, and focus on renewable energy and reducing carbon emissions.
The event in the House chamber underscored that the two sides have come a long way since Modi took office: A little more than two years ago, the U.S. wouldn't let him into the country after human rights groups accused him of not doing enough to stem religious riots in the state he then governed. That changed after his landslide election win in 2014. Modi and President Barack Obama met at the White House on Tuesday, agreeing to take further steps to promote common interests including climate change, commerce, defense and technology.
While lawmakers gave Modi a warm welcome, applauding frequently during his remarks, some have voiced increasing skepticism over his failure to deliver more on promises to open trade and investment. At a hearing on U.S.-India relations on May 24, Senator Bob Corker, the Tennessee Republican who heads the Foreign Relations panel, said "the overall trajectory of U.S.-India relations is positive" but "the rhetoric has far outpaced the reforms."
'Onerous' Requirements
"Onerous and unreasonable localization requirements, high tariffs, limits on foreign investment and unparalleled bureaucratic red tape hinder further access to the Indian market by American businesses," he said. "There are also serious concerns about the treatment of intellectual property in India."
Modi spoke mostly in uplifting generalities, citing India's Mahatma Gandhi as inspiration for America's Martin Luther King Jr. and describing immigrants who succeeded in the U.S. as "the pride of India." He also joked that India hasn't "yet claimed intellectual property rights on yoga."
But he also made a veiled reference to India's assertion that Pakistan, its neighbor and regional rival, has helped spawn terrorism globally.
Although terrorism goes by many names, Modi said, "it is incubated in India's neighborhood."
Before it's here, it's on the Bloomberg Terminal.
LEARN MORE