Trump, With TelePrompter Assist, Tries to Turn the Page on Curiel
The presumptive Republican presidential nominee made no mention of the controversy surrounding his attacks on a federal judge.
by and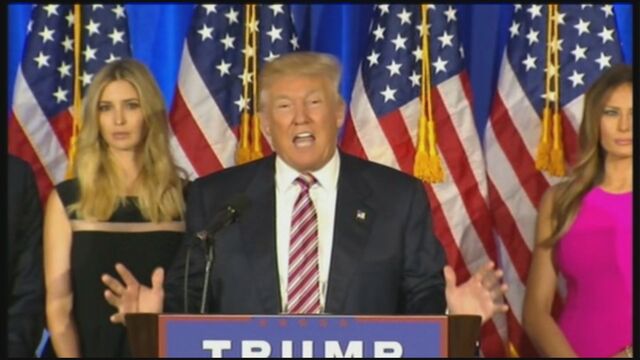 Rarely straying from the pre-written text scrolling on two TelePrompters, a relatively reserved Donald Trump vowed to embrace his status as his party's standard-bearer—even as skepticism mounted from Republicans about what his leadership would entail.
"I understand the responsibility of carrying the mantle and I will never, ever let you down," Trump said Tuesday from a podium at one of his golf course properties in Westchester, New York.
Trump sought to outline a conservative policy agenda centered around putting "America first," and his tone struck a stark contrast with the bombastic racial rhetoric he lobbed in recent days against U.S. District Court Judge Gonzalo Curiel, who is presiding over a lawsuit against the billionaire's Trump University.
"I will make you proud of our party and of our movement," Trump said, adding he "would be honored to lead the Republican Party to victory this fall." 
Trump took no questions from reporters and he made no mention of the Trump University case or of Curiel. Just hours before he took the podium—after a day filled with criticism from House Speaker Paul Ryan and Senate Majority Leader Mitch McConnell over his attacks on the judge—he released a statement saying he would no longer discuss the issue publicly. 
Instead, Trump focused the bulk of his remarks on two reliable Republican targets. 
"Real change—not Obama change—is coming," he said.
And Trump sought to link his presumptive Democratic presidential competitor, Hillary Clinton, to the same rigged political and economic systems he wants to change. He said that the Clintons "have turned the politics of personal enrichment into an art form for themselves," and promised to deliver a speech critical of Hillary Clinton early next week. 
While his measured remarks seemed focused on Republican unity, they came the same day that Trump lost the endorsement of Senator Mark Kirk, who faces a tough re-election campaign in Illinois. 
"I cannot and will not support my party's nominee for president, regardless of the political impact on my candidacy or the Republican Party," Kirk said in a statement that cited Trump's comments on Curiel. 
Sanders' Supporters
As he has since securing the Republican nomination, Trump made a direct pitch for supporters of Democratic presidential candidate Bernie Sanders, arguing that he would be able to negotiate better trade deals for workers than a Clinton administration.
He told Sanders' supporters "who have been left out of in the cold by a rigged system" that he'd welcome them "with open arms." He said his economic policies would help all Americans—including those living in the inner city. "We're going to take care of our African-American people that have been mistreated for so long," he said.
Trump, famous for his off-the-cuff and unpredictable speeches, rarely went off script during the 16-minute speech. When he mentioned trade, someone in the audience shouted, "No TPP!" in a reference to the Trans-Pacific Partnership global trade deal that Trump opposes. Trump ad-libbed a joke, equating "TPP" and "pee-pee."
There were about 200 invited guests, who sat in reserved seats. Organizers had placed red "Make America Great Again" hats on each of their seats. Before Trump's remarks, guests mingled in a conference room away from reporters, where they sipped on champagne with a who's-who of sorts of Trump World.
Attendees included bikers from the "Bikers For Trump" movement; Al Baldasaro, a veteran and New Hampshire politician; and Omarose Onee Manigault, the reality-TV star known as "Omarosa" who began her television career on Trump's Apprentice.
In addition, Trump was joined by his wife, Melania, and by several of his adult children: Donald Jr., Eric; Ivanka; and Tiffany, as well as campaign aides including Hope Hicks and Paul Manafort. Trump took the stage to Queen's "We Are The Champions."
Some in the crowd couldn't contain their excitement. When Trump attacked Clinton's business dealings, Manigault, sitting in the front row, shouted, "Yessir!"
Trump offered her a brief smile and then continued reading from the TelePrompters.
Before it's here, it's on the Bloomberg Terminal.
LEARN MORE