Clinton Claims Historic Victory as Battle With Trump Opens
by and
With nominations settled, candidates turn to general election

Clinton defeats Sanders in California after hard-fought race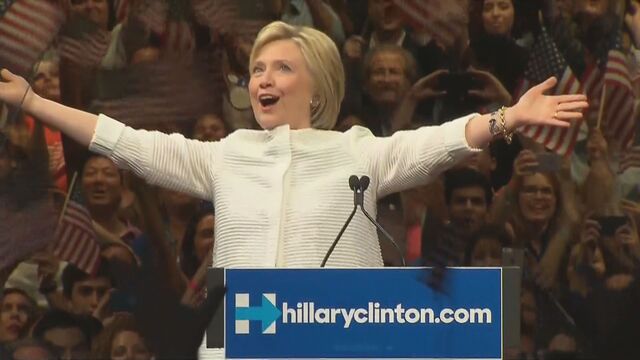 Hillary Clinton declared herself the victor in the Democratic nominating race, becoming the first woman to run as the presidential candidate of a major U.S. political party, and immediately launched her general election campaign with an attack on presumptive Republican nominee Donald Trump.
President Barack Obama sent a clear signal that the Democratic race is over. He called Clinton Tuesday night to congratulate her for securing the number of delegates needed for the nomination and agreed to meet challenger Bernie Sanders on Thursday, the White House said. Obama is expected to endorse Clinton in the coming days.
In her address to supporters Tuesday night in Brooklyn, Clinton, 68, savored the historical moment and appealed to supporters of Sanders. But Clinton wasted no time in setting the tone and themes for her race against Trump, who an hour earlier took his own shots at Clinton and promised there were more attacks to come in a major speech as early as Monday.
"Thanks to you we've reached a milestone, the first time in our nation's history that a woman will be a major party's nominee," Clinton said during a rally in Brooklyn. "Tonight's victory is not about one person. It belongs to generations of women and men who struggled and sacrificed and made this moment possible."
The win sets up what is sure to be a bitter battle between Trump and Clinton, and the former secretary of state laid out what she said were clear choices in the 2016 election. Clinton called Trump, 69, "temperamentally unfit" to be president and said his call to make America great again is "code for let's take America backwards."
Trump, who won uncontested Republican primaries in New Jersey and four other states, delivered his own campaign preview. In a speech to supporters in Briarcliff Manor, New York, he railed against free-trade deals that he said have "stripped" the U.S. of jobs. He said Clinton and her husband, former President Bill Clinton, "have turned the politics of self-enrichment into an art form."
While Clinton is looking ahead to November, her biggest immediate challenge remains Sanders. In a defiant speech to supporters in California, Sanders said he would continue the fight through next Tuesday's primary in Washington, D.C., and on to July's Democratic convention in Philadelphia.
"I am pretty good in arithmetic and I know the fight in front of us is a very, very steep fight," Sanders said. "But we will continue to fight for every vote and every delegate."
Wins California
Clinton was buoyed by a victory in California after an aggressive campaign by Sanders in hopes of a signature win there. She had 56 percent of the vote to Sanders' 43 percent with 94 percent of precincts reporting, according to the Associated Press.
She also won Tuesday's primaries in New Jersey (63 percent to Sanders' 37), New Mexico (52 percent to 49), and South Dakota (51 percent to 49), with all or nearly all precincts reporting.
Sanders won caucuses held in North Dakota on Tuesday, 64 percent to Clinton's 26 percent, and the primary in Montana, 51 percent to 45.
First Woman
At her victory party, Clinton reveled in her status as the first woman to be the nominee of a major U.S. political party. As part of her introduction to cheering supporters, the campaign played a video that combined clips of Clinton's speeches with the voices of young girls and of trailblazers including Shirley Chisholm, Rosa Parks and Ann Richards.
While the Republican Party has been riven by divisions over their nominee, Trump sought to exploit differences among Democrats, telling voters who had supported Sanders but were now "left out in the cold by a rigged system" in the Democratic race to consider backing his campaign.
On Wednesday morning on his widely followed Twitter account, Trump thanked and re-tweeted supporters and resumed attacks on the MSNBC "Morning Joe" cable TV program he is feuding with, spurring observers to note how varied his message still can tend to be.
Tuesday's results will accelerate the delicate dance involving the two campaigns and the White House as Democrats attempt to close ranks to face Trump. While Sanders is under increasing pressure from his colleagues in the Senate to stand down and give up any notion of fighting further, party leaders are still giving him some deference to avoid alienating the supporters he has galvanized.
Clinton campaign manager Robby Mook and Sanders campaign manager Jeff Weaver have talked by telephone to discuss the next steps.
A prominent Sanders supporter suggested the party would begin to come together more quickly. "We have to be unified to take on Trump, and that unity is going to begin today as soon as the polls close," Senator Jeff Merkley, an Oregon Democrat, said Tuesday on CNN.
And Obama, who remained neutral in public throughout the Democratic primary schedule, would intensify that pressure when he publicly endorses Clinton. Obama's task in the 2016 campaign will be rallying the young and liberal voters who have rallied behind the Sanders campaign throughout the Democratic nominating contest.
Before it's here, it's on the Bloomberg Terminal.
LEARN MORE