Ex-Clinton Aide Fears Prosecution Over E-Mail Testimony
by
Bryan Pagliano maintained Clinton's private e-mail server

Clinton's tech aide tells court why he won't testify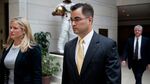 Lawyers for Bryan Pagliano, the former Hillary Clinton aide responsible for maintaining her private e-mail system, said their client has limited immunity in a Justice Department probe into her use of the system and a reasonable fear of prosecution if he testifies in a separate civil case.
The revelation came in a court filing Tuesday, explaining why Pagliano is asserting his constitutional right to not answer questions in a lawsuit filed by a conservative watchdog group seeking information about the presumptive Democratic Party presidential nominee's use of private e-mail while secretary of state.
As voters in California and five other states go to the polls Tuesday, Clinton has surpassed the minimum number of delegates needed to gain her party's nod for the nomination on the first ballot at its July convention in Philadelphia, the Associated Press reported Monday. She did so even as the FBI investigates her use of non-government e-mail for official business during her State Department tenure.
Washington-based Judicial Watch and several other news and public interest groups have sued to obtain messages stored on an e-mail server at the Chappaqua, New York, home she shares with her husband, former President Bill Clinton. Pagliano's testimony was sought in connection with one of the Judicial Watch lawsuits.
Lawyers for the former Clinton aide told U.S. District Judge Emmet Sullivan last week their client would assert his Fifth Amendment right to not incriminate himself by refusing to answer any questions posed by the group's lawyers. Responding to the judge's demand for an explanation, on Tuesday they submitted a nine-page document detailing the reasons.
"The DoJ has not authorized a grant of immunity for Mr. Pagliano in connection with any other matter, including this civil case," his attorneys said. The government's offer of immunity and its limited nature "indicates that his fear of prosecution is more than fanciful or speculative."
Jill Farrell, a spokeswoman for Washington-based Judicial Watch, declined to immediately comment on the court filing. The deposition, initially set for June 6, was postponed by the court while the judge reviews Pagliano's assertion of a right to not testify.
Reid Schar, a former federal prosecutor who now heads the white-collar criminal defense practice at Jenner & Block LLP in Chicago, said Pagliano has at least a viable argument for taking the Fifth "in response to a series of questions that don't fall under the immunity order."
The case is Judicial Watch v. U.S. Department of State, 13-cv-1363, U.S. District Court, District of Columbia (Washington).
Before it's here, it's on the Bloomberg Terminal.
LEARN MORE