Clinton's Historic Moment Tempered by Sanders, Who Won't Go Away
Clinton is the first woman to earn the nomination of a major party in the U.S.
by and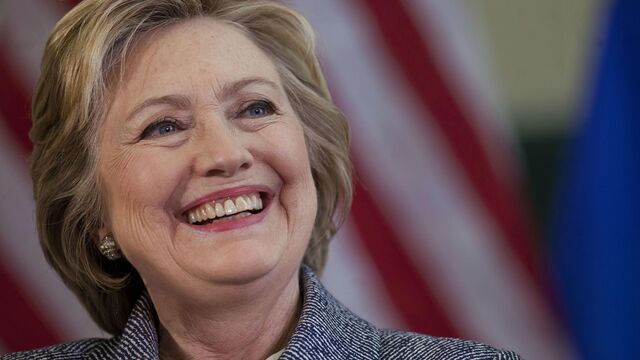 Hillary Clinton stands on the cusp of history as the first woman to be the presidential nominee of a major U.S. political party, after a drawn-out campaign against Bernie Sanders that exposed her vulnerabilities as a candidate as well as divisions among Democrats.
QuickTake How the U.S. Elects Its Presidents
With Democrats in six states still to make their choices on Tuesday, the Associated Press said that its count shows Clinton had secured the number of pledged delegates and superdelegates required to claim the Democratic nomination. The sudden conclusion of a contest that ran longer than Clinton—or anyone else—anticipated when she started her run will put new pressure on Sanders to end his insurgent campaign. It also puts a burden on Clinton to find a way to unify her party after a sometimes bitter fight.
Clinton signaled she wouldn't declare outright victory before voters cast ballots and caucused in California, Montana, New Jersey, New Mexico, North Dakota, and South Dakota, though her campaign used the AP designation moments after it was released to solicit campaign donations.

"According to the news we are on the brink of an historic, historic, unprecedented moment," Clinton said Monday at a rally in Long Beach, California. "But we still have work to do, don't we? We have six elections tomorrow and we're going to fight hard for every single vote, especially right here in California."
Sanders indicated he's still prepared to contest the race through the July nominating convention in the hopes of winning over superdelegates, the more than 700 party officials, members of Congress, and others who aren't bound by the results of primaries and caucuses and mostly have rallied to Clinton.
"Secretary Clinton does not have and will not have the requisite number of pledged delegates to secure the nomination," the Vermont senator said in a statement. "She will be dependent on superdelegates who do not vote until July 25 and who can change their minds between now and then."
A prominent Sanders supporter suggested the party would begin to come together sooner, however. "We have to be unified to take on Trump, and that unity is going to begin today as soon as the polls close," Senator Jeff Merkley, an Oregon Democrat, said Tuesday on CNN, referring to presumptive Republican nominee Donald Trump. House Minority Leader Nancy Pelosi of California, who had stayed on the primary's sidelines even as she spoke highly of Clinton's chances and the prospect of the first female president, endorsed Clinton on Tuesday.
President Barack Obama, who has been officially neutral in the Democratic race, may be ready to give his endorsement to Clinton as soon as this week, according to a person familiar with the president's thinking. The timing and venue for the endorsement hasn't been set, but Obama is appearing at Democratic fundraisers in New York on Wednesday. 
``At this point, there is at least one superdelegate, the one who works in the Oval Office, who is not prepared to make a public declaration of his endorsement,'' White House press secretary Josh Earnest said. "We'll keep you posted."
 Obama spoke with Sanders by telephone on Sunday for about 30 minutes, an unusually presidential conversation. Earnest refused to give any details on the call, adding that ``The lines of communication between the White House and the campaigns have been open.''
Clinton is seeking to rally the coalition of young, minority voters and suburban women that twice propelled Obama to the White House, in order to defeat Trump, 69. But her struggles among younger voters who have flocked to Sanders means Obama, who remains broadly popular among Democrats, will need to play a crucial role in unifying and motivating that segment of the party's base.
Clinton, who conceded the Democratic Party's nomination Obama exactly eight years ago, had expected to clinch her 2016 bid on Tuesday after adding to her delegate total with victories over the weekend in the U.S. Virgin Islands and Puerto Rico. She began Monday 23 delegates shy of the 2,383 she needed. By day's end, the AP's updated survey of superdelegates who hadn't previously announced their allegiance showed she had crossed the threshold. 
Historic Milestone
Even before the AP released its new count, Clinton, 68, and her staff were making note of the milestone. Responding to a question, Clinton said at an event in Compton on Monday that her supporters "are passionate, they are committed, they have voted for me in great numbers across our country for many reasons. But among those reasons is their belief that having a woman president will make a great statement, a historic statement about what kind of country we are, what we stand for. It's really emotional."
For her staff, the import of the moment was beginning to settle in, according to spokesman Nick Merrill.
"It's a really, really big deal and we're going to treat it as such," he said.

Clinton has already engaged the general-election battle against Trump. But Sanders' continued fight for the nomination has stirred concerns about whether and how Clinton can bring Sanders' backers into her fold and turn out Democratic voters in battleground states such as Pennsylvania and Ohio in November.
A self-described democratic socialist whose unexpected durability and magnetism with young and independent voters forced Clinton's platform to the left, Sanders, 74, may yet win California, a state Clinton won handily in the final stage of her losing campaign in 2008.
While a loss in California won't change the outcome, it might nevertheless put a drag on Clinton's attempts to rally the party and begin the presidential campaign on an upbeat note. The state's importance to Clinton was illustrated in her decision to rearrange her schedule to spend much of the last week there as polls showed Sanders closing what had been a 10 percentage point lead to essentially a tie.
"I want to finish strong in California," Clinton said Sunday in Sacramento. "It means the world to me."
Her campaign manager, Robby Mook, said Tuesday they wanted to stay focused on winning as many votes and delegates as possible in the day's "competitive" contests. "We've got a few hours left and then we're going to celebrate," Mook said on CNN.
"California's completely unpredictable and very close," said Bob Shrum, a Democratic political consultant and a political science professor at the University of Southern California. "She certainly would prefer to win it. She doesn't want to be hobbled on her way to the nomination."
As he's campaigned across California, Sanders has continued to press his argument that he represents the sort of "real change" that voters in both parties are clamoring for. At a news conference Monday in Emeryville he said he's making the case to superdelegates that he will drive up turnout for Democrats in November.
It's still unclear whether he'll make good on threats to carry the fight all the way to the July Democratic National Convention. "Let's assess where we are after tomorrow," Sanders said.
Clinton said she would "do everything I can to unify the Democratic Party, and I certainly am going to be reaching out to Senator Sanders and hope he will join me in that." She added, in a signal to Sanders and his supporters, that "tomorrow is eight years to the day after I withdrew and endorsed then-Senator Obama. I believed it was the right thing to do."
Clinton has garnered over 3 million more votes than Sanders and has won 29 primaries or caucus, compared with 21 won by Sanders. In the delegate race, she has 291 more pledged delegates and 523 more superdelegates than Sanders, a bigger margin than Obama had in 2008.
Jonell McLain, 70, of Ventura, California, a Sanders supporter, predicted a "divisive and incredibly painful" election this year while praising Sanders for pushing Clinton to adopt more liberal stances. "This campaign is rallying people and showing that we're ready for something more extreme," McLain said. "I've never heard that—and I was around in the '60s."
Carlos Valdez, 46, of Long Beach, said he started out as a Clinton supporter, later gravitating to Sanders, but will be there for Clinton in November. "I am a Democrat," Valdez said. "I'm not going to be someone who supports Bernie and then says I'm going to toss my vote away."
—With assistance from Arit John, Terrence Dopp,  Angela Greiling Keane and Mike Dorning.
Before it's here, it's on the Bloomberg Terminal.
LEARN MORE