Obama Calls Manning's 'Omaha' to Honor Broncos Super Bowl Win
by
Super Bowl champions Denver Broncos feted at White House

One player's mother had her prison sentence commuted last year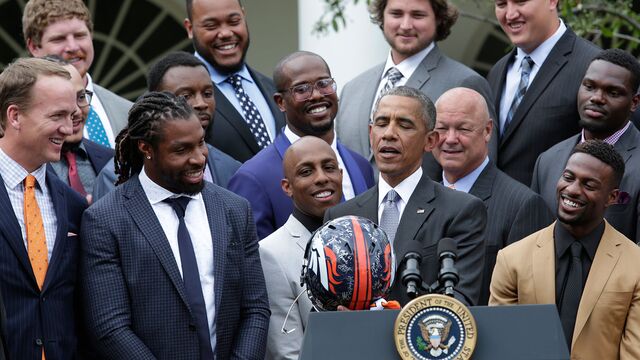 When just-retired Denver Broncos quarterback Peyton Manning called out "Omaha," receivers sprang into action and linemen took their positions. When President Barack Obama made the same call in the Rose Garden, the assembled Denver Broncos laughed genially at him.
A laid-back Obama on Monday praised Manning's NFL career following his March announcement that he was retiring. Obama said Manning set an example on and off the field and poked his proclivity for appearing in any and every television commercial.
"Then there's this guy from the commercials," Obama said as he recited the team members and their accomplishments. "It doesn't matter whether you need insurance, a pizza, a Buick. You basically can stock your whole household with stuff this guy is selling."
The Broncos stormed social media Monday as they headed to the White House as last season's National Football League champions. They tossed footballs around and talked with injured service members on the White House lawn before the ceremony and toured the White House, the first time for most of the team members.
"Can't wait to meet the President. I know he is a Denver fan. With a name like Bronc Obama, he has to be!" Wade Phillips, Broncos defensive coordinator, tweeted before the event.
The Broncos previously won Super Bowls in the 1997 and 1998 seasons. John Elway was quarterback for those victories and returned Monday as the Broncos general manager.
Team members appearing with Obama included wide receiver Demaryius Thomas, whose mother Katrina Smith was released from prison in November after Obama commuted her sentence for a non-violent drug crime. Thomas told reporters after the ceremony that he gave Obama a letter thanking him and had a brief conversation with the president when he shook hands with players in the Rose Garden.
Before it's here, it's on the Bloomberg Terminal.
LEARN MORE