Gary Johnson Says Most Americans Are Libertarian But Don't Know It
by
He thinks he can draw away voters from both political parties

Says Clinton would lift taxes while Trump is 'wrongheaded'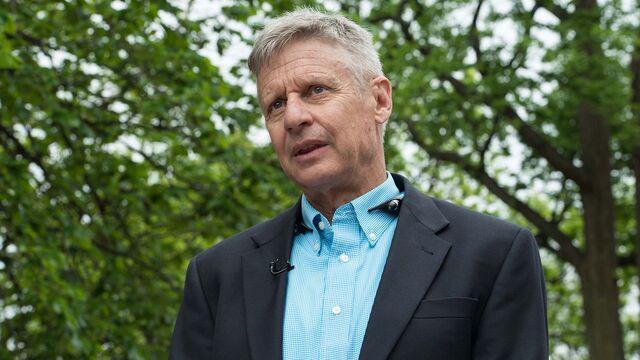 Libertarian Party presidential nominee Gary Johnson said he can pull votes away from both the Democrat and Republican contenders in the U.S. presidential election once more Americans realize they agree with many of his views.
"I'm trying to appeal to the majority of Americans whom I think are libertarian, it's just that they don't know it," Johnson said in an interview for CNN's "Fareed Zakaria GPS" program to be broadcast on Sunday. "And libertarian, with a broad brush stroke -- fiscally conservative, socially-accepting liberal."
Johnson, whose party has never won more than 1 percent of the vote in a presidential election, has surfaced as a third option at a time that presumptive Republican nominee Donald Trump and Democratic front-runner Hillary Clinton have historically high unfavorability ratings in polls and have faced stiff opposition from within their own ranks.
He drew 5 percent support in the latest national Quinnipiac University poll this week. In a Mason-Dixon poll of Florida conducted May 31-June 2, 6 percent of likely voters -- chiefly white Republicans and independents -- said they'd vote for Johnson.
Former Governors
A self-made millionaire, triathlete and former two-term Republican governor of New Mexico who climbed Mount Everest in 2005, Johnson, 63, secured the party's nomination at its convention last week. William Weld, a former Republican governor from Massachusetts, will be Johnson's running mate.
About half of Americans are declaring themselves as independents when they register, said Johnson. "It's about a 50-50" in terms of how ideologically different he is from either Clinton or Trump, he said.
Government shouldn't take away the money that people could spend to enjoy the freedoms and liberties they care about, he said, adding Clinton would do that. She is also responsible for foreign policy that's made things worse for America, Johnson said.
"She is going to grow government," he said. "I think that taxes are going to go up. I think militarily, things aren't going to change at all in the world."
'Less Safe Place'
Johnson said his differences with the mainstream element within the Republican Party include support for legalizing marijuana and ending "military interventions that, at the end of the day, make the world a less safe place."
He said, though, that the Libertarian Party is not isolationist and favors a bigger role for Congress in decision-making regarding defense.
"Let's use diplomacy to the hilt. Let's involve Congress in declaration of war," Johnson told CNN. "Let's involve Congress in how we move forward with regard to our military, something that they have completely abdicated to the executive and to the military."
Johnson cited a long list of objections to Trump's positions, including the idea of building a wall across the border with Mexico, and description of Mexicans as murderers and rapists "when in fact they're law-abiding citizens, more law-abiding than U.S. citizens."
"Deporting 11 million illegal immigrants, that is really wrongheaded," Johnson said, adding it's not true that Mexicans are taking jobs that U.S. citizens want.
While pointing out that he is "not advocating the legalization of any drugs outside of marijuana," Johnson said the U.S. needs to change its approach and understand that 90 percent of the drug problem is prohibition related, not use related. Decriminalizing the use of other drugs would be a step in that direction, he said.
Before it's here, it's on the Bloomberg Terminal.
LEARN MORE