Campaign Wrap: Jobs Report a Blip, or Trump's 'Bombshell'?
by and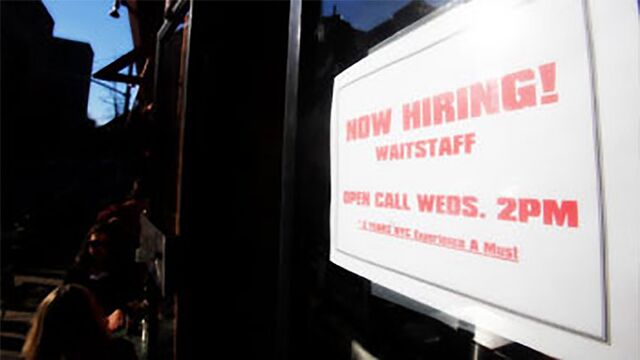 A dismal May jobs report that saw employers add just 38,000 workers to payrolls—the fewest since September 2010—spurred questions about whether an economic slowdown could ruin Democrats' ambitions to retain the White House, Bloomberg's Justin Sink and Mike Dorning report.
Donald Trump reacted to report by tweeting that it was a "bombshell" and "terrible"
RNC Chairman Reince Priebus said it underscored that Trump, "a successful businessman who knows what it takes to create jobs and get our economy back on track," should be elected
White House aides urged caution, arguing the economy remains fundamentally sound
Jason Furman, chairman of the president's Council of Economic Advisers, said the report needed to be viewed in context with other, positive trends, including upticks in consumer spending as well as vehicle and housing sales
Bottom line: The next few jobs' reports will assume even greater political importance

ON THE TRAIL
Hillary Clinton told a rally in Culver City, California, that "If all goes well, I will have the great honor as of Tuesday to be the Democratic nominee for president"
Florida Gov. Rick Scott told Politico he's "going to pass" on prospect of being Trump's running mate
Trump tweeted that he'll visit his Trump Doonbeg resort in Ireland after he visits Scotland at the end of June
Casino billionaire Steve Wynn brokered a meeting between Trump and strategist Karl Rove in Manhattan, the New York Times reports
Trump also met for 2nd time with casino billionaire Sheldon Adelson on Tuesday
Clinton spokesman Brian Fallon said on MSNBC that "we absolutely reject and condemn the violence that we saw in California last night" at the Trump rally in San Jose
Trump on Twitter earlier today accused "small group of thugs" of burning U.S. flags outside rally

TRUMP U.
Trump told the Wall Street Journal that the "Mexican heritage" of the judge presiding over Trump University cases is "an inherent conflict of interest"
The conflict for the judge, Trump said, stems from the candidate's campaign pledge to build a U.S.-Mexico border wall if elected president
The judge, Gonzalo Curiel, was born in Ind. to Mexican immigrants; Trump has previously attacked him as a "hater"
Office of California Attorney General Kamala Harris said it's investigating consumer complaints about Trump University, Politico reports
N.Y. Attorney General Eric Schneiderman is leading lawsuit against school, alleging that it swindled students out of millions of dollars

TRUMP'S BLACKLIST
Politico editor Susan Glasser responded to the ejection of reporter Ben Schreckinger from the Trump San Jose rally last night by saying it constitutes "a violation of the basic right of a free press to report," Huffington Post reports
"If this is an effort to squelch independent coverage of their campaign, it will not work," she said in a statement
Schreckinger entered the event with a general admission ticket after being denied press credentials
Huff Po said Politico has been part of an "apparent media blacklist" by Trump campaign that, along with itself, has also included BuzzFeed, Mother Jones, the Daily Beast, National Review, Univision, Fusion, and the Des Moines Register

POLLS
CA-Dem: Clinton and Sanders are locked in a dead heat, USC Dornsife/Los Angeles Times poll finds
Sanders has 44% support among eligible primary voters, Clinton 43%
Clinton at 49% among likely voters, Sanders at 39%

STAFF MOVES
Clinton campaign hired Carlos Sanchez as deputy political director, BuzzFeed reports
Sanchez served as chief of staff for Rep. Joaquin Castro in Texas

CAMPAIGN FINANCE
Clinton will start soliciting donations for the general election on Wednesday, Politico reports
She'll also start raising money for July's national convention in Philadelphia

CONGRESSIONAL
N.C. REDISTRICTING: A federal judicial panel in N.C. denied objections to the Republican-drawn congressional map for the June 7 primary, without foreclosing additional challenges to plan
Judges said they couldn't make a determination if the map gives GOP too much of an advantage; our "hands are tied" in light of 2004 Supreme Court case that said no manageable standards exist to adjudicate claims of unfair political gerrymandering
Republicans are favored to maintain control of 10 of the state's 13 districts under the new map, though it puts some incumbents in jeopardy of losing primary races
FL-SEN: Four Republicans seeking Sen. Marco Rubio's seat "struggled to energize the room" at a candidate forum yesterday in Boca Raton, underscoring that none of them has "been able to stand out in the crowded field," the Miami Herald reported
Reps. David Jolly and Ron DeSantis, Lt. Gov. Carlos Lopez-Cantera, defense contractor Todd Wilcox attended the event; developer Carlos Beruff wasn't there
NH-SEN: U.S. Chamber of Commerce TV ad says Democrat Maggie Hassan has supported more fees and spending as governor
Hassan is challenging Republican Sen. Kelly Ayotte
CA-21: Republican Rep. David Valadao paid for a TV ad that says Democrat Daniel Parra is backed by labor unions, supports Obamacare and Democratic Gov. Jerry Brown's plan for high-speed rail in Central Valley; "Republicans can't trust Democrat Parra"
Unusual ad suggests Valadao aims to spur Democratic support for Parra in state's primary and face him rather then Democrat Emilio Huerta in general election
Huerta is son of United Farm Workers co-founder Dolores Huerta
District is >70% Hispanic, voted 55%-44% for Obama in 2012
HI-01: Democrat Colleen Hanabusa announced for the House seat she previously held from 2011-15, Hawaii News Now reported
"I am a legislator at heart," said Hanabusa, who gave up House seat in unsuccssful bid for in 2014 Democratic Senate primary
Hanabusa seeking to succeed Democratic Rep. Mark Takai, who's retiring for health reasons
IA-01: Planned Parenthood Action Fund endorsed Monica Vernon over Pat Murphy in June 7 Democratic primary, Waterloo Courier reported
Winner to face GOP Rep. Rod Blum; Murphy lost to Blum in 2014 after beating Vernon in primary
IA-03: Des Moines Register editorial endorsed Jim Mowrer in June 7 Democratic primary over Mike Sherzan and Desmund Adams
Mowrer, Iraq War veteran and former Pentagon aide, has "nuanced views" on issues, including anti-terrorism policy, according to editorial
Winner to face one-term Republican Rep. David Young
IA-04: Rep. Steve King and state Sen. Rick Bertrand square off in GOP primary debate at 8 p.m. eastern time; event will stream live on KTIV
NV-04: Democratic state Sen. Ruben Kihuen raised $215k in 55-day period ending May 25, had $164k cash-on-hand, according to FEC filing
Kihuen, backed by Senate Minority Leader Harry Reid, got donations from Congressional Black Caucus, League of Conservation Voters, MGM Resorts International PACs
Kihuen faces former state Rep. Lucy Flores and philanthropist Susie Lee in June 14 primary; winner to face GOP Rep. Cresent Hardy
NC-02: Republican Rep. Renee Ellmers in six years "has gone from Tea Party darling to enemy," Washington Post reported in profile of her June 7 primary against GOP Rep. George Holding and doctor Greg Brannon
VA-02: Republican Rep. Randy Forbes's campaign aired TV ad promoting endorsements from fellow Va. GOP Reps. Rob Wittman and Scott Rigell and saying opponent Scott Taylor has "wrong kind of judgment"
Forbes, Taylor, and Pat Cardwell running in June 14 primary in Virginia Beach area
Forbes seeking to succeed Rigell after federal court imposed new congressional map that made Forbes's VA-04 heavily Democratic
VA-10: Republican Rep. Barbara Comstock had $1.8m in campaign cash-on-hand on May 18, according to FEC filing yesterday
Comstock opposed by Democrat LuAnn Bennett in upper-income district comprised of Washington suburbs, exurbs
Before it's here, it's on the Bloomberg Terminal.
LEARN MORE