JPMorgan CEO Says U.S. Presidents Shouldn't Point Fingers
Richard Partington
Dimon asked in U.K. for his views on Trump, Clinton policies

Bank CEO appeared with U.K.'s Osborne to endorse staying in EU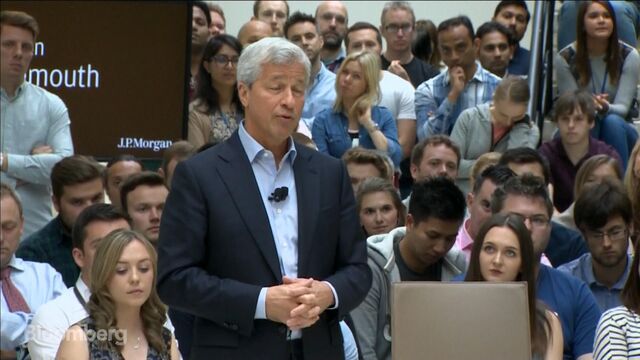 JPMorgan Chase & Co. Chief Executive Officer Jamie Dimon said the next president of the U.S. should collaborate with other nations and avoid assigning blame for problems.
"What doesn't work is finger-pointing, scapegoating, blaming people, denigrating people or anything like that," Dimon told bank staff at a town-hall meeting in Bournemouth, England, on Friday, when asked what he thought of the economic policies of presidential hopefuls Donald Trump and Hillary Clinton. "What does work, particularly in democracies, is collaboration. Work together. Solutions may not be easy but they're always there."
Speaking alongside British Chancellor of the Exchequer George Osborne, the chief executive of the largest U.S. bank by assets was in Britain to caution voters against leaving the European Union as polls suggested the U.K. government is struggling to get its message across. JPMorgan could eliminate as many as a quarter of the 16,000 staff it employs in the country if voters opt for a so-called Brexit, Dimon warned.
Dimon, whose comments echoed similar remarks he made in the bank's last annual letter to shareholders, hasn't publicly supported either presidential candidate. In 2012, he said he was still "barely" a Democrat and criticized the economic views of some politicians in Clinton's party.
Dimon's comments on the U.S. election follow those of Bank of America Corp.'s Brian Moynihan, who on Wednesday played down the effect Trump, the presumptive Republican nominee, would have on the company's prospects.
"I have high confidence that the powers of the office will tend to shape people into being what's good for America," Moynihan said at a fundraiser for the Japan Society in New York, adding that he resists offering opinions on individual candidates. "At the end of the day, Bank of America will be fine."
For a story on Goldman Sachs CEO Blankfein's views, click here.
The U.K. will vote June 23 on whether to remain part of the EU, while the U.S. votes for the presidency on Nov. 8.
"I would tell the next American president, America's got a great role to play in the world," Dimon said. If the next leader does the "right things in foreign policy and the right things in U.S. economic policy, they will lift lots of people around the world out of poverty."
The CEO said lawmakers ought to collaborate to improve infrastructure, planning and education. That would be "definitely not doable if you're acting to create mistrust and misunderstanding all the time," he said. "I would hope anyone that becomes an American president takes that responsibility very seriously, both for the United States and for its effect on the rest of the world."
Dimon joined others who have warned Brexit would push international securities firms to move jobs out of the country because some products can't be traded outside the EU without specific agreements. Stuart Gulliver, CEO of HSBC Holdings Plc, has said the lender would likely need to move 1,000 investment bankers to Paris because they're linked to operations governed by EU rules covering everything from derivatives trading to bond pricing.
(
Updates with comment from Moynihan in the sixth paragraph. A previous version of this story corrected the date of Moynihan's comments in fifth paragraph.
)
Before it's here, it's on the Bloomberg Terminal.
LEARN MORE