Money Trail
Tepid Trump Supporter Plans Big-Money New York Fundraiser
Great America PAC is planning a series of fundraisers across the country.
by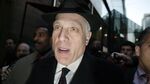 A prominent New York real-estate tycoon is hosting a fundraiser to support Donald Trump's presidential bid, but don't expect him to donate to the cause.
Peter Kalikow plans to hold the event at Club 101, his members-only restaurant overlooking Park Avenue in midtown Manhattan, a Kalikow spokesman confirmed. The June 15 luncheon will benefit Great America PAC, a super political action committee that can accept donations of unlimited size to support the presumptive Republican nominee.
Kalikow "has agreed to host it, but that is not to suggest he's an integral part of the event, or candidly, whether he's even cutting a check," the spokesman, Gary Lewi, said Thursday. Companies linked to Kalikow gave at least $325,000 to a super-PAC supporting John Kasich during the Republican presidential primary, Federal Election Commission records show. He also supported a Lindsey Graham PAC.
"Peter is a Kasich supporter," Lewi said, adding that "he recognized that it's now time for the party to unify behind their candidate."
QuickTake U.S. Campaign Finance
Great America isn't endorsed by the Trump campaign and is one of a growing number of groups jockeying for supremacy with Republican donors. Most of the party's biggest givers supported other candidates during the primary and, like Kalikow, are now adjusting to the reality that he will be the nominee.
Great America plans a series of fundraisers across the country, said Eric Beach, one of the group's founders. It will kick off with a weekend gathering in Dallas on June 11 through 13, and will also include events in California and Oregon and at the Republican convention in Cleveland in July. The group had raised only $610,000 in cash donations through the end of April, FEC records show. Beach said it brought in almost $2 million since then.
Beach said he expects 20 to 25 people at the New York event, and that several of the city's top donors have been invited. Great America will be represented by Ed Rollins, a former campaign manager for Ronald Reagan who now works for the PAC.
Kalikow runs a third-generation New York real-estate company, and is a former owner of the New York Post and former chairman of the Metropolitan Transportation Authority. He and Trump have occasionally crossed paths in the real estate world. In 1985, Trump and Kalikow's firm, H.J. Kalikow & Co., jointly submitted a proposal for a 137-story tower near Manhattan's Columbus Circle, the New York Times reported then. The tower was never built.
"Peter's made no bones about the fact that he has problems with a number of Trump's positions, specifically immigration," Lewi said. Nevertheless, "he's a staunch Republican and he will support the Republican nominee."
Before it's here, it's on the Bloomberg Terminal.
LEARN MORE