War Room
Trump Looks to RNC for Rapid-Response Assist
The presumptive Republican presidential nominee's staffers huddled with members of the Republican National Committee this week to lay out a communications strategy.
by and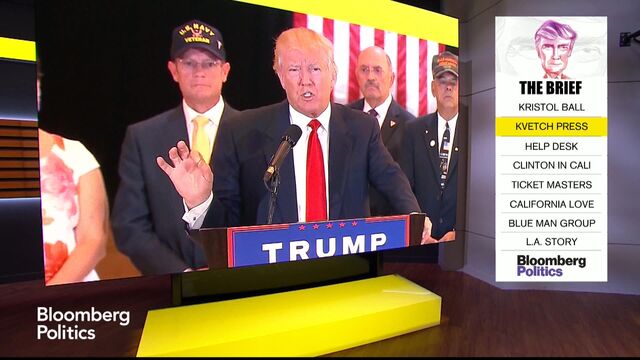 Donald Trump is working with the Republican National Committee to adopt a rapid-response communications strategy, a further sign that the presumptive presidential nominee's campaign and party leaders are joining forces for the general election. 
On Monday, RNC communications director Sean Spicer met with Trump staffers in Manhattan to discuss communication strategy as well as press logistics, according to Trump campaign officials present at the meeting who asked for anonymity. 
Spicer was also present at Trump's news conference in Manhattan on Tuesday in Trump Tower, standing next to Trump deputy campaign manager Michael Glassner, a former aide to Sarah Palin and Bob Dole, both of whom have endorsed Trump.
"We have been working really well together to craft an effective operation. We're trying to make sure there's no duplicity and that we're maximizing resources," Spicer said. "As they build out their team, we want to make sure we're complimenting each other the best we can."
The meeting comes as Trump has sought to push a public narrative that he is unifying the Republican Party, despite continuing to criticize former GOP heavyweights, such as 2012 nominee Mitt Romney, whom he called "a fool" during Tuesday's news conference. 
"If I have a Republican who's not on my side, why should I be nice to that person?" Trump said at the news conference meant to highlight his efforts in raising $5.6 million for veterans groups.
Beyond attacking party elders like Romney, Trump's news conference featured a remarkable variety of jabs at the press. He slammed the media as "extremely dishonest," called one reporter "a sleaze" and vowed that he would "continue to attack the press."
While Trump's performance was hardly typical of a standard-bearer for a major political party, Republicans understand they must work with Trump if they have a hope of beating the likely Democratic nominee, Hillary Clinton.
Fresh Blood
Trump, who often acts as his own rapid-response team on Twitter, is also looking for help in that role. 
Members of his campaign have said publicly that they are seeking to provide additional support staff for press secretary Hope Hicks, who is actively involved in interviewing potential candidates for the team. That includes bringing in one or perhaps two people over Hicks, the 27-year-old political newcomer who is well-liked within the campaign and within the Trump Organization, and who currently serves as the campaign's chief spokeswoman. Hicks is likely to see her role shift within the campaign but she will remain a top aide to Trump, people within the campaign said. 
At the same time, Spicer's involvement shows that Trump is continuing to build strong relationships within the RNC, which has a rapid-response unit to push back against Democrats. It also enables Trump to have access to the RNC's opposition research against Clinton.
In a typical presidential campaign, both parties have well-funded, well-staffed war rooms whose job it is to record everything the opponent says and hold that rival accountable, debunk claims about the candidate, and target certain audiences for campaign messages, said Mo Elleithee, who is executive director of Georgetown University's Institute of Politics and Public Service and a former communications director for the Democratic National Committee.
"The Clinton campaign probably has the most sophisticated rapid-response operation I've seen in a long time," said Elleithee, who was a spokesman for Clinton's 2008 campaign. "That gives them a tremendous advantage."
Clinton's campaign, for instance, sent out a memo to reporters questioning Trump's policy proposals for veterans ahead of his Tuesday news conference. And shortly after it concluded, the Democratic National Committee had a press conference to respond to it.
Uncharted Territory
This campaign cycle, Trump has changed the game a bit with his power to command media attention, he said. "With one tweet, Donald Trump can define a news cycle in a way a lot of rapid response operations could only dream of, and that is a tremendous asset for him," he said.
Where it could be a liability for Trump is that in today's segmented media environment, where certain demographics follow only certain news outlets, a campaign needs the ability to nuance their message, Elleithee said.
"Trump is the doctor that goes into surgery with a chain saw when what you really need is a scalpel," he said. "I've run my fair share of rapid-response operations, so I'm eager to see how it plays out. Because we've never seen anything like this."
Trump has been adamant both publicly and privately that he will not tone down his brazen political style, which he has attributed as part of the reason he was able to bulldoze through a crowded and contentious Republican field.
When asked Tuesday if his attacks on the media were the type he would continue in the White House, Trump replied: "Yeah, it is."
(
Corrects Michael Glassner's title in third paragraph.
)
Before it's here, it's on the Bloomberg Terminal.
LEARN MORE