Obama Courts Trump Voters in Recovering Indiana RV Capital
by
For 'pocketbook' voters, 'debate isn't even close,' Obama says

Trump trails in the Rust Belt, which could decide presidency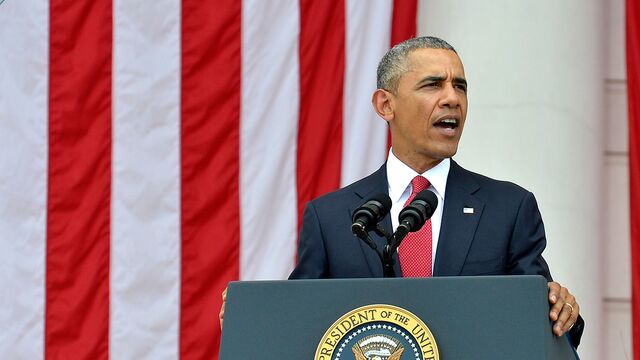 President Barack Obama will return Wednesday to the site of his first presidential trip, an Indiana city buoyed by a resurgent motor home industry, for an economic victory lap and to argue for a Democratic successor.
Elkhart, Indiana, has seen its unemployment rate drop from 18.9 percent in 2009, Obama's first year in office, to just 4.1 percent in April. The White House views the economic rebound of the 51,000-population city as a frame for the success of programs such as Obama's stimulus and his health-care law.
Obama plans to use the visit to argue that only a Democratic successor can build on policies that saved cities like Elkhart from economic demise. Both the presumptive Republican presidential nominee, Donald Trump, and his likely opponent, Democrat Hillary Clinton, have identified Rust Belt voters as a key constituency in the 2016 presidential election.
"If what you really care about in this election is your pocketbook; if what you're concerned about is who will look out for the interests of working people and grow the middle class, then the debate isn't even close," Obama will say in a speech at Elkhart, according to excerpts released by the White House.
'Working Families'
"One path would lower wages, eliminate worker protections, cut investments in things like education, weaken the safety net, kick people off health insurance, and let China write the rules for the global economy," Obama will say. "It would let big oil weaken rules that protect our air and water, and big banks weaken rules that protect families from getting cheated, and cut taxes for the wealthiest Americans to historic lows."
Democrats' policies, by contrast, would raise wages, improve employee benefits and result in a "fairer tax code," the president will argue.
"It will make a real difference for the prospects of working families," he will say. "It will grow the middle class."
Elkhart suffered during the recession when employees were fired at the city's RV manufacturers -- companies there include Thor Industries Inc., Nexus RV and Berkshire Hathaway Inc. subsidiary Forest River -- and after the 2006 closing of a Bayer AG plant that made Alka-Seltzer and Flintstones vitamins.
But a recovery in the RV industry, which has benefited from low gas prices, has led to an economic rebound.
Hiring Surge
Manufacturing jobs in the city, a five-minute drive from the Michigan border, have more than doubled from 12,000 in 2009 to 26,000 today, though they remain below historical highs. Federally funded projects to repair the city's streets and repave the airport's runway put construction workers back on the job.
Graduation rates at the county's public high schools have jumped from 75 percent to nearly 90 percent, and the number of homes in the process of foreclosure has dropped from 9.5 percent in 2010 to 3.7 percent today.
Clinton Beats Trump With Middle-Income Rust Belt Voters: Bloomberg Poll
Obama isn't expected to explicitly discuss the presidential candidates, or break his silence on the Democratic nomination fight between Clinton and Vermont Senator Bernie Sanders. But in the excerpts of his remarks, he implicitly criticized Trump, who has promised to build a wall on the border with Mexico and prohibit immigration by Muslims.
Blue-Collar Voters
"One thing I can promise you is that if we turn against each other based on divisions of race or religion, then we won't build on the progress we've started," Obama will say. "If we get cynical and just vote our fears, or don't vote at all, we won't build on the progress we've started."
Indiana is home to many of the white, blue-collar voters gravitating to the populist campaign of Donald Trump, who are frustrated that Obama's economic recovery overlooked them and are concerned that globalization threatens their livelihoods. Democratic and Republican voters both said the economy was their top issue according to exit polls during the state's primary election last month.
That fear is particularly acute among some of the state's biggest businesses. Statewide, nearly 30 percent of the gross domestic product comes from manufacturing, primarily cars and steel, according to the U.S. Bureau of Economic Analysis.
Greater Tariffs
Trump has repeatedly seized on the erosion of U.S. manufacturing in his campaign, threatening to impose greater tariffs on foreign trading partners. He has said he would impose additional taxes on Carrier-brand air conditioners manufactured in Mexico, after the United Technologies Corp. subsidiary shuttered an Indiana plant and moved its operations abroad.
"I wanna do the number on Carrier, folks," Trump said in April. "I don't like what they did."
Senate Majority Leader Mitch McConnell, a Kentucky Republican, questioned Obama's economic message, saying in an interview with CNBC Wednesday that the president has harmed economic growth because he's "clogged up the whole system" with regulations.
"The average American is worse off than they were at the end of '07 and considerably worse off than they were when the president took office," McConnell said.
Tax Cuts
And Indiana Governor Mike Pence, a Republican, argued in an op-ed published Wednesday in the city's local paper, The Elkhart Truth, that the recovery there had happened in spite of the president's policies, not because of them. Pence credited state-level tax cuts and deregulation for Indiana's economic improvement.
"We have worked every day to lower the burden of taxes and regulations so businesses large and small can focus on jobs and growth instead of worrying about the burden of their state government," he wrote.
While middle class incomes have been slow to recover since the recession, they are now slightly higher, even adjusted for inflation. Median household income in the U.S. was $57,243 in April, about 0.6 percent higher than when the recession began in December 2007, according to Annapolis, Maryland-based Sentier Research. 
The economy was losing jobs at a rate of 791,000 a month when Obama took office, and unemployment was 7.8 percent. The unemployment rate in April was 5 percent, and the economy added 160,000 jobs.
Industrial Turnaround
The job for Obama is convincing blue-collar voters who have experienced job losses and contraction in their industries that his programs have modernized the economies of states such as Indiana. The White House argues that Elkhart embodies that turnaround.
It's crucial to Clinton that voters buy Obama's message in states like Ohio, which the president won by just two percentage points four years ago, and Pennsylvania, where he prevailed by five percentage points. If Trump is able to make inroads in those states, Democrats' presumed advantage in the Electoral College may evaporate.
Elkhart also holds particular sentimental value to the president, who has repeatedly visited the northern Indiana town throughout his political career.
He campaigned there as a candidate and then as the presumptive Democratic nominee during his first White House bid in 2008. The city was Obama's first visit as president after Indiana, traditionally a conservative stronghold, narrowly voted for him. Later in 2009, Obama again visited the state and noted that Navistar International Corp., with a factory near Elkhart, had secured a federal grant under the stimulus to develop battery-powered electric vehicles.
Before it's here, it's on the Bloomberg Terminal.
LEARN MORE