Campaign Wrap: Clinton Hammers Trump on Defunct University
by and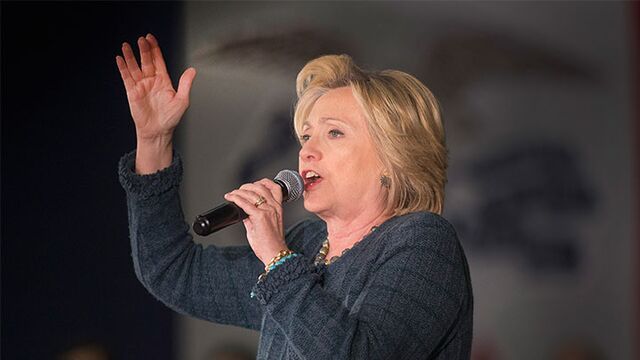 Hillary Clinton seized on reports about legal testimony from former employees of Trump University to bash the presumed GOP presidential nominee.
At a rally in Newark, N.J., she said Trump U. is "more evidence that Donald Trump himself is a fraud"
"It's important that we recognize what he has done because that's usually a pretty good indicator of what he will do," she said
Clinton tweeted more than a dozen times about the for-profit school, focusing on Trump's involvement in it
Her comments stemmed from reports of testimony from former Trump U. employees who termed it a "fraudulent scheme" and "a total lie"
The Democratic presidential candidate also retweeted a post from Mitt Romney in March that said Trump's "promises are as worthless as a degree from Trump University"
Clinton spokesman Brian Fallon weighed in, tweeting "Trump U is devastating because it's metaphor for his whole campaign: promising hardworking Americans way to get ahead, but all based on lies"

ON THE TRAIL
Bernie Sanders said banning fracking should be included in the Democratic Party platform, Bloomberg BNA reports
"I think it's too late for regulating," Sanders said at a news conference today in California, citing the "profound" difference between his approach and Clinton's on the issue
Clinton plans to give a "major" speech on foreign policy tomorrow in San Diego, Calif.
She will "make clear the threat that Donald Trump would pose to our national security," according to campaign statement
Trump said Britain should leave the EU, according to the Hollywood Reporter
In interview, he also said Viacom founder Sumner Redstone had "a good run," that he loves Paypal co-founder Peter Thiel (who is a delegate backing him at the GOP convention), and that CBS CEO Les Moonves is "the greatest"

INDEPENDENT BID
David French, after he was revealed as Bill Kristol's target for an independent presidential run, tweeted:
"I'm incredibly humbled by and grateful for the many expressions of support -- thank you."
Romney tweeted that French is an "honorable, intelligent and patriotic person"

VETS
Clinton family gave $105k to vets' groups from 2006-2012, New York Times reports
Donations were personal, not from the Bill, Hillary & Chelsea Clinton Foundation

ENDORSEMENTS
Puerto Rico Gov. Alejandro Garcia Padilla endorsed Clinton, citing her experience and knowledge of the island

POLLS
NATIONAL: Clinton leads Trump 45%-41%, though that lead dwindles to within the survey's margin of error when third-party candidates are included, a Quinnipiac University poll finds
Women back Clinton 54%-30%; men back Trump 51%-35%
GA: Public Policy Polling survey finds Trump leading Clinton 45%-38%; last Democrat to carry state was Bill Clinton in 1992
States that PPP has polled recently—Ga., N.C., N.M., Ariz., W.V. and Ohio—show either Clinton or Trump leading by nearly identical margins as either Obama or Romney carried them in 2012

CAMPAIGN FINANCE
Chris Rufer, founder of California-based tomato processor Morning Star, tells The Hill he will give at least $1m to super-PAC supporting Libertarian Party presidential nominee Gary Johnson
Donation would be the largest to a Libertarian super-PAC since the 2010 Citizens United decision
Politico story reporting N.J. Gov. Chris Christie had role in establishing a pro-Donald Trump super-PAC was wrong, Christie told reporters in Trenton
Christie said: "I've got two pretty big jobs already, as governor and chairman" of Trump's transition team

ETC.
The PGA is moving its World Golf Tournament from the Trump National Doral course to Mexico City, Miami Herald reports
Trump responded on Fox News by saying "I hope they have kidnapping insurance"
Trump is "not transparent enough for us to actually know" if he's a billionaire, Mark Cuban says on 77 WABC's "Bernie and Sid" talk radio program, according to BuzzFeed
"I think he's good at real estate, I do give him a lot of credit there. I think he's good at branding real estate," Cuban said
Sen. Majority Leader Mitch McConnell said Trump's list of potential Supreme Court nominees "should comfort people" in voting for him, according to NPR
McConnell called the judges on Trump's list "right-of-center, well-qualified"

CONGRESSIONAL RACES
SENATE
AZ-SEN: Republican Sen. John McCain's second TV ad promotes his advocacy for Luke Air Force Base in his home state
CO-SEN: Denver judge dismissed challenge to Republican ex-state Rep. Jon Keyser's nomination petitions, Denver Post reported, keeping his name on June 28 primary ballot
Winner of five-candidate primary will face Democratic Sen. Michael Bennet
OH-SEN: Senate Majority PAC, Democratic super-PAC, aired TV ad in Toledo area attacking GOP Sen. Rob Portman for supporting NAFTA, other trade deals
HOUSE
CA-16: Republican Johnny Tacherra's campaign in TV ad says he's a farmer who "knows water," while Democratic Rep. Jim Costa is 40-year politician who "knows lobbyists" and has "left us high and dry"
Tacherra seeking rematch with Costa in drought-afflicted Central Valley district after losing by 2 percentage points in 2014
CA-24: House Majority PAC, Democratic super-PAC, aired TV ad promoting Democrat Salud Carbajal's support for abortion rights, says he'll "stand up to Donald Trump and Republicans in Congress"
Spot also attacks GOP Assemblyman Katcho Achadjian's anti-abortion position; Carbajal and Achadjian among nine candidates jockeying in June 7 for two berths in Nov. general election
GA-03: Republican dentist Drew Ferguson is backed by four of five former opponents who failed to qualify for July 26 runoff, Atlanta Journal-Constitution reported
Ferguson placed second to state Sen. Mike Crane in May 24 primary; winner of Crane-Ferguson runoff strongly favored to succeed retiring Republican Rep. Lynn Westmoreland
MD-04, MD-08: League of Conservation Voters Action Fund endorsed ex-Lt. Gov. Anthony Brown and state Sen. Jamie Raskin, who are heavy favorites in strongly Democratic districts in Nov.
NJ-01: President Obama endorsed Democratic Rep. Donald Norcross, according to campaign release
Norcross challenged in June 7 primary by Alex Law, supporter of Bernie Sanders
NC-02: TV ad for Republican Rep. George Holding says Republican Rep. Renee Ellmers "supported Obama's amnesty for illegal immigrants"
Ad cites Ellmers' Jan. 2015 vote against amendment to bar funding to implement administration's executive actions on immigration; Ellmers among seven Republicans who voted no
Holding received campaign donation yesterday from leadership PAC of Kansas Rep. Lynn Jenkins, vice chairwoman of House GOP conference, according to FEC filing
Holding, Ellmers seeking same Raleigh-area district in June 7 primary
NC-13: GOP state Rep. Julia Howard's campaign aired TV ad touting her record in state legislature to lower taxes, revise unemployment insurance and welfare laws
GOP state Sen. Andrew Brock's campaign released TV ad that says he's "the rock-solid conservative" who is "fighting to keep Obama out of our bathrooms"; also says Republican Ted Budd is ''bankrolled by pro-amnesty Washington interests"
Howard, Brock, Budd among 17 Republicans seeking Greensboro-area district in June 7 primary; no incumbent is running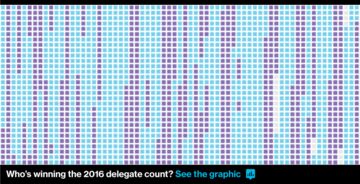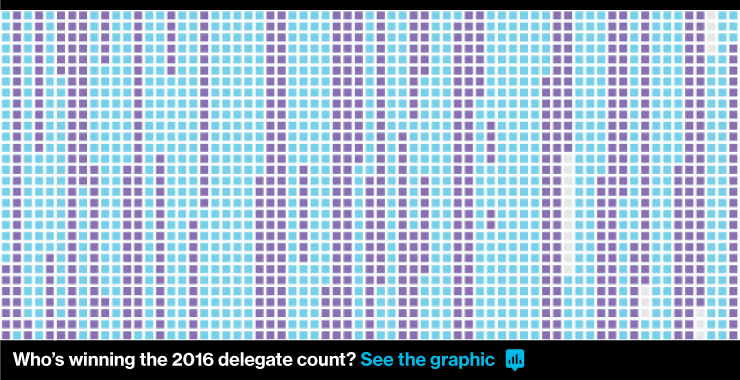 Before it's here, it's on the Bloomberg Terminal.
LEARN MORE