Trump's Ousted Political Director Says He Still Sees Republican Winning
by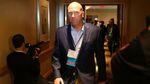 Donald Trump hired his national political director, Rick Wiley, without ever having a conversation with him.
He fired him the same way.
The two men never had a single phone call, or traded emails, because Trump doesn't use e-mail, campaign insiders say.
That lack of contact meant Trump never felt a deep bond with Wiley, and so amid complaints of a campaign adrift, Wiley was let go.
It was just the latest twist inside the Trump campaign after it locked up the nomination last week and now tries to find its footing heading into the general election. But in an interview, Wiley insisted the real-estate developer and TV personality will win the White House.
"The path exists," Wiley told Bloomberg Politics in his first public comments since Trump's chief strategist, Paul Manafort, told him on Wednesday that Trump wanted him out the door immediately. "I firmly believe this guy's going to win."
Wiley said Republicans need to remember that the 2012 general election wasn't a blow-out. If the GOP had turned out 400,000 more voters in four states combined—Ohio, Virginia, New Hampshire, and Florida—Mitt Romney would've won, he said. Trump will capitalize on his crossover appeal with non-Republican voters and win battlegrounds "where everyone says he can't," Wiley said. "The unwritten story is the enthusiasm gap," he said.
It's a striking comment from a man whose career advising Trump lasted all of six weeks.
Wiley declined to go into detail about why he was fired. But he said "no" when asked if his job was the victim of tension between campaign manager Corey Lewandowski, who first reached out to recruit him, and Manafort, who hired him. The two chiefs have different networks, and they both have Trump's ear, Wiley said.
"I never witnessed the spat," he said. "Corey and Paul are working hand in hand to make sure we're fully funded to run the ground game and TV and voter contact. It wouldn't work if they weren't working together."
The insiders said Wiley was let go after Trump received complaints about him and how general-election planning was progressing. Because Trump had hired Wiley on Manafort's advice without ever having a conversation with him, the candidate had never cultivated the deep loyalty he feels for some of his other top staffers, the insiders said. Trump spokeswoman Hope Hicks declined to comment beyond the news release issued on Wiley's departure last week.
Wiley, who was based in Washington, said he sat in on just a couple staff meetings with Trump in New York City. 
But Trump allies with direct access to the candidate didn't hesitate to pass along remonstrations to him.
"Mr. Trump wants to win, and he doesn't want a top-heavy organization," Michael McDonald, the chairman of the Nevada GOP and a Trump supporter, said Monday. "He cares if there is a situation. He wants to know about it. He's very hands-on. If something is wrong, he and Corey want to fix it right away."
State Clashes
Some of the first stirrings of trouble to hit Trump's radar were in Indiana, a state he continues to praise in his stump speeches for knocking chief rival Ted Cruz out of the race. Indiana state director Suzanne Jaworowski learned her job was done when she discovered her campaign e-mail account had been disconnected, said the insiders. Her contract lasted through the May 3 primary there, and Wiley didn't renew it, they said. Jaworowski declined to comment Tuesday.
In Florida, the largest battleground state in the nation, southeast U.S. regional director Karen Giorno sparred with Wiley two weeks ago over authority over operations there. Giorno, who was in charge when Trump crushed Florida Senator Marco Rubio in the state's March 15 primary, told Bloomberg Politics last week that Trump had recently shifted control over the state to her. He wanted to stick with "a winning team," she said.
In Washington, state director Don Benton was displeased that robocalls, pre-recorded political messages that can be delivered to thousands of telephone numbers simultaneously, hadn't been sent out as planned before the state's primary on May 24. He called to let Trump know about it, the insiders said. Benton couldn't be reached for comment Monday, the Memorial Day holiday.
Trump lost patience on Wednesday. At Trump's rally in Anaheim, California, McDonald said, he expressed his dismay to Trump over the campaign's new joint fundraising agreement with the Republican National Committee, which was structured to benefit 11 state parties but excluded Nevada. McDonald told Trump he was worried that the arrangement signaled Wiley's team was overlooking the importance of Nevada, where the GOP had "done everything right" to rebuild after the controversy-riddled 2012 caucuses, McDonald said.
Wiley said Trump's team recognizes the hard work that was done by the state parties to help Trump win in the primaries, and that "the trend of excitement from the primaries could very well carry over into the general."
Encouraging Numbers
Wiley pointed to data he sees as encouraging in battleground states that are key to the Electoral College. In Ohio this year, about 230,000 voters with previous Democratic primary voting history cast ballots in the Republican primary. In a Roanoke College poll of Virginia this month, Trump and Hillary Clinton were tied, but Republicans were 11 points more likely to be interested in the campaign than Democrats.
Clinton must stitch together the same coalition President Barack Obama did, but millennials and African-Americans "aren't excited about her like they were for Obama," Wiley added. "It's a devastating map for Clinton, it really is." 
Clinton's campaign takes a different view, citing a Harvard Institute of Politics poll this spring that showed 18- to 29-year-old likely voters nationally prefer Clinton over Trump, 61 percent to 25 percent. Trump has put even deep-red Texas in play, Clinton said in a New York Magazine story published Monday, adding she could win there if African-Americans and Latinos turn out to vote. Analysts say Clinton is also likely also benefit from a poll bounce once she formally secures the Democratic nomination.
Another positive sign, Wiley said, is Trump's strong performances in the Nevada and New Hampshire nominating contests compared to Clinton, even as he faced a much larger field than she did. In Florida, she's up only 2 percentage points in the RealClearPolitics average, and a recent CBS/YouGov survey found Trump is seen as stronger on terrorism, immigration, and jobs, he noted, adding Republicans have positive voter-registration momentum there.
In Ohio, Wiley pointed out, Clinton leads Trump by only 1.4 points in the RealClearPolitics average, and again Trump beats her on the question about who would better handle jobs and the economy. In North Carolina, where Trump has a narrow advantage in recent polls, 65,000 votes were cast in the Republican primary by voters who had voted in Democratic primaries in the past. In Pennsylvania, Republicans have added nearly 150,000 people to Republican voter rolls since October, netting nearly 50,000 compared to Democrats, Wiley said. 
"When Manafort came on, he said we have multiple ways to secure the nomination. He was right. And that's what this map looks like as well," Wiley said. "Trump's message resonates, and people still underestimate that. He's saying, 'No one's been looking out for you. I'll look out for you.' No one has said that, and they're dying for someone like that. This is an election where voters want someone to say, 'Hey, I have your back.'"
—With assistance from Jennifer Epstein and Michael C. Bender.
(
Corrects to add New Hampshire in seventh paragraph.
)
Before it's here, it's on the Bloomberg Terminal.
LEARN MORE