Either Or
Trump Endorser Tom Barrack Says Clinton 'Would Do a Good Job' Too
The billionaire real-estate investor says the likely Democratic nominee is "unbelievably capable."
by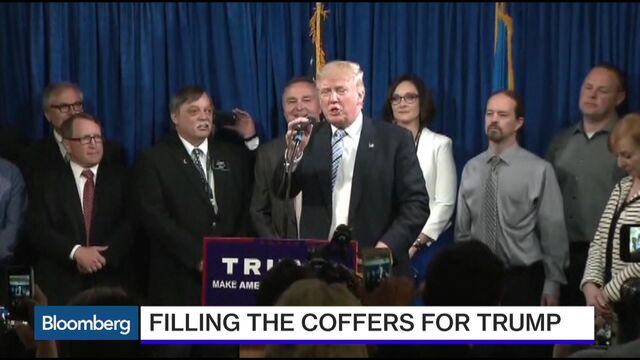 If Tom Barrack is an example, Donald Trump may have a better chance at attracting moderates than expected.
The billionaire real-estate investor describes himself as liberal on social issues and "kind of a lame Republican," and in a Bloomberg Television interview on Friday, he said he thinks Democrat Hillary Clinton would be a decent president.
"Quite honestly, I think either one would do a good job," said Barrack, the founder and executive chairman of Colony Capital Inc. "Bernie Sanders, I have tremendous respect for him, too."
Barrack, 69, was among the first business leaders to back Trump and last week hosted a $25,000-a-plate fundraiser for the presumptive Republican presidential nominee at one of his California homes, a Santa Monica estate overlooking the Riviera Country Club.
QuickTake U.S. Campaign Finance
Trump, 69, and Barrack first did business together in the mid-1980s and became friends, raising children at the same time. Barrack weighed in with a Trump endorsement in February because he wanted to share "a point of view of a person I know in a way that most people don't," he said.
"As a man who can get things done, I've seen him in most complicated situations, building consensus out of things that people can't imagine. When I say kind and humble, and generous, people say, 'Who are you talking about?' Right? 'This isn't the man that I'm seeing in front of these rallies,'" Barrack told Bloomberg Television's Erik Schatzker at his ranch near Santa Ynez, California.
"I really consider him a really good friend, so this wasn't political," Barrack said. 
"You know, Hillary is very accomplished and very knowledgeable, so her themes are probably very sound," added Barrack, whose Los Angeles-based firm has invested over the years in Michael Jackson's Neverland Ranch, the film company Miramax, casinos, industrial properties, and mortgage financing.
"If Hillary's president, is she going to do a conniving, bad job? No way. All of these things that are focused on as edges of criticism are politics," Barrack said.
Barrack described how Trump finessed a deal to buy the Plaza Hotel in 1988, even though the historic landmark was up for auction with multiple investors vying for pieces of it. Trump offered cash with no contingencies, but with one condition: Barrack had to privately reveal "everything that's wrong with it" and how to fix those problems. "I said, 'And then you're going to sue me,'" Barrack, who negotiated the sale of the hotel to Trump on behalf of Texas financier Robert M. Bass, said. "He said, 'No, just a handshake deal.'" Barrack then felt obligated to make the fixes himself, and the deal closed in three months without a hiccup, he said.
Barrack said he believes Trump can address shortcoming in America's health and education systems and create job opportunities for unemployed veterans. He also supports Trump's proposed ban on Muslim immigration as a means to force states in the Middle East to take action against terrorism.
On the personal front, Barrack told an anecdote about how Trump invited him to a Mike Tyson boxing match about 20 years ago, and convinced him to bring along his son T.J., even though Barrack was worried the boy would get lost in the "circus" of Trump's celebrity and the mass of people. "We hopped in his helicopter. …  He has one hand of T.J., and I have the other. We walk in there's a mass of reporters. He never loses his focus of my kid ever," Barrack said. 
On Wednesday night, Barrack hosted a fundraiser for the Trump campaign and the Republican National Committee in a pool-side tent in the yard of one of his Los Angeles homes. Trump aides told Bloomberg Politics the event hauled in more than $5 million.
No matter who wins the presidential race, the country will benefit, Barrack told Bloomberg Television.
"That's how I look at the whole thing. Whoever wins, America will be better off because we're now having a debate and a dialogue that we haven't had for a long time. It's anger at both ends of the barbell," he said.
Barrack added, "I don't think most people any longer are Republicans or Democrats. They look at the man or woman in the arena and they make a decision. … I mean, Hillary's an amazingly accomplished woman. To say that she's not capable or competent? It's ridiculous. She's unbelievably capable or competent."
Both would help the U.S. clarify its foreign policy, which is much needed because countries in the Middle East "don't know whether to turn left or right," said Barrack, the grandson of Lebanese immigrants. "So, whether it's Donald or Hillary, just having a consistent platform and policy that's definable about what are we doing in the region," he said.
Barrack, who served in the Ronald Reagan administration as deputy undersecretary of the Department of the Interior, said he sees "a lot of similarities" between Trump and Reagan.
"He's practical. So, what he'll do is he'll get it done, whatever the right thing is, he'll surround himself with the smartest and best people and he'll get it done," Barrack said. "Can his opponents do the same thing? Sure. It's, it's just, it's supporting athletes that are in the field and saying I just know, I know a little bit about the side that people haven't seen, competency, tenderness, kindness, compassion, not his harshness that, that appears. And so sharing my point of view may be helpful in people as they're deciding what are their options."
Asked about GOP leaders having a hard time getting behind Trump, Barrack said he's not surprised the establishment is unsure, given that the country isn't used to having a president who has made a payroll.
Barrack said Trump and House Speaker Paul Ryan are talking, and "I promise you, the two soon will be bound at the hip and they will have made a deal."
Before it's here, it's on the Bloomberg Terminal.
LEARN MORE