Ready or Not, Republicans Prepare for Standard-Bearer Trump
As the presumptive nominee, Trump has found increasing support, even among some Republican leaders who had earlier declared themselves completely opposed to his bid.
by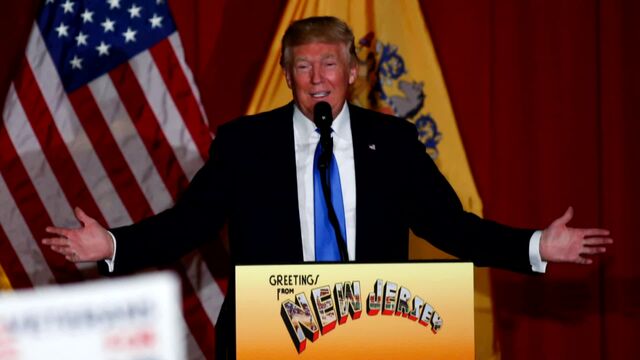 Marco Rubio not so long ago insulted Donald Trump's tan, made crude insinuations about his anatomy, and dubbed him a "con man" and "the most vulgar person ever to aspire to the presidency." 
Yet days after Trump clinched enough delegates to become the presumptive Republican presidential nominee, the Florida senator said he would speak on his behalf if asked, and would release his delegates to Trump at the Republican National Convention in Cleveland in July.
"I think that the Republican voter is coalescing around Donald," Rubio said in an interview that aired Sunday on CNN's State of the Union, praising the unconventional candidate as "the ultimate change agent." 
Rubio also said he'd apologized privately to Trump for talking about his "small hands."
Rubio's not alone. As the presumptive nominee, Trump, 69, has found increasing support, even among some Republican leaders who had earlier declared themselves completely opposed to his bid. The real-estate developer and TV personality will lead the party into battle against the Democrats for the White House, Congress, and thousands of lower elected offices in November.
The Floridian said he still didn't agree with Trump's comments about Mexican immigrants or his recent embrace of conspiracy theories around the 1993 suicide of an aide to President Bill Clinton, but that dislike of Hillary Clinton, this year's Democratic front-runner, was animating support for Trump. 
"When it all settles down and gravity takes hold, it's going to be a very close election, decided in about 12 states in this country, and Donald has a 50–50 chance, if not, a little bit better, to win, based on how unpopular Hillary Clinton is," Rubio said. 
First-term Senator Ron Johnson of Wisconsin, who's running for re-election, has a lot to lose if Trump sours sizeable voting blocs, such as women, on down-ticket Republican candidates. Wisconsin is considered a top target by Democrats, and Johnson will face Russ Feingold, the incumbent he beat to win the seat in 2010. 
Far from fleeing the Trump brand, Johnson, another wealthy businessman-turned-politician, said he shared a vision of government with the real estate developer.
"I kind of look at Donald Trump as the political equivalent of a disruptive technology," Johnson said on CBS's Face the Nation. "Not exactly sure where it's going to take us, but I know he would definitely represent change. It's certainly what I'm trying to do in Washington." 
Grassroots activists will have a say at the national convention on policy proposals made by Trump that worry some Republican leaders, said Wyoming Senator John Barrasso, who will chair the party's platform committee.
"We've asked Donald Trump to allow the process to play out," Barrasso said on ABC's This Week With George Stephanopoulos. "He has agreed to do that. And I've asked him personally to embrace the platform, and I believe he will."
Several prominent Republicans have worried that Trump's suggested deportation order for millions of undocumented immigrants will alienate the growing Hispanic voting demographic, or that his proposed ban on Muslim immigration would be un-American and counter-productive in the general election. 
House Speaker Paul Ryan, who as one of the high-profile holdouts in endorsing Trump has nonetheless recently moved to embrace the all-but-official nominee, would soon be coming into the fold, Trump's campaign manager said Sunday.
"Think of all of the people who've come out in the last two weeks and endorsed Donald Trump—U.S. senators, congressmen, governors," Corey Lewandowski said on Fox News Sunday. "We are growing this party bigger. We're bringing more people into it. Paul Ryan and Mr. Trump have had a conversation, and they continue to develop that relationship."
Another Republican who took an unconventional path to elected office and hasn't endorsed Trump so far is former two-term California Governor Arnold Schwarzenegger. 
Asked on NBC's Meet the Press if he's ready to publicly back his party's new leader, the former body-builder and action move star said he "will study the various candidates."
"I will make an announcement before the election, you can be sure of that. But I will do it my way, which is always an unusual way," Schwarzenegger said.  
Before it's here, it's on the Bloomberg Terminal.
LEARN MORE