Trump Celebrates Memorial Day Weekend at Huge D.C. Biker Rally
by , , and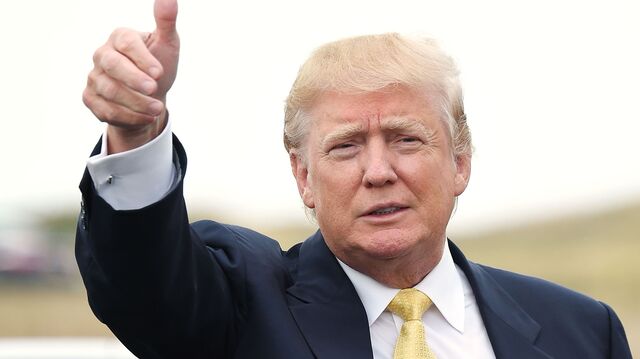 Donald Trump is planning a Memorial Day weekend visit with one of his favorite constituencies: bikers.
As hundreds of thousands of  motorcyclists stream into the nation's capital for Rolling Thunder, the presumptive Republican presidential nominee is planning an appearance on Sunday, campaign spokeswoman Hope Hicks said.
"I am doing it in honor of the great bikers who have been totally supportive of my campaign and now I want to be supportive of them," Trump said in a statement to Bloomberg Politics. "I look forward to it!"
The rally, called the "First Amendment Demonstration Run," starts at the North Pentagon parking lot in Arlington, Virginia, crosses into the District and circles the National Mall. Trump will speak at 2:30 pm from the Lincoln Memorial, according to his schedule.
At Trump rallies, motorcycle enthusiasts frequently line the entrances to show their support as protesters do the opposite just steps away. A central part of Trump's appeal to them: a shared belief that self-interested politicians are degrading the military, ignoring veterans and running "a sad government," as a letter about this weekend's ride published in December by Rolling Thunder organizers said.
"We are fighting wars and seeking freedom for countries whose people hate us and want to destroy our way of live [sic]," the letter said. "Remember the history of WWII, the last war we fought to really win!"
The week before the New York primary, which Trump won easily, dozens of bikers organized a meet-up in upstate New York to support him. In January, he opened his remarks in Myrtle Beach by thanking a dozen or so motorcycle riders who stood outside cheering for him.
A group called Bikers For Trump was among those that intended to hold protests and marches if their candidate was denied an outright victory at the convention. Now that that threat is gone, they're still selling T-shirts with their logo on them, advertising that the proceeds will go to their rally at the GOP national convention in Cleveland in July. They say they have 45,000 members.
George Lombardi, co-founder of Citizens for Trump, posted a Facebook message that "tens of thousands of the Bikers for Trump" will be among the crowds gathering for Memorial Day events to remember the sacrifices of military members.
"In just about every speech he made from the beginning of his campaign, Mr. Donald Trump has always acknowledged the men and women that served or are serving in the US Armed Forces. [It] is no secret that Mr. Trump favors a strong military and that he personally supported many veteran charities," Lombardi wrote.
Motorcycles have played a prominent role in national politics in the past year. 
In early June 2015, days before Trump announced his run, Iowa Senator Joni Ernst hosted a "Roast & Ride" that attracted presidential hopefuls to the state that holds the nation's first nominating contest. Wisconsin Governor Scott Walker, a Harley-Davidson rider who had made early investments of time and money in the state, was considered a favorite in the Republican presidential race at the time.
Before it's here, it's on the Bloomberg Terminal.
LEARN MORE