LGBT, Funding Issues Scuttle Energy Spending Bill in House
by
Vote shows social-issue fights could paralyze spending bills

Bill contained amendments on bathroom use, Iran 'heavy' water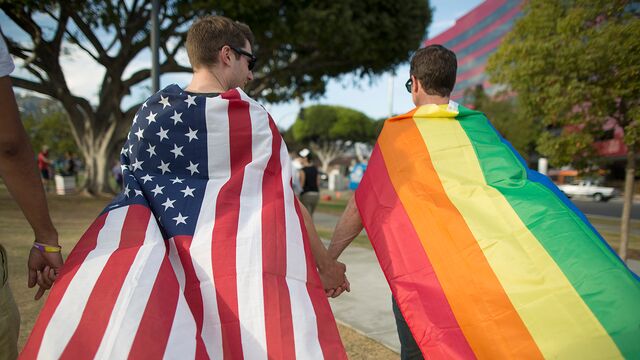 The House soundly rejected a measure to fund the Energy Department and U.S. nuclear programs that got tied up in controversy over political riders about lesbian, gay and transgender issues, as well as a dispute about overall spending levels.
The 112-305 vote Thursday reveals that the fight over access to bathrooms and other hot-button social issues could paralyze the House and its plans to pass a series of spending bills to fund the federal government after Sept. 30.
Almost all Democrats and a majority of Republicans combined to defeat the bill after the House yesterday adopted two policy riders that seemed to tip the scales against the measure. One was an amendment designed to get lawmakers on record about North Carolina's new law restricting which bathrooms transgender people can use. It was offered by Representative Robert Pittenger, a North Carolina Republican, and was adopted on a 227-192 vote.
Separately, the House yesterday approved a Democratic amendment aimed at preventing federal contractors from discriminating against employees based on their sexual orientation or gender identity. That amendment offered by Representative Sean Patrick Maloney, a New York Democrat, was approved on a 223-195 vote.
Blaming Democrats
House Speaker Paul Ryan blamed the Democrats for sabotaging the appropriations process. The defeat of the broader $37.4 billion spending measure is a setback for Ryan, who has vowed to restore the past practice of advancing individual spending bills through the chamber, a process that gives lawmakers with expertise on programs more say. 
"We are not slowing down here," Ryan told reporters. "We will continue with an appropriations process."
The inability to pass each spending bill in recent years has made reliance on mammoth omnibus measures covering much of the government the norm and has underscored the gridlock in Congress. Last year, the House's effort to pass individual spending bills was scuttled by an amendment that would have barred funding to display the Confederate battle flag in certain situations.
"I'm very disappointed that this bill could not clear the House today, but I remain dedicated to working this bill and all other appropriations bills through regular order –- through the committee, through the Congress, and to the president's desk," Appropriations Chairman Hal Rogers of Kentucky said in a statement after the vote. "Today's result will not stop our process, but is merely a temporary pause."
'Humpty Dumpty'
Representative Tom Cole of Oklahoma, a Republican appropriator, said the failure of the bill is "certainly a setback," but there are other options to get this and other spending bills through. Republican leaders, for example, could opt to use the rules process to restrict amendments, although he admits this goes against Ryan's call for more openness in the chamber.
"We'll put Humpty Dumpty back together," he said.
Representative Nita Lowey of New York, the ranking Democrat on the Appropriations Committee, said she doesn't see how Republicans will be able to move any more spending bills on the floor.
"If they're going to continue to operate in this way and kowtow to the right wing of their membership it looks like we can't proceed on the floor in regular order," she said.
The energy spending bill, which also covers the U.S. Army Corps of Engineers and other agencies, already faced a veto threat from the Obama administration, which cited "problematic ideological provisions" related to environmental regulation. In floor debate, a number of other policy riders were added, including language that would bar the U.S. from purchasing heavy water from Iran. A similar amendment was scuttled in the Senate after the Obama administration opposed it, saying the proposed ban would undercut the Iran nuclear agreement.
'Shame, Shame'
Maloney's amendment on LGBT rights was the subject of a floor fight last week when he offered it on a different spending bill governing veterans and military construction. The provision was blocked in a dramatic episode where Republican leaders held the vote open and several lawmakers switched their votes amid shouts of "Shame, shame" from Democrats. Afterward, Democratic leaders accused Republicans of rigging the outcome and being too beholden to social conservatives in an election year.
Republicans faced particular pressure over today's vote. The conservative group Heritage Action on Thursday said it would be counting House members' votes on the bill as a key vote on its legislative scorecard.
The group took issue with the bill's spending levels, noting that many conservatives have been demanding deeper cuts in discretionary spending.
In a statement after the vote, it said, "Republicans were right to oppose the bill, as it spent far too much and affirmed President Obama's transgender agenda."
The broader fight over transgender rights spilled into the judiciary on Tuesday, with 11 states suing to block an Obama administration initiative instructing all U.S. public schools to let transgender students use bathrooms and locker rooms based on their gender identity.
Before it's here, it's on the Bloomberg Terminal.
LEARN MORE