Puerto Rico Debt Crisis Bill Clears First U.S. House Hurdle
by and
Action comes after months of delays ahead of July 1 deadline

Plan would create oversight board to address $70 billion debt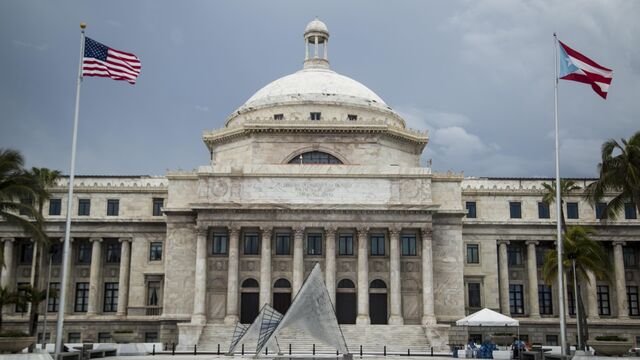 A House committee voted to create a federal oversight board to address Puerto Rico's $70 billion debt crisis, a long-delayed measure that Congress may not complete before the July 1 deadline for a $2 billion payment to investors.
The bill, approved Wednesday with minor changes on a 29-10 committee vote, won't be acted on by the full House until sometime after Congress's week-long Memorial Day recess next week. It still faces potential obstacles in the House and needs to be approved by the Senate.
"This bill should not be considered an anti-creditor bill. This bill is good for all concerned," Pedro Pierluisi, Puerto Rico's representative in Congress, said before the vote by the House Natural Resources Committee.
Some lawmakers in both parties have said they remain skeptical about the plan. Democrats object to a provision allowing the Puerto Rico government to reduce the minimum wage for young workers, while some Republicans expressed concern that the measure might create precedents for financially troubled U.S. municipalities and states.
Puerto Rico Governor Alejandro Garcia Padilla said in an e-mailed statement, "I appreciate the work done, but there is still more to do." He said that while the measure will help the island address its insolvency and improve its economy, the oversight board's powers are too broad. He urged House Speaker Paul Ryan to amend the measure's oversight provisions.
Treasury Secretary Jack Lew said the legislation, negotiated for weeks with the administration, must be "protected" from significant changes in order to clear Congress and get the president's signature.
"It can't be loaded up with things that make it impossible to pass or unacceptable," Lew said in an interview with CNN.
For a QuickTake explainer on Puerto Rico's debt, click here.
The legislation, H.R. 5278, would create a seven-member board to manage a restructuring of Puerto Rico's debt and oversee the island's finances. The control board could ask a judge to order a forced restructuring if Puerto Rico's government can't reach a deal with bondholders.
The board would be able to enforce balanced budgets for the commonwealth's government and require the sale of government assets if needed. The bill contains no taxpayer funds to cover debt payments. Committee Chairman Rob Bishop said Tuesday that he expects Congress to pass the measure, though perhaps not until shortly after the July 1 deadline.
Lawmakers are under pressure to vote against the Puerto Rico plan. Republican-leaning groups such as Heritage Action have said it wouldn't do enough to overhaul Puerto Rico's economy. Labor unions oppose it, arguing it wouldn't adequately protect government workers' pensions and would allow minimum-wage cuts. Democratic presidential contender Bernie Sanders last week announced his opposition to the measure, which some members of his party say would treat Puerto Rico like a U.S. colony.
Little Alternative
Arizona Representative Raul Grijalva, the Natural Resources panel's top Democrat, said there's little alternative but to act even though the measure doesn't do enough to protect vital public services form further cuts and creates an oversight board that's too powerful. "Puerto Rico is drowning in debt" and the bill is a "lifeline," he said Tuesday.
Democrats tried unsuccessfully Wednesday to remove Republican language in the bill that would allow reductions in the minimum wage for young workers. Bishop of Utah ruled the amendment offered by Norma Torres of California out of order.
"The minimum-wage provision in this bill is bad for these young workers and it is bad for Puerto Rico," Torres said. She added that Puerto Rico's recovery can't be accomplished "on the backs of 25-year-olds."
Disclosure Practices
The committee adopted a bipartisan amendment to allow the oversight board to investigate any potential misinformation in disclosure and selling practices in connection with bonds issued by Puerto Rico. Those areas would include "any underrepresentation of risk" for investors and conflicts involving brokers or investment advisers. The oversight board would make any findings public.
"We want to make sure we understand what kind of representations were made to those investors," said Republican Representative Garret Graves of Louisiana, who co-authored the amendment with Democratic Representative Don Beyer of Virginia.
The only lawmaker to mention any concern about the provision was Representative Cynthia Lummis, a Wyoming Republican who cited language in marketing documents that she said indicated disclosure of the risks. Committee members adopted the amendment by voice vote.
Some Republicans have expressed concern that the measure might create precedents for financially troubled U.S. municipalities and states. Some also have said they want to ensure that the measure doesn't override existing law regarding protection of bond investors.
'Winners and Losers'
Representative John Fleming, a Louisiana Republican, complained the bill carries language that would make it a vehicle for the government to be "picking winners and losers." 
"What's going to happen down-range with states and other characters?" said Fleming, who unsuccessfully sought to remove a provision imposing a temporary moratorium on lawsuits over Puerto Rico debt. Bishop said the moratorium is needed so the oversight board "can be brought up to speed."
The committee also defeated Republican Tom McClintock's effort to remove language he said would let the federal government undermine guarantees to creditors provided under Puerto Rico's constitution.
If Congress is willing to do that with Puerto Rico now, "there is every reason to believe it will undermine other state guarantees tomorrow," McClintock of California said Tuesday.
Sales-Tax Bonds
The legislation will still face tough hurdles in the Republican-led House that will Ryan's arm-twisting skills. Ryan helped negotiate the details of the legislation with Lew and House Democratic leader Nancy Pelosi of California.
Holders of senior sales-tax bonds, called Cofinas, have been supportive of the bill because it would require the federal board and a court to honor existing repayment pledges. Cofina investors believe that protects the revenue stream dedicated to repaying their securities. Some general-obligation investors have been pushing for a clearer repayment priority in the bill that would reflect their constitutional guarantee.
Congress already blew past one debt payment deadline May 1, when the island defaulted on $370 million in bond payments. A heftier $2 billion payment by Puerto Rico comes due July 1, and Garcia Padilla has warned that the commonwealth doesn't have the money to make that payment in full. That amount will include more than $700 million in general-obligation bonds that are guaranteed repayment under the island's constitution.
The next major deadline is January, when general-obligation interest is due again.
Before it's here, it's on the Bloomberg Terminal.
LEARN MORE