Bloody U.S. History in Asia Shadows Wartime President Obama
by and
A Nobel Peace Prize winner, Obama, wrestles with use of force

Weeklong trip to Vietnam and Japan revisits U.S. battlefields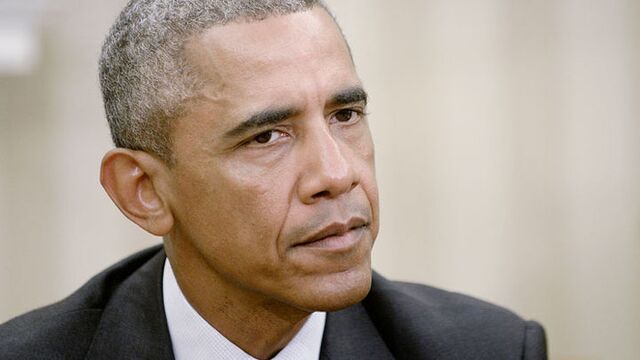 President Barack Obama will confront his own legacy -- seven years of intractable wars he once pledged to end -- when he revisits two of America's bloodiest conflicts this week.
On visits to Vietnam and Hiroshima, Obama will see the potency and limits of U.S. military power up close. He won't apologize in Hiroshima for the U.S. decision to drop atomic bombs in 1945, his spokesman said. Nor will he re-litigate U.S. involvement in Vietnam that cost Lyndon Baines Johnson the presidency -- and 58,000 Americans their lives.
Both stops conjure up "the question that is at the heart of the Obama strategic conundrum,'' said Peter Feaver, who served on the White House National Security Council under former Presidents Bill Clinton and George W. Bush. "And that is, does America do more harm through action or inaction, with its military?''
That question has vexed Obama, who withdrew tens of thousands of troops from Iraq and Afghanistan, then returned some of them after extremists from Islamic State and the Taliban gained strength in regions the U.S. vacated. He has been criticized by Republicans for being too reluctant to use military force in the region, and by some Democrats for being too willing.
"No matter how justified, war promises human tragedy," Obama said in his 2009 Nobel Prize acceptance speech in Oslo. "War itself is never glorious, and we must never trumpet it as such."
Yet even Obama has learned, however reluctantly, that military power is a necessary tool for a president. In Vietnam, Obama is considering lifting a ban on U.S. arms sales imposed on the country after the war, with an eye toward China, which has forcibly challenged Vietnamese territorial claims in the South China Sea.
The region is beset by rising military tensions between China and its neighbors and on the Korean peninsula, where North Korea is advancing its nuclear weapons program.
Hagel's Advice
As a presidential candidate, Obama sought out military advice from former Senator Chuck Hagel, a Vietnam veteran and Republican who later became Obama's defense secretary. Hagel said that he told the candidate, "We make big mistakes when we ignore histories and cultures. We can't impose democracies."
"His decisions to be very cautious with the use of military force and the commitment of military force certainly comes from his study and review and conversations regarding Vietnam," Hagel said.
Those lessons are on display in Obama's handling of Syria, where a five-year civil war has killed more than 270,000 people and prompted the worst refugee crisis since World War II. Obama vacillated on his strategy before deciding not to use U.S. military power to end the conflict.
'Smell of Vietnam'
Still, American pilots and more than 4,000 U.S. ground troops are assisting local forces in Iraq and Syria, where they occasionally find themselves in combat. The U.S. is also supporting a nascent United Nations effort to arm Libya's new government, and the president has sent American aircraft and unmanned drones to conduct targeted operations in Yemen, Somalia and Pakistan.
"The way in which he is handling the Middle East, not getting involved, it's the smell of Vietnam," said Marvin Kalb, a professor at Harvard's John F. Kennedy School of Government. "That legacy for a president who takes history seriously becomes guideposts for the way he conducts his policy. This is the man who wants more than anything to be known as the man who avoided wars, who didn't engage in wars."
Obama will acknowledge the American military intervention in Vietnam, the only major war the U.S. has lost, White House press secretary Josh Earnest said.
"Hanoi Hilton"
Near Obama's meetings on Monday in Hanoi is the Hoa Lo Prison, where John McCain, now a Republican U.S. senator from Arizona, was held as a prisoner of war after the Vietnamese shot down his plane into a Hanoi lake in 1967. He was held until Vietnam released the U.S. prisoners in 1973. The day Obama arrived, western tourists milled about the prison known as the "Hanoi Hilton" with no Vietnamese visitors in sight.
Before holding U.S. POWs, the prison was used by French colonists to incarcerate Vietnamese activists. Visitors today learn about French aggression while seeing pictures of American prisoners - including McCain - receiving medical attention and playing sports. McCain, in an interview, said he was invited on the trip but declined the invitation.
Obama is the first U.S. president to have reached adulthood after the Vietnam War. He was 13 when it ended, far too young to have served or avoided serving. His predecessors Bill Clinton and George W. Bush, who each also visited the country, both avoided the draft.
The impact of the Vietnam War still resonates in that country, even though most Vietnamese weren't yet born when it ended. The average age in Vietnam is 29.6 years, according to the Central Intelligence Agency.
"The Vietnamese military still remembers the war," said Murray Hiebert, deputy director of the Center for Strategic and International Studies Southeast Asia Program. Even if the U.S. lifts the ban on arms sales, Vietnam's military might not be interested in American weapons for reasons that include the bloody history between the countries, he said.
The president will conclude his week-long trip in Hiroshima, recognizing the pair of atomic bombs that the U.S. dropped there and in Nagasaki to force Japan's surrender in 1945 and end World War II. It will be the first visit by a U.S. president to the Hiroshima Peace Memorial Park, an open field created by the explosion that killed tens of thousands.
'Human Cost'
Ben Rhodes, Obama's deputy national security adviser, said the president will reflect on "the tremendous human cost of war" during brief remarks at the site.
Obama's visit "kind of gives, especially for those aging and surviving victims and the families, some sense of closure. At least there's an acknowledgment of the destruction they experienced," said Yuki Tatsumi, a senior associate of the East Asia program at the Stimson Center, a nonprofit research group in Washington.
And yet today, the Japanese people depend on their alliance with the U.S. for military assurances against the threat of Chinese encroachment and North Korean nuclear weapons. Obama's appearance at the G-7 meeting in Ise Shima "is very important to demonstrate the U.S.'s continued willingness to engage," she said.
Before it's here, it's on the Bloomberg Terminal.
LEARN MORE