Trump Invested in Outsourcing Companies He Denounced in Campaign
by and
Received bond income from Ford, United Technologies, Mondelez

Held Apple stock even as he called for a boycott of company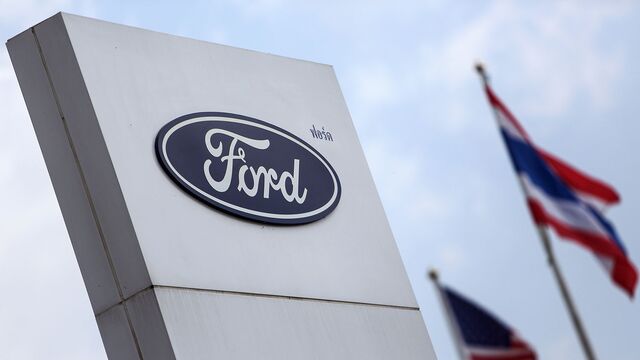 Donald Trump has been tough on American companies that have moved jobs to other countries. That hasn't stopped the presumptive Republican presidential nominee from investing in them.
Trump has denounced units of United Technologies Corp., Ford Motor Co. and Mondelez International Inc. on the campaign trail -- and has received income of as much as $75,000 from bonds issued by all three since January 2015, according to his latest financial disclosure form released Tuesday. He also has invested in Apple Inc.'s stock and bonds even though in February he called for a boycott of the company for refusing to help the Federal Bureau of Investigation unlock an iPhone used by a terrorist in San Bernardino, California.
Trump's attacks on U.S. companies reflect a key element of his strategy for winning the White House: to compete against a Democratic rival in Rust Belt states such as Michigan, Wisconsin and Pennsylvania, where working-class voters have been harmed by international trade deals, he's promising to stop the movement of manufacturing jobs overseas.
"Our companies are leaving our country rapidly, rapidly," Trump said on March 15. "Frankly I'm disgusted with it."
Carrier, a unit of Hartford, Connecticut-based United Technologies, in February said it was closing an Indiana factory and relocating the work to Mexico, eliminating 1,400 jobs. Trump, at a rally in Indiana, said he would put a 35 percent tariff on air conditioners Carrier ships to the U.S. from Mexico, saying the move would force the company to reconsider its actions.
'Absolute Disgrace'
Trump on April 5 called Ford's decision to build a $1.6 billion assembly plant in Mexico "an absolute disgrace," the Detroit News reported. "These ridiculous, job-crushing transactions will not happen when I am president."
Snack maker Mondelez last summer announced that it would cut 600 jobs at a Nabisco plant in Chicago as production is shifted to newer facilities in Mexico. Chief Executive Officer Irene Rosenfeld defended the decision Wednesday, calling it a difficult but necessary business decision for competing in the global economy, the Chicago Tribune reported.
"Carrier has to know that if they do that -- and I'm not only speaking to them, I'm speaking to Nabisco and Ford and hundreds and hundreds of other companies -- they have to know that there are consequences when you want to leave and fire all these people," Trump said at a campaign rally in Evansville, Indiana, on April 28. "You're not just going to go to another country, make your product, sell it across our really weak borders."
E-mails to Hope Hicks, a spokeswoman for Trump, weren't immediately returned.
Trump and Democratic front-runner Hillary Clinton said Tuesday they filed financial disclosure forms with the Federal Election Commission. Clinton's biggest investment, between $5 million and $25 million, was in the Vanguard 500 Index Fund. In a news release Tuesday, Trump said his filing would show more than $557 million in income from Jan. 1, 2015, to May 16 of this year.
Before it's here, it's on the Bloomberg Terminal.
LEARN MORE