Clintons' Speaking Fees Decline 93% in Latest Disclosure
by
Candidate reports income from investments, book royalties

Net worth range unchanged at $11.3 million to $52.7 million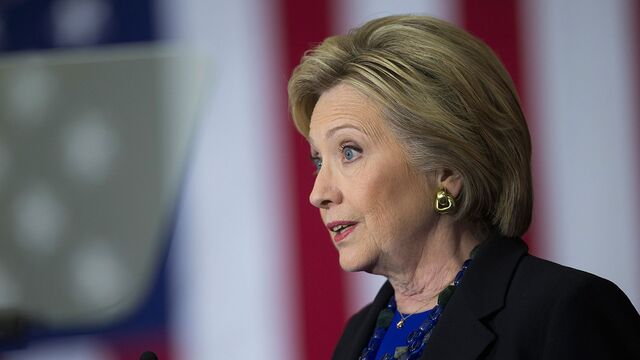 Hillary and Bill Clinton disclosed almost $1.7 million in new earnings from the former president's speeches last year, according to the couple's latest financial disclosure. That's down almost $23 million, or 93 percent, from the prior 16 months.
The Clintons also reported earning between $172,508 and $1.2 million in dividends and interest from Jan. 1, 2015 through May 16, according to the required filing, which the Democratic presidential front-runner's campaign released to the media Tuesday night.
The Clintons' net worth, as indicated on the form, is between $11.3 million and $52.7 million -- not including their multimillion dollar homes in Washington and New York, any federal government retirement accounts they may have, or personal items such as furniture and artwork. The disclosure form requires reporting within wide ranges of values; the couple's net worth totals didn't change from the financial disclosure that Hillary Clinton filed in May 2015.
Clinton's campaign released the 11-page document after Donald Trump, the presumptive Republican nominee, issued a statement saying that he had filed his own 104-page disclosure and that he reported income of more than $557 million. Trump's campaign didn't release his actual disclosure form.
Clinton's disclosure shows that she earned $5 million or more in royalties from her 2014 memoir "Hard Choices" over the period; that's the same amount she reported on her 2015 disclosure, and the new form may include some overlap. The Clintons also reported receiving between $15,001 and $50,000 in royalties for the book "Living History," which Hillary Clinton released in 2003.
Clinton's campaign has grappled with fallout from last year's report -- particularly over more than $25 million in fees she and her husband received for giving speeches. Together, the Clintons have earned more than $126 million in speaking fees since Bill Clinton left the presidency in 2001.
The latest filing discloses seven new speeches that Bill Clinton gave to groups including America's Health Insurance Plans, which represents insurers. The speeches, which Clinton gave from June through November last year, provided him with fees that ranged from $200,000 to $285,000. Clinton's previous report, which covered Jan. 1, 2014, through May 15, 2015, had disclosed 51 speeches that she gave and 53 that he gave.
Before it's here, it's on the Bloomberg Terminal.
LEARN MORE