U.S. Eases Sanctions on Myanmar to Boost Trade After Elections
by and
Lifts restrictions on three banks and seven state enterprises

Six companies added to blacklist, Treasury department says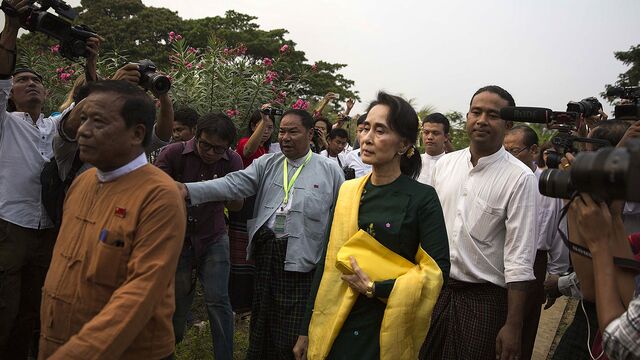 The U.S. lifted sanctions on 10 businesses in Myanmar as it seeks to reward the Southeast Asian nation's transition away from decades of military rule and ease trade with one of the region's fastest-growing economies.
The Treasury Department on Tuesday removed restrictions on seven state-owned enterprises and three state-owned banks that were on a blacklist. The shift comes after Treasury in December allowed American businesses to use ports, tolls roads and airports in the country, even though that could result in incidental transactions with individuals blacklisted by the U.S.
The move is the latest sign of rapprochement between the U.S. and Myanmar after more than two decades of hostility marked by the military government's annulment of elections in 1990 and the house arrest of opposition leader Aung San Suu Kyi. After Myanmar's military chiefs began instituting more political freedoms, and Suu Kyi was freed, Barack Obama became the first American president to visit the country in 2012. He returned in 2014 to caution its leaders against backsliding on reforms.
Democracy Dividend
"This is a potential market for our goods, a potential partner on critical issues and, importantly, a potential of an example of how a country can transition successfully from dictatorship to democracy," Ben Rhodes, deputy national security adviser at the White House, said Tuesday in Washington. "We have to demonstrate that there is a dividend for countries who go down this road."
Rhodes said the easing of sanctions is part of the Obama administration's efforts to deepen its engagement with Myanmar, also known as Burma, while helping U.S. companies participate in the country's development. Trade between the two countries was about $400 million last year, according to IMF data. U.S. investors in Myanmar include Chevron Corp., which explores for and produces oil and gas in the country.
Combined with regulatory changes allowing more transactions with designated financial firms, Treasury said Tuesday's decision leaves few restrictions related to banks in Myanmar.
Economic Expansion
Fueled by investments in energy, including natural gas, Myanmar has had one of Asia's fastest-growing economies. Foreign direct investment reached nearly $9 billion in the fiscal year ending in March. The economy will expand 8.6 percent this year and 7.7 percent in 2017, according to the International Monetary Fund. Yet the country remains one of Southeast Asia's poorest.
As it moved toward democratic elections last year, the military barred Suu Kyi from running for president, ruling that anyone with foreign-born children was ineligible to lead the nation of 53 million people. Nevertheless, her party's victory in the elections made Suu Kyi the power behind her choice as official president, Htin Kyaw, an ex-classmate and longtime confidant.
To encourage further democratic reforms "and maintain pressure on targeted individuals and entities and the military, certain sanctions remain in place," the Treasury said. Targets of those sanctions include those "who obstruct political reform in Burma, commit human-rights abuses in Burma, or propagate military trade with North Korea."
The U.S. State Department has joined human-rights group in criticizing Myanmar's treatment of the the Rohingya, a Muslim minority castigated as illegal immigrants and stripped of citizenship.
Before it's here, it's on the Bloomberg Terminal.
LEARN MORE