Public Relations
Trump's Bad Stretch Might Get Worse as Clinton Machine Revs Up
A string of bad press, and the way his Democratic opponent's allies plan to amplify it, could cut to the core of Trump's brand as a straight-talker.
by , , and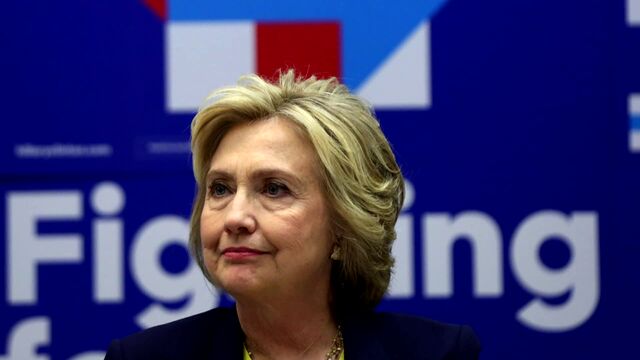 Donald Trump finds himself ensnared in one of  his worst news cycles of the presidential campaign, and it could get worse this week as the presumptive Republican nominee will face his first real fire from the Clinton machine. 
After months of casually deflecting attacks from Republican rivals, Trump is now suddenly on the defensive, fending off questions about whether he impersonated a public-relations agent in the early 1990s, defending his past treatment of women, and trying to explain why he won't make his tax returns public. 
On Wednesday, Priorities USA, a pro-Clinton super-PAC, will begin airing its first television attacks on Trump, and the group is planning to unleash $136 million in advertising against him between now and November.
The first $6 million in ads is scheduled to air in Ohio, Florida, Virginia, and Nevada through June 8, and will later expand to Iowa, New Hampshire and Colorado. 
Lines of fire in the first two ads focuses on Trump's statements about women.
Coupled with a flurry of other negative stories, the reports and the ads based on them could possibly jeopardize Trump's brand as a man who always tells it like it is. 
"All of these stories matter. They may not turn any of his supporters against him but they inhibit him from growing his support," said Rob Stutzman, a California-based Republican consultant who was with the anti-Trump movement. "The sum of all these stories paints him as a liar, and confirms the central narrative of the Clinton campaign that he's a flim-flam man unfit to serve as president of the United States."
This is Trump's roughest patch since a series of stumbles cost him the Wisconsin primary after re-tweeting an unflattering picture of a rival's wife and repeatedly changing his position on abortion. It comes at a time when Trump's focus has been on the behind-the-scenes work of winning over Republicans on Capitol Hill, rather than driving the narrative for the news cycle with headline-grabbing rallies across the country.
Trump spokeswoman Hope Hicks did not return an e-mail asking for comment. Trump's aides have brushed off the latest round of negative news, arguing that what actually matters will be how he leverages the national convention, his running-mate selection, fundraising, and how he finesses the transition process.
Part of Trump's genius, some political observers say, is the way that he uses fresh controversies to drown out older ones. 
"There are almost too many Trump controversies for an average person to keep track of," said Kyle Kondik, a political analyst at the University of Virginia Center for Politics. "So I don't think these disclosures matter much right now. What matters is how the Clinton campaign weaponizes these controversies in the summer and fall."
To be sure, the present opportunity is not lost on Priorities USA. 
"We're not going to make the same mistake that Republicans did by waiting for someone else to go against Trump until he was already winning," Justin Barasky, spokesman for the super-PAC, said Monday.
The whirl of negative news stories around Trump has been so fierce in recent days that even the man tasked with attacking the presumptive Republican nominee struggled to keep track of them all.
"I forgot about the fake spokesperson thing," Barasky joked. "It's hard to keep up with all the nonsense."
The Democrats' barrage on Trump is meant to distract Democratic front-runner Hillary Clinton from having to talk about economic issues, said Douglas Holtz-Eakin, a top conservative economist who has yet to endorse Trump.
"The left will never let a character debate die," Holtz-Eakin said Monday. "But if the subject becomes quality policy versus Clinton's commitment to a third Obama term, the silence will be deafening." 
If Trump continues to be inundated with negative revelations, he might not be able to make up his polling deficit, Kondik said. Despite a handful of positive polls in the last week or so, it seems clear that Trump starts this campaign at least a few points behind Clinton, even after he dominated the news for nearly a year, Kondik noted.  
The New York Times on Saturday reported that interviews with dozens of Trump's coworkers and social acquaintances revealed recollections of "unwelcome romantic advances, unending commentary on the female form, a shrewd reliance on ambitious women, and unsettling workplace conduct."
The devastating part of the Times story was that "nobody really seemed all that surprised by it," Debbie Walsh, director of Rutgers University's Center for American Women and Politics, said.
"There's been this steady drip of stories raising questions about what is being portrayed as Trump's behavioral problem with women. It started with Megyn Kelly and it continued when he attacked Carly Fiorina," Walsh said.
Politically, Walsh said that the narrative helps the Clinton campaign excite its base while also targeting white suburban women, traditionally a group of swing voters in an election. For Trump, that's where the political damage lies. "They're going to read that story and maybe they don't vote for Clinton, but maybe they stay home," Walsh said. "That's just as bad for Trump."
Some women contradicted the Times' story Monday, including Senada Adzem, a former Trump International vice president who is now a luxury real estate agent based in Boca Raton, Florida.
"They didn't reach out to me," Adzem said, referring to the New York Times. "Based on my professional experience, he was very empowering to women."
Adzem said that Trump was "results-based, regardless of gender."
"He was tough, but he was always fair and he always empowered women and put them in key positions in his office," she said.
Trump spent much of Monday swatting away arrows. Fifteen out of his 18 tweets on that day were aimed at defending himself and raising doubt about the Times report. He mentioned Rowanne Brewer, a central woman in the piece, who criticized the Times in an interview with Fox News.
"The @nytimes is so dishonest," Trump tweeted. "Their hit piece cover story on me yesterday was just blown up by Rowanne Brewer, who said it was a lie!"
The problem for Trump is that Saturday's story followed a piece published by the Washington Post a day earlier that accused Trump of pretending to be his own publicist in telephone interviews with reporters in the 1970s, 1980s, and 1990s. Trump strongly denied the accusation, but on Monday, longtime friend Roger Stone confirmed Trump's decision to speak in third person about himself, and cast it as no big deal.
"Trump wanted to get his spin and his side of the story, so he handled the press call himself, probably because he didn't want to pay a public relations expert. What difference does it make?" Stone said on Breitbart radio.
Trump has also been in the news for suing a town in Westchester County in order to reduce the property taxes on his golf course there. His court filing says Trump National Golf Club is worth $1.4 million, but he cited it as worth $50 million in the financial disclosures he released at the start of his presidential bid, the Guardian noted.
Will the stories be turned into attack ads?
Barasky, of the pro-Clinton super-PAC, said Trump pretending to be his own publicist was "certainly weird," but it wasn't likely to change voters minds. Similary, Barasky distanced himself from the Times story, saying "we're not concerned with going into his personal life."
Instead, Barasky was eager to talk about Trump's refusal to release his tax returns. The billionaire real-estate developer and TV personality has promised to release the documents, which has become pro forma for presidential nominees the past four decades, after an audit. But in an interview on ABC on Friday, Trump bristled, saying his tax rate was "none of your business."
Democrats view Trump's refusal to release his tax returns as a rich area to target. They believe it shows he has issues with transparency and raises questions about his honesty, since he has promised to release the forms in the past. Together, those could be used to chip away at the image he's built as a successful businessman.
"What is Donald hiding?" Clinton's campaign asked in a 69-second Web video it released on Saturday.
Before it's here, it's on the Bloomberg Terminal.
LEARN MORE