House Panel Delays Puerto Rico Debt Bill Action to Next Week
by and
The move could delay House passage of measure until early June

The island faces a July 1 deadline on a $2 billion payment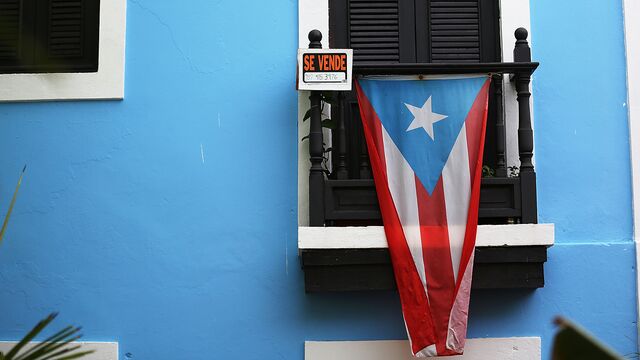 House Republicans have pushed back their plans to advance a bill addressing the Puerto Rico debt crisis, a move that could delay passage of any measure until early June.
The House Natural Resources Committee has been planning this week to consider a bill that would create a financial control board to manage a restructuring of the island's $70 billion in debt, but the panel won't vote on legislation until next week at the earliest, its spokesman, Parish Braden, said Monday.
"We're going to have a final bill very soon and we need sufficient time for members to review it and understand it," he said, adding that a revised version of the bill could be introduced later Monday or Tuesday.
Braden said that there have been "refinements" from an earlier version that snagged last month. "The foundations of the bill remain the same," he said.
The delay doesn't indicate a real faltering in the talks, said Diane Padilla, a spokeswoman for Representative Raul Grijalva, the panel's top Democrat.
"We're disappointed that the markup will be delayed, but we remain optimistic that we can come to an agreement on a bill," she said.
The panel had originally said it would unveil the new bill last week, but lawmakers were still trying to iron out differences between Republicans, Democrats and U.S. Treasury officials.
If the panel advances a measure next week, it would be difficult under the House's regular legislative rules to pass the bill the same week. The chamber is on recess the week of May 30 and doesn't return until June 7. The Senate also still would have to approve the measure for it to reach the president's desk. 
While the island faces a crucial payment deadline on July 1 for $2 billion of its $70 billion debt load, it's unclear how soon, if at all, Congress will be able to get the measure to the president.
Last week, Rob Bishop of Utah, the chairman of the Natural Resources Committee, suggested that Congress had some timing flexibility on addressing the problem.
"The correct answer is I'd like to see it happen as soon as possible," Bishop said. "The accurate answer is it doesn't actually have to happen this work period. It's amazing what can be done if you actually need to."
Before it's here, it's on the Bloomberg Terminal.
LEARN MORE