Trump-Ryan Quest for Unity Is Threatened by Deep Policy Divides
by
House speaker left meeting without endorsing party's nominee

Both men signaled the reconciliation process could be lengthy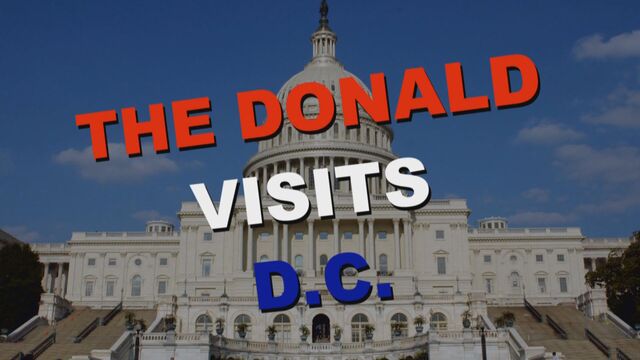 Donald Trump and Paul Ryan left their high-profile summit pledging to unify the Republican Party, but it could take a while to bridge their substantial gaps on issues like immigration and free trade.
To achieve the genuine unification that Ryan says he's seeking, the speaker of the House and the presumptive Republican presidential nominee would have to find significant compromises. And it's not clear whether either is willing to budge.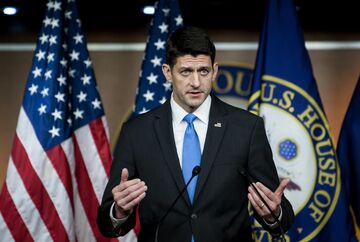 "For the most part, we agree about border security, I feel very strongly about trade, I feel very strongly about building up the military, and, you know, to a large extent, I think Paul is there also," Trump told Fox News Channel's Sean Hannity Thursday night. "So, we'll get there."
"I don't mind going through a little bit of a slow process," he added.
But the issues that divide the pair cut at the heart of each man's identity. 
Trump powered his populist message with tirades against trade deals and rampant immigration, while talking about the need to spend money to rebuild a shattered infrastructure. Ryan, meanwhile fashioned a wonky reputation by championing free trade and an immigration overhaul, while pursuing a limited government with steep spending cuts. 
The split mirrors a deeper one in the Republican Party, which Ryan acknowledged Thursday when he said Trump appealed to a new set of voters.
"So I represent a wing of a conservative party, you could say," Ryan, of Wisconsin, told reporters Thursday. "He's bringing a whole new wing to it."
Confident Victor
Trump, after trouncing 16 rivals to seize the nomination, may not feel much of a need to court Ryan, who represents the Republican establishment he ran against so effectively.
"I don't think it's a big deal whether the speaker likes Donald Trump or endorses Donald Trump, or not," Representative Duncan Hunter of California, who co-chairs Trump's U.S. House Leadership Committee, said Thursday afternoon. "I don't think it hurts Donald Trump if he doesn't."
While Ryan's doubts include Trump's ability or willingness to moderate his at-times outlandish persona, the stark differences over policy may be central to his hesitation.
Muslim Ban
Where Trump campaigned on building a wall along the Mexican border and banning Muslims from entering the country, Ryan had favored a comprehensive immigration overhaul with an eye toward expanding the party's appeal to Hispanics. 
Trump has at times hinted at some flexibility on his call for a Muslim ban, labeling it "just a suggestion" in an interview with Fox News Radio Wednesday night. But in a Fox News Channel interview the same night, he said, "I am absolutely against having more people flowing into this country -- no documentation, no papers, no nothing. Nobody knows where they come from."
When it comes to budget issues, Ryan is a limited-government conservative who wants to cut spending, while Trump has spoken about the need to boost infrastructure spending and protect Social Security benefits without fretting much about the budget deficit.
"I am the king of debt, I do love debt. I love debt. I love playing with it," he told CNBC last week.
Free-Trade Gap
Ryan is an enthusiastic booster of free-trade deals, but Trump has made the North American Free Trade Agreement and the recently negotiated Trans-Pacific Partnership leading targets in his campaign. Indeed, Trump's attacks on free-trade deals have intensified. 
"The first thing I came out with, if you watched, was trade," Trump told CNN earlier this week, describing his strategy once rival Ted Cruz dropped out of the race. We're making horrible trade deals, we're losing our jobs, we're losing our manufacturing, it's trade."
And Trump appears very unlikely to moderate his stance on trade, given that he sees the issue as a central element of his attack on likely Democratic nominee Hillary Clinton, whose husband signed NAFTA during his presidency.
"Part of the reason I won was because of trade and I talk trade and I'm the only one that can do anything about trade," he said. "I'm going to renegotiate these trade deals. These trade deals have sucked everything out of our country."
Representative Chris Collins of New York, who backs Trump, said that Ryan told fellow Republicans before meeting with the presumptive presidential nominee that Trump's opposition to the Trans-Pacific Partnership isn't a "disqualifier." Lawmakers haven't voted on the trade pact.
"We know that Mr. Ryan and Mr. Trump are worlds apart on trade," he said.
Pressure to Endorse
Ryan is pressing ahead with developing a 2017 House policy agenda before the Republican National Convention in July and he's not planning to wait for Trump's involvement, according to aides. 
But the speaker is coming under growing pressure from other Republicans to back off his objections and get on board with Trump. 
As John Cornyn of Texas, the No. 2 Republican in the Senate, put it Thursday, "Unless you support Hillary Clinton, which I don't, you're going to be supporting the nominee."
A group of lawmakers backing Trump is meeting Friday morning to discuss strategy, and organizers said they expect a good turnout.
Before it's here, it's on the Bloomberg Terminal.
LEARN MORE