Campaign Wrap: Trump Standing Firm on Tax Release Refusal
by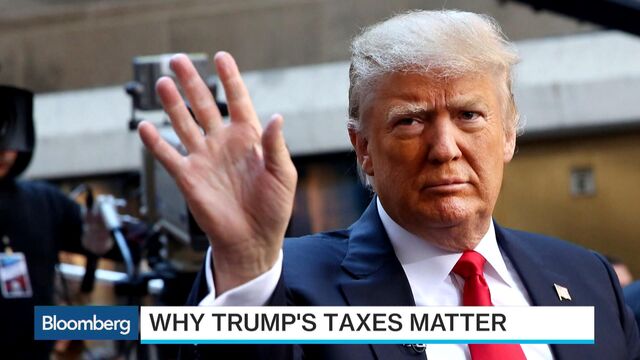 Donald Trump continues to be adamant that he won't release his tax returns anytime soon, arguing that, despite precedent, he's under no obligation to do so—and that they aren't pertinent, anyway.
He said on ABC this morning he doesn't believe voters have a right to see the returns
It's "none of your business," he said, when asked what tax rate he pays
After initially saying he had no plans to provide the tax information before the November election, he's now focusing on an audit by the IRS as the reason for withholding the returns
"When the audit ends I'll present them. That should be before the election. I hope it's before the election," he said on ABC
New York Times points out that President Nixon released his returns during an audit, and the IRS has said it's not prohibitive
Factcheck.org disputes Trump's claim that there's nothing to learn from tax returns—they reveal details about where he gets his income and how much it is, how he structures his income and what kind of deductions he takes
Says if Trump had overseas income or foreign bank accounts, that information would show up on his tax returns
RNC Chairman Reince Priebus echoed Trump's position, saying on Fox News today he doesn't think people care about issue
"If he doesn't release his tax returns, I don't know if anyone cares or if it's going to have any effect," Priebus said
Mitt Romney on Wednesday termed it "disqualifying for a modern-day presidential nominee to refuse to release tax returns to the voters, especially one who has not been subject to public scrutiny in either military or public service"
In 2012, Romney's tax returns showed he paid a 14% effective rate in 2011, which opened him up to criticism
Returns also showed Romney and his wife donated more than 29% of their income to charity

ON THE TRAIL
Trump denied a Washington Post story that he habitually called a journalist to plant stories about himself in the 1990s
"I have many, many people who try to imitate my voice ... and this sounds like one of the many scams," he said on NBC's "Today" show
Trump yesterday on Fox criticized the Post's coverage of him; also said Amazon CEO and Post owner Jeff Bezos is using the newspaper for power so "politicians in Washington don't tax Amazon"
Investment firm Piper Jaffray said it's "very unlikely" Trump could have impact on Amazon or that his comments would incite any regulatory changes
Politico's Ben White wrote that Amazon isn't "getting away with murder" on taxes, as Trump has said
Spokesman Hope Hicks said Trump doesn't plan to change his tax proposals, despite reports he was working with CNBC's Larry Kudlow and others to develop a new plan, according to New York Times
Politico reports that Trump campaign aides are pushing him to block party contracts with consultants who were involved with #NeverTrump movement
Bernie Sanders is being pressed to leave the Democratic presidential race by party leaders, CBS News reports
Sen. Dianne Feinstein of California said Sanders' refusal to leave race is harming party's chances of defeating Trump in November
Hillary Clinton's campaign is rolling out "The Daily Donald," a roundup of news clips about GOP frontrunner

STAFF MOVES
Trump asked Rep. Kevin Cramer, R-N.D., to write an energy policy plan for him, Reuters reports
Plan would emphasize dangers of foreign ownership of U.S. energy assets, burdensome taxes, over-regulation

CAMPAIGN FINANCE
Trump's fundraising team plans "a dialing-for-dollars" event on 5th floor of Trump Tower in N.Y., and campaign is at work on fundraising website focused on small donations, AP reports
After May 25 fundraiser in L.A., there'll be another one in N.Y.
Trump said he'll spend minimally on a data operation that helps identify and turn out voters
He's close to signing a deal with the Republican Party that would enable him to solicit donations of more than $300k apiece from supporters
Art Pope, a major Republican donor in N.C., said he won't support Trump for president, Raleigh News and Observer reports
Said Trump, Clinton and Sanders all "look at big government as the solution to society's problems"

ENDORSEMENTS
Las Vegas-based casino magnate Sheldon Adelson officially backed Trump in an op-ed in the Washington Post
"The alternative to Trump being sworn in as the nation's 45th president is frightening," he said

ETC.
Ted Cruz said he doesn't want a seat on the Supreme Court, according to ABC News
"That is not a desire of my heart," Texas senator said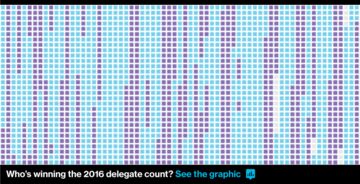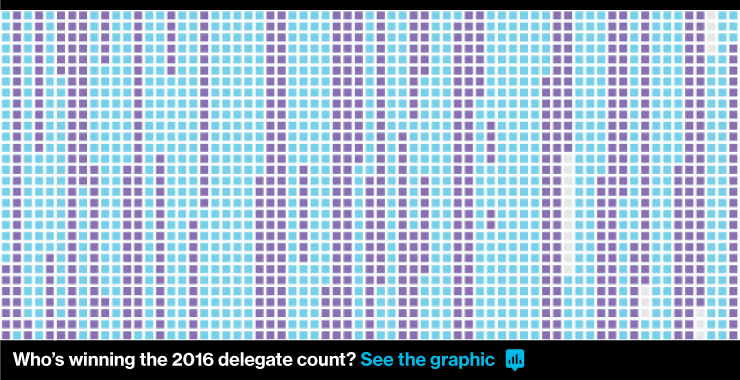 Before it's here, it's on the Bloomberg Terminal.
LEARN MORE