Ryan Holds Out on Trump Endorsement Despite Unity Meeting
by and
House speaker insisting that nominee prove he's conservative

'I don't want us to have a fake unification,' Ryan says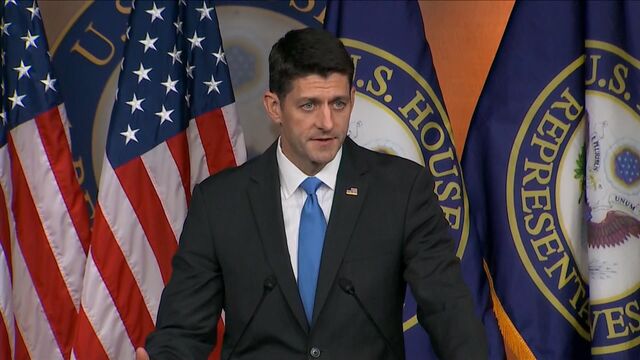 Paul Ryan made clear Thursday that he is sticking with his extraordinary gambit that he isn't ready to support the Republican nominee for president unless Donald Trump can demonstrate that he's Republican enough.
"I don't want us to have a fake unification process here," the U.S. House speaker told reporters after highly anticipated meetings with the billionaire whose takeover of the 2016 Republican primaries has divided the party. "In 45 minutes, you don't litigate all the process and principles that we're talking about."
Ryan is the rare political figure with enough stature in his party to make such a demand, effectively defying the tradition of the party faithful flocking to back their newly crowned nominee. The presidential contender has almost always been the one who sets the policy agenda for the party, not congressional leadership.
This year, however, is different. Ryan is planning to move ahead with a roll-out of the House Republican agenda in the coming weeks, and is not planning to wait for Trump, a spokeswoman said.
Yet Trump's star power may simply overwhelm the highest ranking elected Republican. And he may not be willing to work much, if at all, to court the Republican establishment he defeated in the primaries. 
After the meeting, the billionaire signaled a willingness to be patient. "I really think we had a great meeting today, and I think we agree on a lot of things," he told Fox News Channel's Sean Hannity in an interview airing Thursday night. He tweeted to his more than 8.1 million followers: "Things working out really well!"
Ryan risks overplaying his hand, particularly as more and more Republicans sign on, no matter how reluctantly, to back the real-estate mogul.
"The fact of the matter is he is the presumptive nominee, he will be the nominee and unless you support Hillary Clinton, which I don't, you're going to be supporting the nominee," said the second-ranking Republican senator, John Cornyn of Texas, after a separate meeting with Trump.
Holding Out on Goldwater
There aren't all that many precedents for Ryan's stance. "I think this is genuinely new territory," said Paul Brace, a Rice University political science professor.
One of the closest parallels is the 1964 race, where Senate Republican leader Everett Dirksen took a long time to come around to endorsing Barry Goldwater for president given Goldwater's attacks on what would become the Civil Rights Act of 1964. 
In the end, Dirksen folded in the weeks before the Republican convention.
"That party label can be a powerful unifier, even when the label means different things to different voters," said Sarah Binder, a congressional expert at the Brookings Institution.
In their brief meeting Thursday, Trump and Ryan managed to agree on a few, very broad principles, including the importance of the Constitution and separation of powers, the limited role of the executive branch and the Supreme Court, Ryan said. But he also said they had only begun to address the more substantive disagreements between them.
Ryan has been critical of Trump's proposal to ban Muslims from entering the U.S. and is viewed as one of the more moderate voices in his party on immigration -- at a time when Trump has made building a wall along the Mexican border a central part of his pitch. They are also at opposite ends of the free-trade debate.
"We are going deep in the policy weeds to make sure we understand each other," Ryan said, adding that their policy teams would be meeting to work through the details.
Ryan pointedly made clear he had not agreed to endorse Trump after the meeting, even as he sought to portray it as a positive first step.
Trump, for his part, had gone into the meeting aiming to deliver a message to the Republican establishment, his advisers said: Get on board or get out of the way. 
Even so, Republicans were eager to put a pleasant face on the high-profile encounter. The pair released a joint statement after the meeting pledging additional discussions, saying they would work together. "The meeting was great," Republican National Committee Chairman Reince Priebus wrote in a tweet. "It was a very positive step toward party unity."
Far Apart
Ryan didn't say what specifically he was looking for from Trump. And it's not clear what Trump might be willing to offer, although the billionaire expressed an "interest" in Ryan remaining as chairman of the party's convention in July, the speaker said.
"Mr. Trump doesn't need to do anything," said Representative Duncan Hunter, the California Republican who co-chairs Trump's U.S. House Leadership Committee. "As Republicans in the House, we got used to the idea that our speaker was the de facto leader of the party. We didn't have somebody to represent our party against President Obama's administration. But that's over now -- it's Trump, whether people like it or not."
Ryan and Trump started far apart on the likely outcome, according to conversations with people in both camps. Ryan is looking for the the party's presidential nominee to somehow declare fealty to conservative principles. Trump isn't willing to cede any ground in his role as the incoming standard-bearer for the Republican Party.
Both sides say they didn't expect Ryan to suddenly come out and endorse Trump. Ryan aides say the speaker mostly wants to get to know Trump better, having met him once before.
Priebus, who helped broker the get-togethers, was at the first meeting between Ryan and Trump. After that, the pair met with House Majority Leader Kevin McCarthy, Majority Whip Steve Scalise, Conference Chairwoman Cathy McMorris Rodgers, and Deputy Whip Patrick McHenry.
McMorris Rodgers issued a statement after the meeting pledging unity, but omitting mention of Trump's name.
"Today was my first opportunity to discuss and impress upon the presumptive nominee the importance of championing a core value of the Republican Party: dreaming big for everyone and turning its back on no one," she said.
Trump also met with Senate Republican leaders later in the day. Senate Majority Leader Mitch McConnell told reporters the meeting was "very constructive" and covered both campaign and policy issues.
"We want him to win and we want him to be the next president," said Senator Orrin Hatch of Utah, who said they discussed issues including taxes and judicial appointments.
Electoral Considerations
Ryan, who set these events in motion by publicly withholding his endorsement of Trump, said the two men only met in person back in 2012, the year that Ryan ran for vice president on a ticket with Mitt Romney, who has become one of Trump's most vocal critics. 
The speaker is widely believed to be keeping his options open for a possible presidential bid in 2020, but he also faces the more immediate challenge of making sure that his fellow House Republicans don't suffer a humiliating defeat at the polls in November if Trump's candidacy turns into a landslide defeat.
Some of Ryan's fellow Republicans, however, won't have much patience for a long, drawn-out reconciliation. Even two of his own top lieutenants have already publicly backed the New York billionaire -- McCarthy of California and Scalise of Louisiana.
"I don't think Trump necessarily needs Paul Ryan to get elected president -- he hadn't needed him so far," said Representative Lynn Westmoreland of Georgia, who is among those who argue it is time for all Republicans need to get behind Trump. 
'Time for Hugs'
Trump also doesn't appear too interested in being seen courting Ryan.
"Paul needs to realize that Mr. Trump is the Republican nominee," Hunter said. "He got the votes by the people of the country. Paul is starting to realize it but they all need to fully come around."
"After every boxing match, everybody hugs," Hunter added. "It's time for hugs."
Different Personalities
It's hard to imagine two more different personality types than the impulsive Trump and the wonky Ryan.
Representative David Schweikert, an Arizona Republican, notes that Ryan has spent most of his adult life in government, as opposed to Trump, who has never served as an elected official.
Schweikert, who used to have an office near Ryan's, recalls, "He'd come out and ask 'How's your family?' And then he'd immediately also ask something like, 'Did you see what's happening to the GDP?' Real wonky stuff."
"The speaker sees things through a policy lens. That's what makes him often seem so blunt," Schweikert added. "Now, the question is does the Trump campaign move more toward a policy focus? I think one of the things to look for is does Trump show up alone, or just with political advisers, or does he show up with policy people?"
'Common Ground'
Oklahoma Republican Tom Cole, an ally of the speaker, predicted Wednesday that "in the end," Ryan and Trump "will find common ground."
"Paul Ryan is very principled but he is also very professional and pragmatic," Cole said. Ryan knows that "the most important part of his job is leading us and helping us retain our majority," he told reporters. "I don't see how being at odds with your nominee helps you achieve that objective," Cole said. 
In public, Trump has so far been mostly respectful toward Ryan. During a Trump campaign rally in March in Ryan's hometown of Janesville, Wisconsin, the billionaire asked for his supporters' thoughts on their local congressman.
"How do you like Paul Ryan? Do you like him?" Trump asked the packed conference room. The capacity crowd of about 1,000 people erupted in loud boos. "Wow," Trump said, surprised. "I was told to be nice to Paul Ryan."
Before it's here, it's on the Bloomberg Terminal.
LEARN MORE