Obama to Visit Hiroshima 71 Years After Atomic Bomb Dropped
by and
Commemoration to happen May 27 after G-7 meeting in Japan

Obama won't apologize for U.S. attack on the city, aide says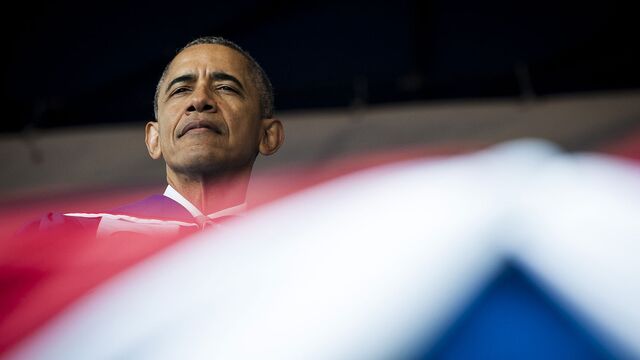 President Barack Obama will visit Hiroshima, Japan, on May 27, becoming the first sitting U.S. president to set foot there since the U.S. dropped an atomic bomb on the city more than 70 years ago, the White House said Tuesday.
After a meeting of the Group of Seven leaders in Ise-Shima, Japan, Obama will visit the Hiroshima Peace Memorial Park, which is dedicated to those who died during the bombing. Obama won't make an apology for the U.S. attack on the city.
"He will not revisit the decision to use the atomic bomb at the end of World War II," White House Deputy National Security Adviser Ben Rhodes said in a post on Medium.com. "Instead, he will offer a forward-looking vision focused on our shared future."
Obama's trip follows recent visits by U.S. Secretary of State John Kerry and U.S. Ambassador to Japan Caroline Kennedy. Japanese Prime Minister Shinzo Abe, who will accompany Obama in Hiroshima, told reporters in Tokyo that the U.S. president's visit would be an opportunity to pay respects to all the Americans and Japanese who lost their lives in the war.
"It is a gut-wrenching display, it tugs at all of your sensibilities as a human being, it reminds everybody of the extraordinary complexity of choices in war and what war does to people, communities, to countries, to the world," Kerry said after visiting the memorial in April.
He said at the time that he would encourage "everybody," including Obama, to visit the city.
No Apology
The bombing of Hiroshima on August 6, 1945, and Nagasaki three days later, is widely seen in the U.S. as having prevented a bloodier invasion of Japan and hastening the end of the Pacific War. The twin bombings killed more than 120,000 people instantly, and tens of thousands more died from injuries and exposure to radiation.
"Even without a presidential apology this visit breaks an important taboo, because it's hard to see how Obama can go to Hiroshima and talk about the need for a nuclear-free world without acknowledging the suffering inflicted by the atomic bombs," Tobias Harris, a Japan analyst at Teneo Intelligence in Washington said in an e-mail.
The White House sought to preempt criticism that Obama's visit would be, in effect, an apology for the bombings, which led to Japan's unconditional surrender and eventually the end of World War II.
"The United States will be eternally proud of our civilian leaders and the men and women of our armed forces who served in World War II for their sacrifice at a time of maximum peril to our country and our world," Rhodes wrote. "Their cause was just, and we owe them a tremendous debt of gratitude."
Nuclear Proliferation

Japan's armed forces haven't fired a shot in battle since the war, and the country has provided land and money for U.S. military bases in return for the protection of its ally's nuclear umbrella.
The White House said Obama's visit would highlight the administration's work to combat the proliferation of nuclear weapons worldwide. The Obama administration is simultaneously seeking to modernize the U.S. nuclear arsenal, which some critics have said is prompting a new arms race.
Lisbeth Gronlund, co-director of the Union of Concerned Scientists' Global Security Program, said in an interview that Obama should scale back the modernization program because "the plan to rebuild and refurbish every weapon that we have basically sort of throws the gauntlet down, and Russia and China feel like they have to match it."
A spokesman at the National Security Council didn't have an immediate response. Obama said last month that he is concerned that the U.S. modernization effort could spark other countries to bulk up their nuclear programs, but that he was striking the right balance to make sure the U.S. nuclear stockpile is "safe" and "reliable."
Obama's visit, and his call for a nuclear-free world, is likely to be well-received among the Japanese public. A survey of almost 900 atomic-bomb victims by the Yomiuri newspaper in March and April showed that 70 percent of these "hibakusha" hoped that the U.S. president would visit the city. 
The trip, coming in the heat of a presidential election is also likely to stir controversy in the U.S.
Donald Trump, the presumptive Republican presidential nominee, has indicated that Japan and South Korea should either pay the U.S. more for American military deployments in their countries or be allowed to develop their own nuclear weapons.
Japan and South Korea are confronted by a regional threat as North Korea has pushed further this year in its pursuit of nuclear weapons.
Before it's here, it's on the Bloomberg Terminal.
LEARN MORE