Running Mates
Kasich Remains Cool to Prospect of Joining Trump Ticket
The Ohio governor's advisers say he remains uninterested in the position.
by and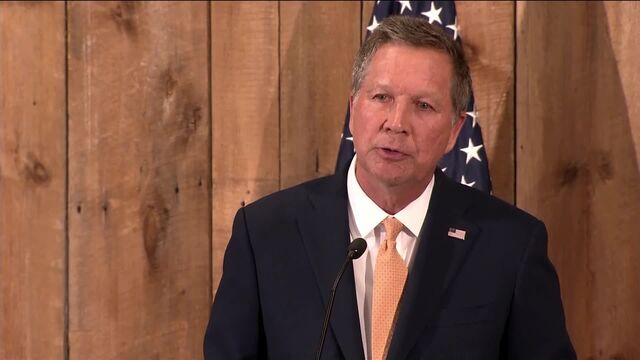 Republican John Kasich is still on a list of top choices to become Donald Trump's running mate, even though he continues to express no enthusiasm for the position.
Trump staffers have spent weeks gauging Kasich's interest in being on the ticket, according to people familiar with Trump's vice presidential vetting process. The talks have gone nowhere, the people said.
Despite the brick wall, some Ohio Republicans, as well as prominent financial backers of the governor, are pushing for him to change his mind, arguing that he's an experienced chief executive with broad bipartisan support in a battleground state crucial to winning the White House.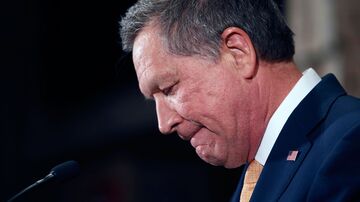 David Johnson, the GOP chairman in Columbiana County, said Kasich would "be the strongest running mate Trump could pick, but he just does not want it." Johnson was a delegate for Kasich at the state convention but now supports Trump as the nominee, he said.
Ohio Republican Randy Law, chairman of the Trumbull County GOP, said he knows a meeting of party insiders has been scheduled in coming days to try to make headway on a plan to recruit Kasich, but he's not sure how successful it will be. He said he the governor and his aides invested a lot of energy into his failed campaign and "they're still smarting a little bit." 
But Law, who isn't a part of the meeting, said he thinks Trump would be wise to recruit Kasich. "He's been a very popular governor here. He has done a very good job and I think people in the state would love to see their governor be the second in command," he said.
Various names have been floated and discarded as possible choices to round out the Republican ticket. Trump had Florida Senator Marco Rubio on the list, too, but in a Monday statement on Facebook, Rubio put that idea to rest.
"I have never sought, will not seek and do not want to be considered for vice president," Rubio wrote.
Kasich's former chief campaign strategist, John Weaver, told the Cleveland Plain Dealer in a story published Monday that "under no circumstances" would Kasich join Trump on the ticket. "He's been as Shermanesque about that as one can be," Weaver said.
QuickTake How the U.S. Elects Its Presidents
Chris Devine, a political scientist at Ohio's Mount Vernon Nazarene University, said that there have been rumblings ever since Kasich entered the race that he was eyeing the vice presidential spot. "But now it seems he wants nothing to do with the situation," said Devine, who studies the impact of vice presidents on tickets.
Trump in an interview with CNBC last week said, "I've had a good relationship" with Kasich, but added that the pairing was unlikely. "I'm not sure that John even wants it," he said.
Before it's here, it's on the Bloomberg Terminal.
LEARN MORE