Democrats Unsure New Puerto Rico Bill Will Fix Their Issues
by and
Revised draft of debt measure could be released Wednesday

Powers of control board, path to debt restructuring in dispute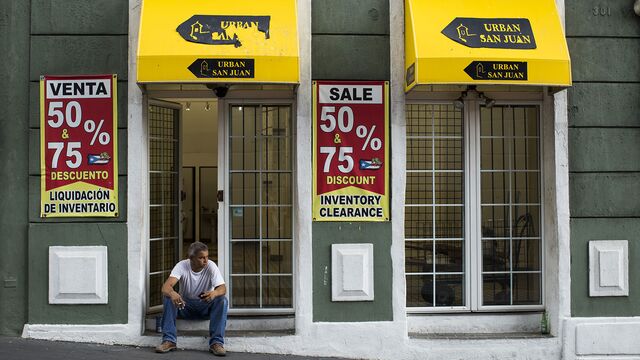 U.S. House Republicans say they are on track to release a new draft of their Puerto Rico debt bill, but Democrats are skeptical that it will address most of their objections.
"I have some thoughts that the concerns that have been raised by the secretary of Treasury and by Democrats in the House and the Senate are still not addressed in a way that might lead us to support the bill," the No. 2 Democrat in the House, Steny Hoyer of Maryland, said Tuesday. Hoyer added that he hasn't yet seen the revised draft.
Sharing Hoyer's assessment is Representative Raul Grijalva, the top Democrat on the Natural Resources Committee, which is managing the bill, according to his spokeswoman, Diane Padilla. Grijalva is in Puerto Rico for meetings with officials on the island.
"It is important that the Republican leadership listens to the complaints and incorporates them into the bill," Grijalva said Tuesday afternoon in San Juan. "Some Republicans do not support any aid for Puerto Rico. However, a bipartisan bill is possible."
The measure may need Democratic support to advance out of the House, with a number of Republicans signaling that they remain opposed to provisions that could force bondholders to accept a forced restructuring of the island's $70 billion in debt.
Hoyer said the most critical issues for Democrats are the power and makeup of a proposed federal oversight board and a clear path toward debt restructuring "so that in fact restructuring can be accomplished and Puerto Rico can be put in a position where it can stabilize itself."
Grijalva said Tuesday that the control board's authority should not be as "extreme" as proposed in the earlier drafts of the legislation. "There must be a balance of power between local elected officials and the board," he said. "The board must be absolutely transparent."
Democrats also have raised objections to Republicans' inclusion of language that would lower the island's minimum wage, exclude it from overtime regulations, and facilitate a land transfer. Still, Hoyer stopped short of saying those items are deal-breakers.
But Grijalva said the minimum wage issue remains very important to him and that lowering the minimum wage would be counterproductive.
"The minimum wage has nothing to do with the crisis," he said. "To the contrary, it may further contribute to the crisis and further drive migration out of Puerto Rico."
Not 'Significantly Different'
Natural Resources Chairman Rob Bishop, a Utah Republican, says he is on track to release a new version of the bill on Wednesday. The committee intends to hold a hearing and meeting to approve the bill next week.
"It won't be significantly different," Bishop said Monday about the new version in an interview with Bloomberg News. "The basic concept of what we're trying to do has never changed." Bishop added that it's feasible that the bill could reach the president's desk by July 1, when the island faces a $2 billion debt payment, including $805 million for general-obligation debt.
Hoyer said Democrats would make their decision on whether or not to support the bill after reading the new version.
"We'll have to deal with them as it comes forward. We'll see what we do. We're not making any agreement on what we'll do if these ancillary matters stay there," he said, later adding he knows that Democrats won't get "100 percent" of what they want.
"Unfortunately, Republicans have been unable to get agreement among themselves and we believe at this point in time still don't have a majority of members of the committee to pass this legislation out," Hoyer said.
Another wrinkle that could impact what Congress does could be a ruling from the U.S. Supreme Court on Puerto Rico's rescheduling of some of its debt. That could come anytime before the court adjourns in early summer.
Hoyer said, "I don't know what the decision is going to be. I mean, obviously, it could have some effect depending upon what the Supreme Court says about Puerto Rico's authority to do what it needs to do."
Before it's here, it's on the Bloomberg Terminal.
LEARN MORE