Campaign Wrap: Clinton West Virginia Prospects Dim for Coal Stance
by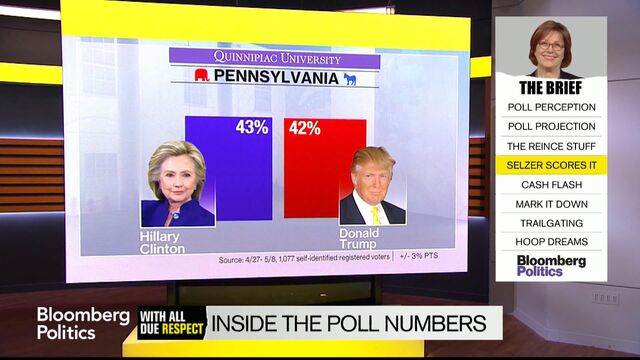 Nebraska holds its Republican primary today, while the contest in West Virginia features both parties.
In West Virginia's Democratic race, Hillary Clinton is facing headwinds despite her 2008 primary win in the state

West Virginian Richard Thompson, 47, said he'd vote for either Trump or Bernie Sanders over Clinton because of her saying earlier in campaign she'd shut down coal mines
Chester Mitchell, 38, blamed President Obama for shrinking the coal industry and is voting for Trump because "he's not going to be bought"; Mitchell said he voted for Bill Clinton in 1996

Final RealClearPolitics polling average has Sanders leading Clinton by 6 points
Though Donald Trump is the only Republican presidential contender left standing in the race, voters still have their choice of 5 GOP candidates on the ballot in Nebraska, and 11 in West Virginia, including such early dropouts as Jeb Bush, Rand Paul, Chris Christie
Ted Cruz, who ended his stumping after losing Indiana to Trump last week, said today if he won Nebraska, he wouldn't rule out restarting campaign
The Texas senator added he's ''not holding my breath" about the prospect
His spokesman said Cruz has written to state party chairs in all the states where he won delegates, and he intends to hold onto them, Bret Baier tweeted
Polls close at 7:30pm ET in West Virginia; 9pm ET in Nebraska

ON THE TRAIL
Clinton said in Kentucky she'd cap childcare costs at 10 percent of a family's income through federal subsidies and tax breaks
Clinton would start initiative to "fund and support states" to increase pay for childcare workers
Vice President Joe Biden said on ABC that "I feel confident that Hillary will be the nominee and I feel confident that she'll be the next president"
Sanders supports the California Drug Price Relief Act, according to his campaign
Proposition would stop state from paying more for prescription drugs than the lowest price paid by Veterans Affairs Dept.
Trump requested the meeting between himself and Senate Majority Leader Mitch McConnell, which will take place later this week, according to McConnell
GOP Sen. Susan Collins said Trump should drop the "woman card" line he's been using against Clinton
Washington Post details vulgar language Trump has used in past to cultivate his image as a Manhattan playboy

Image could cause problems for Trump as he tries to win presidency
Heidi Cruz told her husband's supporters to "hang in there" and compared waiting out the next presidential term to waiting to defeat slavery, Texas Tribune's Patrick Svitek tweeted
"It took 25 years to defeat slavery. That is a lot longer than four years," she said

DELEGATES
House Majority Leader Kevin McCarthy is on a list of Trump delegates in California, the AP reports
Also on the list are Reps. Darrell Issa and Duncan Hunter, Ronald Reagan son-in-law Dennis Revell, and venture capitalist Peter Thiel

STAFF MOVES
Trump has tapped Corey Lewandowski to oversee his vice-presidential search, Washington Post reports
Job is usually given to a lawyer, Lewandowski is political operative
Daily Beast reports that Ben Carson is off the VP vetting team

CAMPAIGN FINANCE
Billionaire investor Paul Singer, who's donated to conservative causes, said at an event in NYC that both Trump and Clinton aren't acceptable, New York Times reports
Conservative views aren't "embodied in either choice that will apparently be on the ballot this November"
Washington Post reports that Trump is meeting with RNC finance chairman Lew Eisenberg today to go over a general election financing plan

POLLS
SWING STATES: Trump leads Clinton 43%-39% in Ohio, the two are in virtual tie in Florida and Pennsylvania with Clinton at 43% and Trump at 42% in both, according to Quinnipiac poll
Results in these 3 states often key to who wins presidency
But: Quinnipiac polls have the lowest accuracy rating of any we've been tracking (Read our analysis of polling and other prediction accuracy to date)
GA: Clinton/Trump also in statistical tie in traditionally red state; she has 41.4% support, he has 42.3%, according to Channel 2 poll conducted by Landmark/RosettaStone
MA: Clinton leads Trump 55%-31%, Suffolk University poll finds

ENDORSEMENTS
Charleston Gazette-Mail, W. Va.'s largest newspaper, endorsed Clinton ahead of today's contest

ADS
After saying they were pulling all primary ads, Clinton's campaign went back on the air in Kentucky with $180k buy, Politico reports
Kentucky voters go to the polls on May 17

TAXES
Compared to Clinton's, Trump's corporate tax plan is more consistent with bipartisan proposals in Congress, according to Bloomberg Intelligence analysis
Trump similarities include cuts in corporate, pass-through tax rates to 15% from 35%, one-time repatriation of unremitted offshore earnings
Clinton's focus is on infrastructure investment incentives, ending fossil-fuel tax credits, tax for "financial risk-taking"

ETC.
White House Press Secretary Josh Earnest said Trump's security briefings may not begin sooner than this fall
The timing will be determined by the director of national intelligence
Iran sanctions could be reinstated if Trump wins the election, RBC strategist Helima Croft says at Platts Global Crude Oil Summit in London
Companies are delaying investment decisions pending election's outcome
New York Times reports that Clinton has won fans among voters who care about extraterrestrial issues
U.F.O. enthusiasts have dubbed her the first "E.T. candidate"
She has said as president she'd release information about Area 51 in Nev., she is seen as taking UFO questions seriously
Jon Stewart called Trump a "man-baby" on David Axelrod's podcast, "The Axe Files," saying the businessman "has the physical countenance of a man and a baby's temperament and hands"
He called Clinton "a very bright woman without the courage of her convictions," but said she's preferable to Trump since "at this point I would vote for Mr. T over Donald Trump"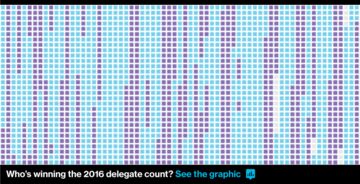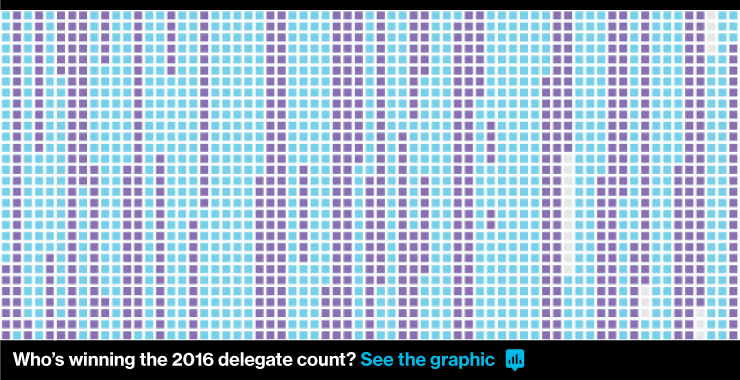 Before it's here, it's on the Bloomberg Terminal.
LEARN MORE